Fandom's anime expert Zuleika covers Japanese animation for us, but hasn't ever been to Japan before. Thanks to special opportunity, she's getting to explore the country for a whole week and she's ready to share the experience with all of you. We'll keep updating this as she sends us more updates and photos from her first trip there.
At the beginning of the year Lab Kadokawa announced that they were offering a free trip to Japan, the excursion entailed a tour to locations featured in Your Name — the highest grossing anime in the world that just came out in the US, check out Fandom's Your Name review. The movie is firmly set in specific parts of Japan, in particular the bustling metropolis of Tokyo and the quiet town of Ito. Kadokawa is taking some lucky folks to some of those real life settings on this special trip.
Out of the tens of thousands of people who applied for this opportunity, only 30 people from around the world were the chosen, including me. As I travel around Japan on my first ever trip to the country, I'll be keeping a road diary where I tell all the famous real-life locations of Your Name. Keep checking back for more updates!
Day 1: Osaka
The day or better yet the morning started as a typical cross-continental trip would. From delayed trains to switching flights the trip from my home in Amsterdam, Netherlands all the way to Osaka, Japan wasn't the easiest, but now that I'm writing about it, I can say it was worth it.
Landing at Kansai Osaka airport one of the tour guides was waiting for me. I thought, "Hey, it's going to be a quick ride to the hotel." Not so — I would actually be taking a metro from Osaka to Namba where the rest of the Lab Kadokawa would meet me. And for this being my first time in Japan, I was very nervous.
What if I get lost? Or I accidentally wind up in far off Okinawa? But, thankfully almost every major transit sign had English below the Japanese, including my train stops. The ride from the airport to Namba was approximately 45 minutes and the scenery was exactly as I imagined it would be based on all the anime I've seen and written about for Fandom. Different houses, small cars, everyone riding on the left side of the road, and polite folks ready to give up their seats for the elderly.
Namba Station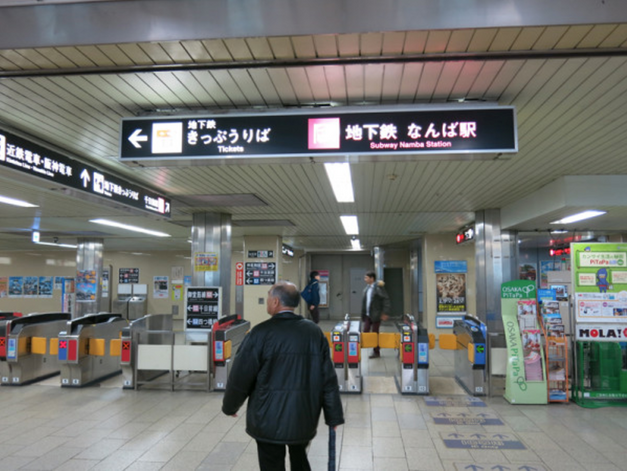 When I arrived at Namba Station, I was greeted by the rest of the travel staff. At first glance, the station looked small and I would soon be arriving at the hotel. But, it was a mini marathon. Walking from point A to point B was almost 1km – my Fitbit loved it – so, that we could catch the next metro to go the hotel. Luckily for me, one of the staff accompanied me to the hotel, so no danger in getting lost in my new setting.
Midosuji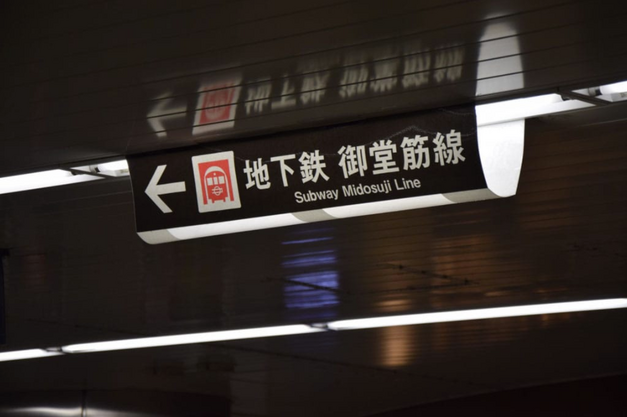 Now, at the hotel one of the staff was explaining to me how to get to the Your Name cafe, a special restaurant themed after the very popular film. He explained the best as he could, but I'm such a worrywart I Googled which line – Midosuji – to take to go to the next stop which was almost 10 minutes away. I can't stress enough how thankful I was that the station signs had English on them. From the hotel to Umeda station was a piece of cake. Even if I mixed up directions like North from South, I thankfully had WiFi and could use Google map.
The start of the Your Name anime tour. Met some great and interesting people from around the world #KimiNoNawa #Japan #Osaka #TravelTuesday pic.twitter.com/jkUMxeXtvE

— Zuleika 😜 (@Z_L_B) April 11, 2017
At the Your Name Cafe, I met a few more of Lab Kadokawa staff and the other winners of this special anime trip. From places like Hong Kong to the United States, we were a diverse group with one common interest, Your Name or Kimi no Na Wa as it's known in Japan. We learned a bit about each other and how lucky we were to be here from the many people who applied. We took pictures of the cafe, bought some awesome souvenirs and of course, eat some amazing Your Name inspired dishes.
Some of the delicious dishes from the Your Name Cafe #KimiNoNawa #Osaka #Anime #Travel pic.twitter.com/esyfAoAXwY

— Zuleika 😜 (@Z_L_B) April 12, 2017
Willer Cafe
Next, it was another long walk to go to the next location -Willer Cafe – for a welcome meeting. We introduced ourselves and had the rest of the trip was explained along with the schedule for the next few days. Incidentally, we're in Japan during spring and that means sakura – cherry blossoms. Behind the cafe there is a gorgeous tree in bloom.
Beautiful sakura behind Willer Cafe #CherryBlossom #Osaka #Anime #YourName #KimiNoNawa pic.twitter.com/tAowP6NOtY

— Zuleika 😜 (@Z_L_B) April 12, 2017
Did I mention that my Fitbit loved me on the first day? Well, walking back from the Willer cafe to the hotel, as you'd guess, our little group got lost. Google Map couldn't help because we were underground in the metro station to escape from some poorly timed rain. Luckily, after 30 minutes, we finally saw the hotel. And taking advantage that this was going to be our first and only night at Osaka, us lucky winners formed a group and went to explore the city. Our first stop an osake and tapas bar near Osaka station. A well lit underground bar that might seem dubious at first, but once you get inside it was so big
The second stop on our night out was a ramen shop Tenka Ippin, where I ate my first ever bowl of ramen. And it was delicious. Unfortunately, I couldn't eat all of it because I was stuffed. And besides, it was getting late. So, it was back to the hotel for a 6.30 am call for the next stop on our tour, Takayama.
Stayed tuned for more updates from Japan as Zuleika gets to see more sights and places that inspired Your Name. Or you can follow along on her Twitter account!
---
Would you like to be part of the Fandom team? Join our Fan Contributor Program and share your voice on Fandom.com!