In 1987, Douglas Adams (of The Hitchhiker's Guide to the Galaxy fame) published the first Dirk Gently novel, Dirk Gently's Holistic Detective Agency. While not the immediate sensation that Hitchhiker's proved to be, the two Dirk Gently novels (and an unfinished novel included in The Salmon Of Doubt, a book of essays published posthumously) still maintain a passionate and loyal fanbase.
The book has been adapted several times, as a BBC radio show, a comic book series as well as a 2010 TV series that was canceled after only 4 episodes.
In 2016, however, screenwriter Max Landis took one more stab at adapting the book for BBC America and this time it seems to have worked out much better, as it's currently heading into a 10 episode second season, following its 8 episode first. The second season of the show will again star Samuel Barnett as the titular detective, Elijah Wood as his companion Todd Brotzman and, just announced yesterday, fan-favorite Alan Tudyk as Mr. Priest, described in this Hollywood Reporter article as "a ruthless, dangerous and violent bounty hunter".
Dirk Gently Season 2 Will Feature Alan Tudyk
Beloved character actor Alan Tudyk probably needs no introduction. But we'll go ahead and do so anyway. First capturing the hearts of fans everywhere with his portrayal of Hoban "Wash" Washburne on the show Firefly, Tudyk has gone on to star in or provide voice acting for other well-loved properties like Young Justice, where he portrayed Oliver Queen/Green Arrow, Tucker & Dale vs. Evil, playing Tucker, and fan-favorite character K-2SO from a 2016 film you may have heard of called Rogue One. Alan Tudyk is a ridiculously entertaining and charismatic actor that always seems to find the funny as well as the pathos in whatever character he portrays and we're pretty sure he's going to be a fantastic addition to the season 2 cast of the show.
But what is Dirk Gently's Holistic Detective Agency and why should you be watching it? Here are a few reasons.
Dirk Gently Is Bonkers
Dirk Gently describes himself as a "holistic detective" who believes everything in the universe is interconnected and that he has the power to harness that interconnectivity, preferring to solve crimes through hunches instead of actively looking for clues. His intuitions he claims "are rarely wrong but also rarely completely right."
Todd Brotzman, played by Wood, becomes a reluctant companion to Dirk and is a bellhop in a hotel where a murder happens that brings them together in the first place. Todd has a sister, Amanda, cursed with an (apparently fake) affliction called "Pararibulitis", which causes the sufferer to have violent, realistic hallucinations of self-immolation or drowning. Todd spends all the money he makes as a bellhop on treatment for her. Amanda may also be psychic. Todd's mental health is similarly questionable as he continually sees visions of himself sporting a black eye and wearing a fur coat wandering through the hotel.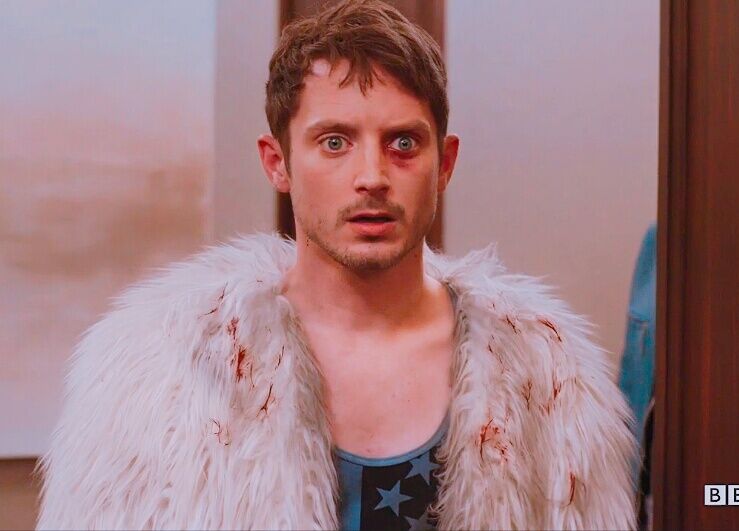 There is also a secret government agency known as "Project Blackwing" of which Dirk was a subject. Other subjects of the project include the Rowdy 3 (of which there are 4 members) a group of psychic vampires that feed on souls, but don't do any actual harm to those they feed on (and in fact, seem to somehow tame Amanda's visions) and a slovenly, unkempt but extremely sinister woman named Bart Curlish, something of flip side to Dirk, who is a "holistic assassin" guided by the same principles as Dirk himself. Except, y'know, murdering instead of solving mysteries.
The show contains all manner of nonsense and bizarre situations, including the previously mentioned group of psychic vampires…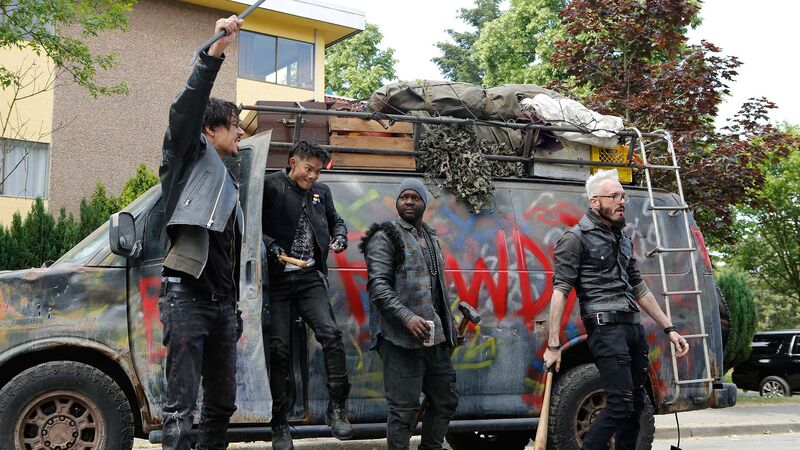 A mysterious kitten that contains the soul of a hammerhead shark…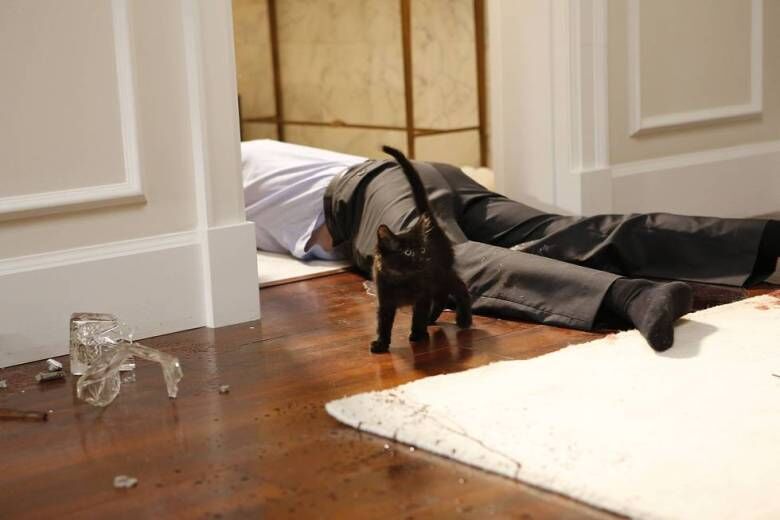 And a time traveling Steampunk assassin…
Oh and there's also a random corgi that follows Dirk around…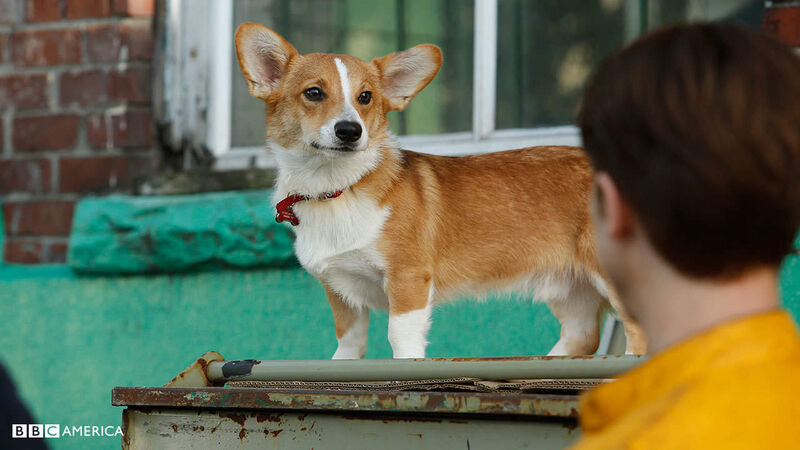 Elijah Wood Is Fantastic
Since his turn as Frodo Baggins in the Lord of the Rings movies, Elijah Wood has made a career out of choosing the most off-beat and unexpected roles he can. From his psycho-killer main character in the remake of the classic slasher film Maniac, to his ne'er do well everyman with a talking dog pal in the TV series Wilfred, to his turn as a martial arts and heavy metal obsessed would-be vigilante neighbor in the fantastic 2016 film, I Don't Feel At Home In This World Anymore, Wood has done anything but play it safe. In Dirk Gently, his neurotic character Todd is both the sidekick that has "no interest in sidekicking" as well as the heart of the show. His relationship with his sister Amanda provides real, compelling character development for Todd as he is the only person she can rely on to help her through her struggles with mental illness.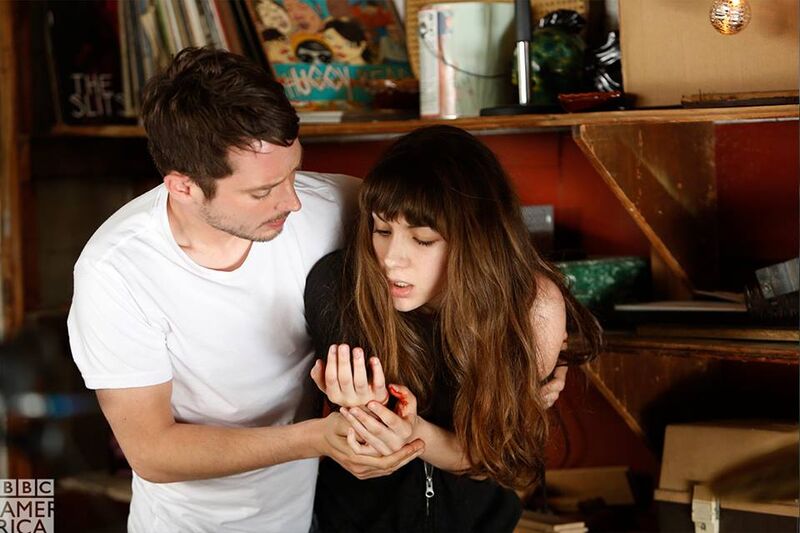 Dirk Gently's Holistic Detective Agency season 1 episodes are currently available for purchase on iTunes, Amazon and Google Play. Season 2 will premiere on BBC America sometime later this year.