A great video game can be defined by so many moments, good and bad. In 2016, there were so man great games that came with a certain "wow factor," a scene or twist or something special that changed our estimation of a game in an instant. We at Fandom pulled together the five best moments in 2016 games, from big to small. Take a moment yourself to see what brief bits gave us pause this year.
Titanfall 2 – Traveling Back In Time

As I explained in my Titanfall 2 review, the campaign is all over the place. You befriend a robot and save a planet, but the biggest moment is about halfway in.  That's when players get their hands on a time travel device. It allows you to jump between the present and a specific point in time, which opens up some amazing gameplay opportunities. You can go by walls and doors that exist in one timeline but not the other. You'll walk past enemies that don't exist in the present. And you'll face some unique platforming opportunities. It's a shocking amount of possibilities that open up once you pick up this item. The only downside is that once this two-hour-ish mission is over, so is your time travel. [Henry Gilbert]
The Last Guardian – When Trico Catches You With His Tail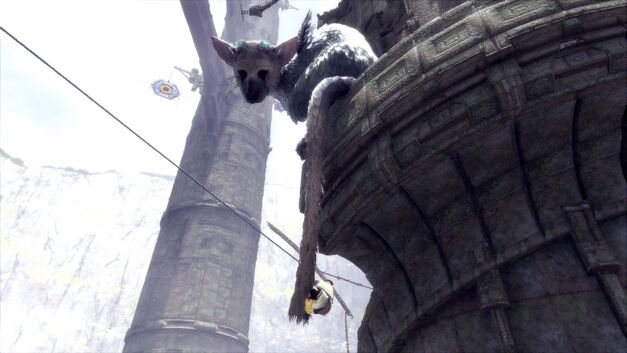 Ultimately, The Last Guardian sets out to make you connect with Trico, your massive, beastly companion who accompanies you throughout your escape from a forbidden land. And since Trico can't talk, the game pulls this off completely through his actions and body language. One of the best expressions of Trico's connection to the player comes whenever the boy protagonist makes a death-defying jump, only to miss his target and get snatched out of the air by Trico's fuzzy tail at the last possible moment. To be fair, Sony gave this moment away in various trailer and promotional material in the run-up to the game's release, but the handful of times Trico saves you from plummeting to the earth in this fashion feel equally exhilarating. [Bob Mackey]
Uncharted 4 – The Crash Bandicoot Easter Egg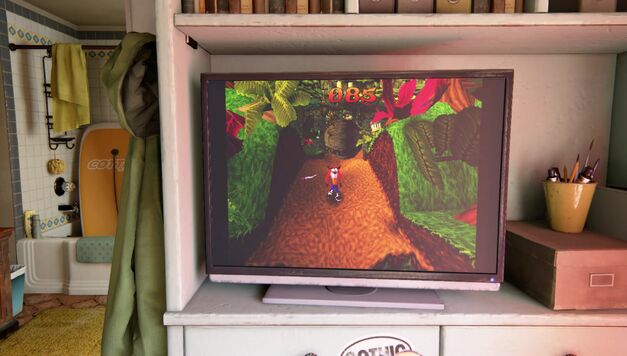 Uncharted 4: A Thief's End wasn't just a great finale to the story of Nathan Drake. It was also had an impressive moment of Naughty Dog celebrating its own history. The developer's PlayStation original Crash Bandicoot turned 20 this year, and though Naughty Dog left the series behind years ago, they were still ready to celebrate. Early in Uncharted 4, Nathan Drake is challenged to beat his wife's score in Elena's favorite game. In a shocking twist, it's Crash and players are tasked with playing a classic Bandicoot stage in this game-within-a-game moment. A nice, nostalgic comic relief before the heavier themes start up. [Henry Gilbert]
Dark Souls III – Revisiting Anor Londo
True, Dark Souls III might have a little too much fan service. But in a series full of death, depression, and futility, being thrown a fan-friendly bone once in awhile can help ease the pain. And one of Dark Souls III's better examples of this phenomenon comes when you find yourself back in Anor Londo, one of the original Dark Souls' most iconic locations. Dark Souls III doesn't just drop you into Anor Londo unceremoniously, though. You first stumble upon a few familiar pieces of scenery, leading you to think, "Could it be…?" before the full reveal actually happens. All in all, an incredibly clever move that speaks to the power of From Software as an RPG developer. [Bob Mackey]
Overwatch – Getting Awarded the Play of the Game

Let's face facts: Even though Overwatch is a team-based game, personal accomplishments still matter a whole lot. So even though Blizzard deemphasized the kill/death ratio that dominates every online multiplayer game, pulling off some amazing move on your own still feels great—even if your team loses. That's why there's no better feeling than when Overwatch shines a spotlight on your own achievements at the very end of a match while letting you watch said sick moves one more time. Even if the sheer destructive power of D. Va's ultimate attack seems to give her the advantage in this category, winning play of the game still feels incredibly worthwhile every time it happens. [Bob Mackey]

Henry Gilbert is Senior Games Editor at Fandom. He's worked in the gaming press since 2008, writing for sites as diverse as GamesRadar, IGN, and Paste Magazine. He's also been known to record a podcast or two with Laser Time. Follow him on Twitter @henereyg.