The cast and creators of Agents of S.H.I.E.L.D. joined Marvel's head of television, Jeph Loeb, for the show's first WonderCon panel ever this morning. While the talk was light on intel about what's to come, it was a crowdpleaser with Clark Gregg, Chloe Bennet, Ming-Na Wen, Brett Dalton, Elizabeth Henstridge, Henry Simmons, and Luke Mitchell fielding questions from Marvel's Jeph Loeb and hamming it up for the crowd.
Clark Gregg – Agents of S.H.I.E.L.D. WonderCon Interview

Ming-Na Wen and Brett Dalton – Agents of S.H.I.E.L.D. WonderCon Interview

Henry Simmons – Agents of S.H.I.E.L.D. WonderCon Interview

Spoilers for next week's episode of Agents of S.H.I.E.L.D. follow.
Next week's episode, "Watchdogs," tells what happens when a radical group emerges with plans to eliminate the Inhumans and destroy an ATCU facility. Mack's time off with his brother is interrupted when they're caught up in the crossfire.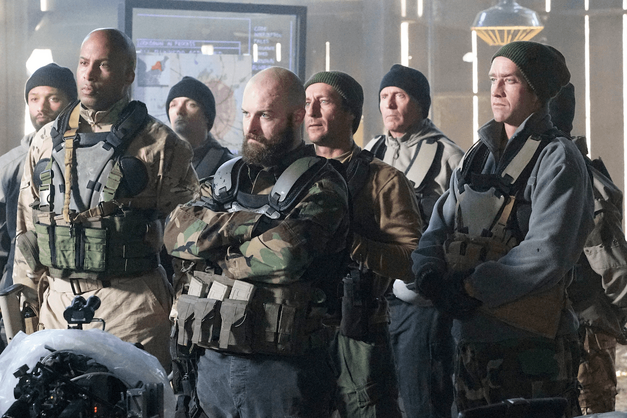 There's a bit of Civil War foreshadowing as Mack and Daisy squabble over civil liberties when she hauls in a member of the group without cause.
Meanwhile, Simmons and May are working to track down Lash, when Jemma reveals that she's discovered a powerful chemical compound that could be used to vaccinate pre-Inhumans.
Marvel devotees are in for a treat with this episode as it's chock full of Easter eggs and references with namedrops of Nitramene, Howard Stark, the Avengers, Sokovia, the Chitauri, Deathlok, Ultron and more.
The biggest revelation from "Watchdogs" is the return of an important character from the MCU's past, Felix Blake, played by Titus Welliver.
See it for yourself when the next episode of Marvel's Agents of S.H.I.E.L.D. airs March 29. And be sure to check out all our WonderCon coverage here.