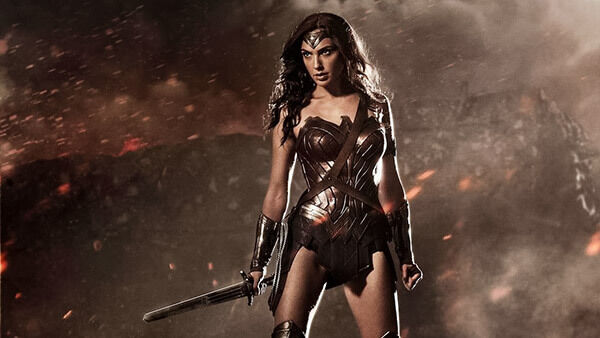 Wonder Woman's cameo in Batman v Superman: Dawn of Justice — her first appearance in a feature film — was a tantalizing tease for her fans, who have been clamoring to see her on the big screen for decades. It's a shame her film debut took so long, because Wonder Woman's story is one that needs to be explored in today's market. She embodies something that is a seriously lacking in these modern times: a positive female superhero role model for young girls.
But while I applaud Warner Bros. and DC for giving her a moment to shine in Batman v Superman, I find it strange that they decided to lump her into an already overstuffed film instead of giving Wonder Woman her own movie first. This decision became even more confusing when Warner Bros. announced that the standalone Wonder Woman movie — due out on June 23, 2017 — will be set in the early 20th century, far before the events of Batman v Superman. Is there supposed to be a tie-in between the two films?
Maybe the tie-in is the photograph she was looking for when she and Bruce Wayne robbed Lex Luthor at his party. But if that's the case, it's an extraordinarily thin connective thread. It's also unclear as to how her stand-alone movie will tie into Justice League: Part One, coming out a few months later in November 2017.
Wonder Woman should have been treated like Thor was in the Marvel Cinematic Universe and given her own movie first. Instead, the filmmakers opted just to dump her into the fray of Batman v Superman and hope that she would hold her own. For the most part, she did. But one has to wonder if maybe the filmmakers did her a disservice by adding her into this film without seeing how she would fare by herself. Time will tell.