Don't worry, Star Wars Rebels isn't ending yet. Still, after Disney's acquisition of Lucasfilm coincided with the premature cancellation of Star Wars: The Clone Wars, Star Wars fans have wondered how Rebels will end. The series is still going strong in its third season, but it won't last forever. That's just the reality of the entertainment industry. Let's examine the possible avenues for the eventual end of Rebels.
How Much Time Has Passed in Star Wars Rebels?
The only real precedent for Star Wars Rebels is its sole predecessor, Star Wars: The Clone Wars. As the first project of Lucasfilm Animation, The Clone Wars ran for 5-and-a-half seasons from 2008 to 2014. Overall, the series' 121 episodes — along with a slew of unfinished stories that were released in other mediums — spanned a total of 3 years within the Star Wars galaxy.
In contrast, Rebels is currently only in its third season. By the time season three ends, Rebels will be compromised of 53 episodes and 3 television movies. Each of those television movies encompasses 2 episodes, so that's roughly 59 total Rebels episodes. Compare that to the 121 episodes and bonus content of The Clone Wars.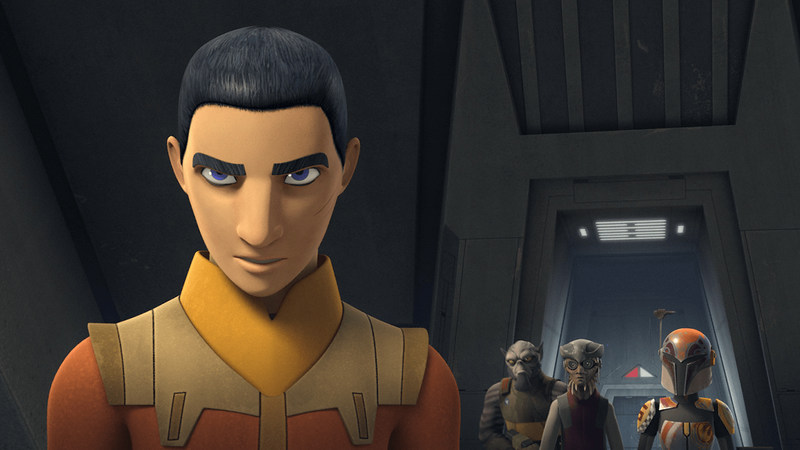 Yet, Rebels has already covered over 3 years within the Star Wars galaxy. The series' first season began around 5 years before A New Hope. But the series' third season has now reached 2 years before A New Hope. That means Rebels has already covered the same amount of time as The Clone Wars, despite reaching only half of the latter's total length.
It's evident that Star Wars Rebels is progressing twice as quickly as its predecessor. Does that mean it will end more quickly, too? Perhaps not, but the fact remains that Rebels has a faster pace in terms of its overall chronology.
Will Rebels Reach A New Hope?
Although The Clone Wars ended prematurely, executive producer George Lucas and supervising director Dave Filoni intended for the series to intersect with Revenge of the Sith. Even though many of the series' untold stories are still unreleased, we know that the siege of Mandalore would have served as the series finale. That story explained why major characters like Ahsoka Tano and Captain Rex didn't appear in Revenge of the Sith.
Since Star Wars Rebels leads into the original trilogy, it will probably end after reaching one of those films. I'd wager that Rebels will end after explaining why its protagonists, the Lothal rebels, aren't in A New Hope. Yet, the upcoming film Rogue One: A Star Wars Story occurs immediately before A New Hope. The production team of Rebels has hinted that the series will tie into Rogue One in some way. However, we still don't know what form that tie-in will take.
Nevertheless, Rebels might surprise fans by lasting until The Empire Strikes Back or even Return of the Jedi. Even so, that feels like it might be unnecessary. Marvel's slate of comic books — including Star Wars and Darth Vader — has already saturated the time period between A New Hope and The Empire Strikes Back. Depending on how Rebels collides with the original trilogy, the series will need to offer a fresh perspective on those well-known events.
Perhaps it's a bit presumptuous to say that I'm looking forward to seeing how Rebels ends. The series is still going strong, and there's no indication that it will end anytime soon. But as a fan who's still bummed that Lucasfilm canceled The Clone Wars before it could reach its seventh and eighth seasons, I hope that Lucasfilm will give Star Wars Rebels the ending that it deserves.