We'll be hearing who'll play Han Solo in the eventual Star Wars Anthology spinoff movie sooner rather than later, but considering that we've got two Star Wars films that'll land before that one — Rogue One and Episode VIII — why are we hearing so much scuttlebutt about the casting of young Han Solo right now?
The reason is everyone's favorite smuggler is rumored to have a cameo appearance in the very next Star Wars movie, Rogue One. This would go a long way toward explaining why we've heard so much about Disney's desire to nab an actor as soon as possible. Their shortlist of names has narrowed down somewhat. As it stands, the big contenders are: Miles Teller, Ansel Elgort, Dave Franco, Logan Lerman, Jack Reynor, Scott Eastwood, Emory Cohen, and Blake Jenner.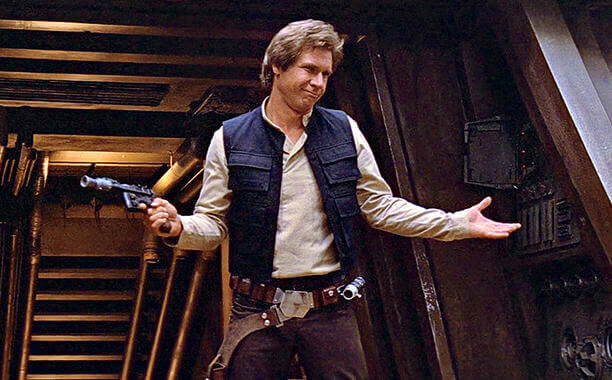 It would make sense to go with a more unknown actor in order to help distance this new Han Solo from the inimitable Harrison Ford, but choices like Scott Eastwood (who'll show up later this year in Suicide Squad) and Miles Teller (who could use a win after the dismal reception of Fantastic Four) are certainly inspired and intriguing.
This also gives us a better inkling as to the shape these Star Wars Anthology movies might be taking. Will Han Solo's film take place between Episode III and IV as well? Will his story be some kind of version of When Han Met Chewie? It also makes sense to introduce Han in Rogue One in order to have this new actor established before catapulting him into a starring role. It will also help bolster audience turnout for Rogue One even more when people find out that Han Solo (and possibly the Millennium Falcon) will be making an appearance.
We here at Wikia have already talked about how Rogue One could make a big difference in the Star Wars film saga, and the addition of Han Solo would only make things even more exciting. As soon as we know who'll be strapping on the blaster and shooting first, we'll let you know.
Can't get enough Star Wars? Head over to Wookieepedia, the Internet's No. 1 source for all the Star Wars knowledge you can fit inside your holocron.