Have you seen the new Kingsman: The Golden Circle trailer? We think it might just be the coolest film to hit screens this year and here's why:
Vaughn's Doing It His Way
So many films use a soundtrack or song to ramp up their coolness – and very often it does. When you think about recent trailers that have blown you away as a result of a well-chosen track, Logan and the latest Pirates of the Caribbean instalment come to mind. Both were set to the strains of a Johnny Cash song.
But while Johnny Cash seems to deliver a clichéd idea of cool, there's something genuinely cool about using a song right now like Frank Sinatra's "My Way". Especially when it's the effortlessly cool Matthew Vaughn using it. This is classic cool – and at the same time, it feels totally fresh.
Julianne Moore as a Villain
Julianne Moore couldn't get any cooler could she? Well, it turns out she could. Not content with being awesome in things like Magnolia, Far From Heaven, Boogie Nights and The Big Lebowski – and, uh, everything else she's ever been in – she's now picking up villain duties in Matthew Vaughn's majorly hip comic-book spy franchise. So what do we know about her character? What do we need to know? She's called Poppy, she's badass and she's played by Julianne Moore. Oh, and she's the brains behind secretive group 'The Golden Circle'.
The UK Joins Forces with the US
Move over Kingsman, there's a new secret spy organisation in town – and they're from across the pond. Actually, no one need move over, as it seems the two spy rings are joining forces to battle a common foe in the sequel. Statesman is the US equivalent to Kingsman and where the Kingsman HQ masquerades as a very cool tailor's premises, the Statesman HQ is an arguably even cooler whiskey distillery. Yee-haw.
Apparently, the American espionage cartel is richer than its British counterpart – which means we'll likely see some really frickin' cool weapons and gadgets.
Channing Tatum and Jeff Bridges, Duh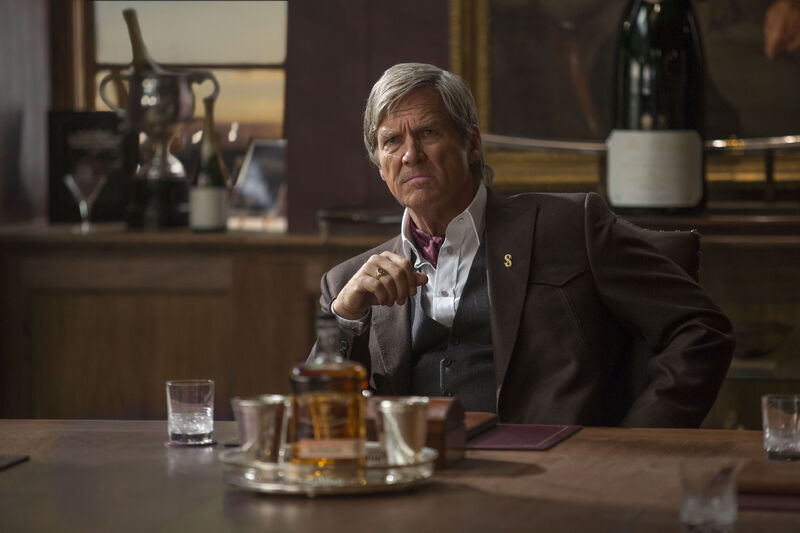 While Jeff Bridges is probably the coolest actor in the world, Channing Tatum surely isn't far behind. And with the involvement of these two icons, we are incalculably more excited for Kingsman: The Golden Circle than we otherwise would be.
Let's take a look at their track records in cool. Channing Tatum started out as a stripper. That was years before he starred in Steven Soderbergh's Magic Mike in which he danced, gyrated and took his clothes off for the pleasure of women everywhere – all carried out with a terrific sense of humour. This guy can pull off anything (and we aren't even talking about his clothes). Plus, he can really actually dance, which gives him more cool points.
Tatum also proved his comedy chops with the 21 Jump Street franchise, and then topped up his cool credentials with roles in Tarantino's The Hateful Eight and the Coen Brothers' Hail, Caesar!
Jeff Bridges, meanwhile… well, he's The Dude. Enough said.
It's a Sequel to a Mark Millar/Dave Gibbons Comic
While Dave Gibbons is known for his work with Alan Moore of Watchmen fame and 2000AD artwork, Mark Millar is the mind behind Kick-Ass, which was turned into a successful film in 2010 under the watchful eye of Kingsman director Matthew Vaughn, no less. Like Kingsman, Kick-Ass was super-cool, violent and funny.
Millar also penned Wanted, which was also made into a movie starring James McAvoy and Angelina Jolie, and numerous titles for both Marvel and DC Comics. Which makes him one of the most respected comic book writers working today.
There's some comic book royalty in that pairing right there.
And Finally, This:
That's right. Taron Egerton winking nonchalantly at a blonde lady taking off her negligee might be the coolest thing we've ever seen.
'Kingsman: The Golden Circle' is out on September 22 in the US and on September 29, 2017 in the UK.