Undertale came out one year ago today. For fans of Undertale, the game's appearance on numerous 2015 "Game of the Year" lists comes as no surprise. The indie RPG released last September climbed our own charts as one of the most active Wikia communities, and even took home a Best Game Ever award, beating out classics like The Legend of Zelda: Ocarina of Time. If you're an outside observer looking in, the hugely positive reaction to Undertale might seem strange. After all, it looks like a simple pixelated RPG. Why all the buzz? Today, on the Undertale 1-year anniversary, here is our quick rundown to explain why fans love Undertale so much.
Nostalgia
Let's get this one out of the way first. Nostalgia isn't a bad thing. Many of us grew up playing games that will forever stick in our minds as amazing moments. When new games come along and stir up some of those same emotions, or callback to those experiences, of course there's a chance we fall in love all over again. It's only natural.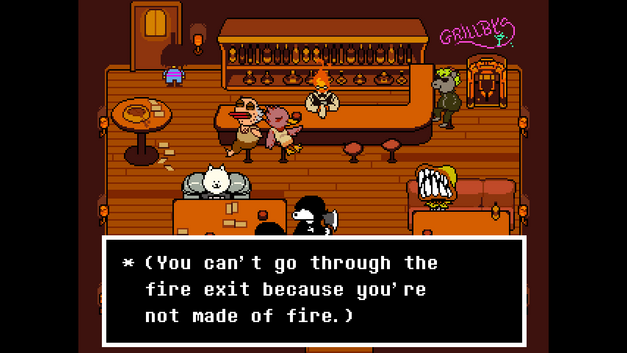 Undertale is absolutely an homage to the simple RPGs many of us adored growing up. Specifically, Undertale has a whole lot in common with EarthBound, or Mother 2 in Japan. Commonly cited as one of the best RPGs of all time, EarthBound is a one-of-kind experience that navigates a child's adventure with both the seriousness and silliness it deserves. There's even an excellent book by Ken Baumann that foucses entirely on the importance of EarthBound.
Toby Fox, the creator of Undertale, is himself a big EarthBound fan, and he worked on several ROM hacks of the game before making his own game in much the same style as its predecessor. Just like EarthBound, Undertale follows a young child in a striped shirt, moving from town to town, making friends and encountering strange, even surreal, enemies and allies. Even the infamous Saturn Village, full of bizarre alien creatures, is mirrored in Undertale with the Temmie Village. Many fans of the Mother series and similar games fell instantly in love with Undertale.
Self-Awareness
Maybe more so than EarthBound before it, Undertale is completely aware of its place within video game culture. Breaking the fourth wall might sound easy, but Undertale does it with expertise. Right when you expect the game to do one thing, it does another. Time and again it subverts your expectations of what a video game and what an RPG like this should be, often to hilarious effect. One of my favorite examples, and not to spoil too much, is the option every vendor in the game has for you to sell unwanted items. Every single shopkeeper you meet has the option. And every single time you try to sell something to them, they look at you flabbergasted — save for one special exception. They're running a shop, after all; why would they want your junk?
Nowhere is Undertale's self-aware perspective more apparent than in its combat. Yes, the game features some basic turn-based-style combat if you choose to go down that route. However, more importantly, you can play the entire game without harming a single opponent. The so-called True Pacifist Route is also one of the most satisfying components of Undertale, both narratively and mechanically. Befriending monsters makes for some truly touching moments, and surviving the bullet-hell gymnastics in the game's inventive combat system — which plays off the story as well — is a challenge and a joy.
Charm
Perhaps above all else, the world of Undertale is charming. It feels authentic to itself and features some wonderfully hilarious dialogue and characters. I asked some of the Undertale Wikia community members why they loved the game, and richness of the story shines through. "The characters can be very relatable, " Jaquel told me, "and none of them are without flaws." The aptly named Temmiefromtemmievillage told me they could really relate to the characters, "They all have attributes that remind me of myself at one point or another."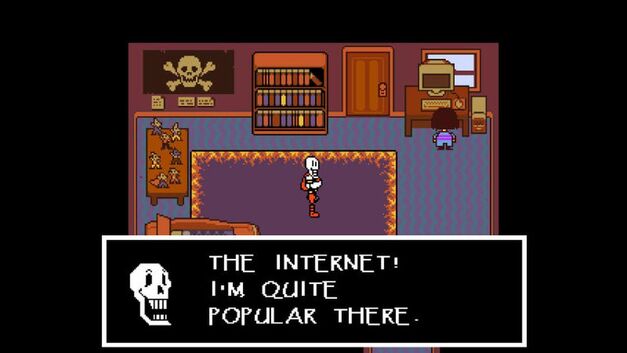 Why is the Undertale fandom so strong? The aesthetic is fun and the gameplay is compelling, yes. But more important, the writing has evoked surprising emotions from its players. Jason Schreier over at Kotaku described himself being brought to tears by what he called "one of the greatest final boss fights in RPG history." Other fans have spoken out about the positive message that shines throughout the game, and it seems genuine.
Earlier this month on Twitter, Toby Fox said he hopes that "in the end, Undertale has an overall good effect on the world." His positivity resonates in his creation. Cheeseskates, from the Undertale Wikia community, put it well when they said, "Games don't need looks and technical marvel to be good. It needs love, heart, feelings, gratitude, and a goal in itself: to bring us closer together as humanity, to share our feelings, to help those in need, to protect, to make people happy."
Ready to join the Undertale fandom? Try the game out yourself right now with the free demo and join thousands of other Undertale fans at undertale.wikia.com.
A version of this article originally ran on Jan. 15, 2016.