Part of the joy of being a fan is finding odd and obscure gems that you end up falling in love with. For every Batman, there is a Darkman. For every Star Wars, there is The Black Hole. Here at Fandom, we like to go hunting for some offbeat and off-the-wall films and television shows that might just become your own secret treasures. Strap yourself in and expect the unexpected, because this week's Weird Watch is Oz – A Rock 'n' Roll Road Movie! (Last time: Kamikaze Girls)
There have been countless adaptations of L. Frank Baum's classic children's novel, The Wonderful Wizard of Oz. Obviously, the most popular one is the musical version from 1939. Other musical versions such as The Wiz and Wicked have also found their audiences over the years. However, there is one take on the material that has been somewhat forgotten in the sands of time.
Oz – also known as 20th Century Oz – is a 1976 Australian film that reappropriates the tenets of Baum's story and places them in contemporary Australia. Oz is a derivative of "ozzie," a slang term for Australians ("Aussie"), so it makes sense to set this story in the literal land of Oz. Dorothy is a flighty groupie enamored with the lead singer of a rock band. She hitches a ride with them and they get into an accident. Dorothy is knocked unconscious and transported to a fictional version of the Australian outback.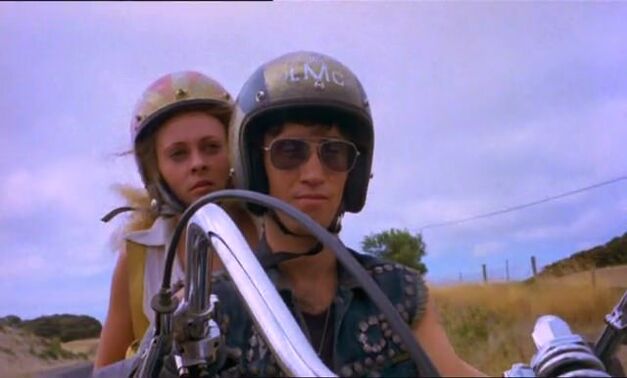 How Oz decides to integrate the characters of Baum's story is loads of cheeky fun. Glinda the Good Witch is now a gay clothes store owner named Glin the Good Fairy. The Cowardly Lion is a blustery biker named Killer who was once part of a Lion-themed biker gang. The brainless Scarecrow is a zoned-out surfer played by Bruce Spence, best known as the Gyro Captain in The Road Warrior. The Tin Man is a heartless car mechanic who only thinks about how to score with Dorothy. The Wicked Witch is a butch truck driver with a '70s mustache and a scar across his face. And the Wizard? He's a glam rocker – obviously influenced by David Bowie – who can't actually sing.
It's admirable how much Oz is able to reference its source material, particularly the 1939 film. Fans of that movie will notice all sorts of cute nods to Victor Fleming's seminal motion picture. For example, the mechanic is introduced working under the hood of a car. He asks Dorothy to hand her an oil can, then immediately asks her to hand him a beer can. Throughout the movie, we see the mechanic constantly drinking beer. That's how this version of the character stays "oiled up." There are tons of little bits like that that make Oz a real treat for nerds.
Another element Oz nails is how it captures the dusty character of rural Australia. It's a talent that is only matched by the original Mad Max or the stupendous Australian horror movie Wake in Fright. There is a distinct feel to this era of Australian culture and landscape, and Oz's structure as a road movie really takes advantage of that.
Unfortunately, Oz is also a product of its time. Like a lot of low-budget pictures of its day, it has a tendency to slog through its story. The road movie nature of the film means lengthy swaths where you are just watching cars drive by. Thankfully, it's always accompanied by some delightful '70s rock. The soundtrack isn't out of this world but it is comfortably enjoyable. It's hard not to tap your toes when the theme song, "Livin' in the Land of Oz" comes on. The stand out is the rockabilly inspired "Beating Around the Bush." You can draw your own conclusions with that title.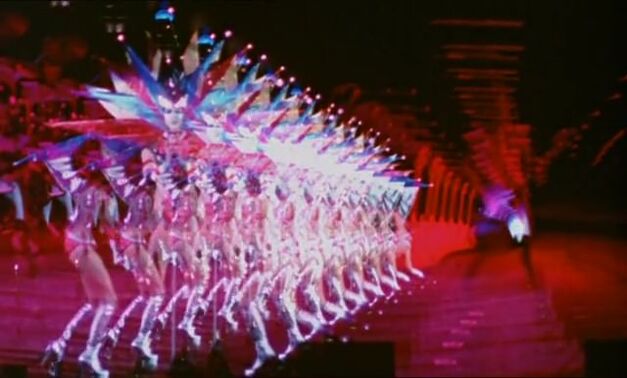 Aside from the eventual concert that the Wizard puts on, there aren't as many trippy visuals as you would expect from a movie made in 1976. Oz is surprisingly straightforward in that regard. If there had been a few more standout moments of psychedelic craziness, maybe Oz would be better remembered than it is.
Regardless, Oz is worth checking out if you're a fan of Australian cinema or The Wizard of Oz. This writer is a lucky combination of both. It's definitely a movie that could have only been made at a certain time. It's something of a shame that that time will never come again.
Read more in our regular Weird Watch series here.