Your weekend time is valuable and at the end of a long week, the discretionary time must be spent to its maximum value. To help narrow down your choices on the film, television, and gaming fronts, every Friday, the Weekend Preview gives you the rundown of your options and an educated guess as to which ones make the most sense.
Andrew and Nick predicted the box office returns for these films last Sunday. Check it out!
At the Movies
The Founder
Director: John Lee Hancock
Stars: Michael Keaton, Nick Offerman, John Carroll Lynch, Laura Dern
Current RT Meter: 83% Fresh
Andrew's box office prediction: $5,000,000
Nicks box office prediction: $2,900,000
The Michael Keaton comeback continues this weekend as Keaton stars in The Founder. Founder tells the tale of Ray Kroc, a man who might not be a household name but should be. Kroc started McDonald's and turned it into the behemoth that is it. But Kroc's rise to the top wasn't the feel-good American success story you might expect. Kroc was shifty, devious and downright villainous to get what he wanted. If there is anyone who can pull that off and still remain engaging and charismatic, it's Keaton. This one was producing a lot of buzz a few months back but it's kind of petered out as the debut approached. Reviews are strong though and you know you want to see Michael Keaton light up the screen again.
The Verdict: While this might not be the Oscar contender it was originally envisioned as, you should check this out to learn some American history and see Michael Keaton shine.
xXx: The Return of Xander Cage
Director: D.J. Caruso
Stars: Vin Diesel, Donnie Yen, Samuel L. Jackson
Current RT Meter: No Score Yet
Andrew's box office prediction: $32,000,000
Nicks box office prediction: $18,000,000
I guess a lot of people were asking for this one? Vin Diesel is back as Xander Cage in the this xXx sequel. He's up to his usual hijinks of doing extreme stunts and saving the world. The plot seems murky but do you really care? If you're going to see The Return of Xander Cage, you're going in order to see Vin Diesel say and do silly things. But has too much time gone by since the last xXx? Will this secure an audience? Will Vin Diesel ever find a shirt with long sleeves? So many questions!
The Verdict: There haven't been any reviews for this one yet, implying it won't be good. But surely there is some xXx fan out there ready and excited? Is it you?
Split
Director: M. Night Shyamalan
Stars: James McAvoy, Anya Taylor Joy
Current RT Meter: 78% Fresh
Drew's box office prediction: $23,000,000
Nicks box office prediction: $18,000,000
It's been a long, long time but M. Night Shyamalan films are a reason for excitement again. After The Visit, Shyamalan has made it apparent that he's returning to his horror film roots. With positive reviews, a strong starring performance, and a fascinating plot, Split seems like it could give Shyamalan even more goodwill after years and years (and years) of bad movies. We want M. Night to be good and have always been rooting for him to be in fine form again. Let's hope audiences give him more reasons to continue making worthwhile films.
The Verdict: Do you like psychological horror? Do you enjoy M. Night and want to see him making movies like he used to? Or do you just want to see James McAvoy act like a mad man? Split will make you happy.
The Resurrection of Gavin Stone
Director: Dallas Jenkins
Stars: Brett Dalton, Shawn Michaels, Anjelah Johnson-Reyes
Current RT Meter: No Score Yet
Drew's box office prediction: $1,000,000
Nicks box office prediction: $450,000
Religious films have been doing pretty well at the box office lately. There is a large, church-going audience that will attend screenings in large groups and spread positive reviews via word-of-mouth. Despite the positive reaction from their small (growing?) but passionate fanbase, these films haven't received strong reviews. With none posted yet, it's likely The Resurrection of Gavin Stone will be a critical miss. Therefore it likely won't make the leap from niche religious film to mainstream success. It might not be Gavin Stone but someday - maybe someday soon - a religious motion picture is going to become a bonafide crossover hit. And, no, I'm not talking about Mel Gibson's Passion of the Christ sequel.
The Verdict: This will probably be pretty bad but if you're a devoted believer with some time to kill after church this weekend it might be up your alley.
On the Tube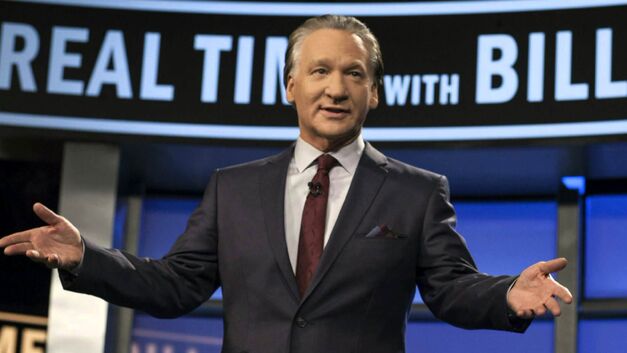 Real Time with Bill Maher (HBO. Friday, 10PM)
Bill Maher is an acquired taste, to put it lightly. Even diehard progressives don't always see eye to eye with Maher's blunt, no-holds-barred view of the world and politics. However, with Drumpf becoming president on Friday, Maher's show will be one to watch. He's obviously not a big fan of our soon-to-be leader and will spend his show proving it. While Maher isn't everyone's cup of tea, he always has an interesting panel of famous and important people with different insights. So even if you don't like listening to Bill, you might enjoy the views of his guests.
The Verdict: If you're a conservative, you might want to pass. If you're a liberal down in the dumps on Inauguration Day, Bill will give you a few bittersweet laughs.
Beaches (Lifetime. Saturday, 8PM)
I've never seen the classic tearjerker Beaches so I don't think the Lifetime remake is for me. However, if you're a fan of the Bette Midler/Barbara Hershey drama then you'll probably want to see how good (or bad) this adaptation is. Idina Menzel and Nia Long star this time around and will surely bring the drama, friendship and tears. Will Menzel sing the classic "The Wind Beneath My Wings"? If so, will she do it justice?
The Verdict: We all need a good cry every once in awhile. If you've got a plethora of kleenex and some friends to cuddle up and watch with, Beaches is for you.
For the Gamers
Gravity Rush 2 (Playstation 4. Available January 20)
Gravity Rush 2 seems like a lot of stomach-churning fun. Don't get me wrong, being able to control the direction of gravity and fly around like a leaf in the wind sounds fun. However, my tummy twists and turns just watching the trailer. Too bad because this game looks fantastic and colorful and endlessly inventive. Plus you have a cool cat companion. What more could you ask for?
The Verdict: It's rare that a game looks as unique as this. If you're looking for something new to dive into, Gravity Rush 2 is definitely worth your time.
Have a great weekend, folks! See you next time!