A Force is awakening, old movies are getting new life, Nintendo and Kojima news are smashing up the games industry, and the Golden Globes nominees may just give us a much-needed peek into what awards season will look like.
Just what WAS the biggest story in the world of pop culture this week? Sit back and let "The Week in Fandom" enlighten you…
Star Wars: The Force Awakens


This week's biggest story is an absolute no-brainer with Star Wars: The Force Awakens finally hitting theaters, and in Death Star-like fashion, it's eclipsing everything in the pop-culture universe. This should come as no surprise, since Episode VII has basically been doing that for over a year now. And it's not just taking over our viewing lives; it's taking over our dairy creamer, our produce aisles, our gaming consoles, our toy stores… pretty much everything imaginable. We've reached peak Star Wars, people!
Yesterday alone, Star Wars superfan site Wookieepedia attracted over 1 million unique visitors – its highest trafficked day ever. (Its second highest trafficked day was Oct. 21, which coincides with the premiere of the film's official trailer during Monday Night Football). Perhaps even more telling, however, is that over half of those visitors were from outside the U.S., pointing to what a global phenomenon Star Wars has become.
And now that the big day has arrived, fans are flocking to theaters to see if The Force Awakens can live up to the hype. Word on the street is good so far, with the movie even garnering a spot on AFI's Top 10 of the Year list. But don't trust them; instead listen to our very own Nick Nunziata, who caught an early screening of the film.
"You can breathe. There's nothing to fear in what J.J. Abrams has done with Star Wars. The guy gets it. He respects it. It feels like the Star Wars we know and love, and after seeing it you're going to want to see it again and again. It's a great way to kickstart this new Golden Age of Star Wars."
Trailers Make Everything Old New Again

Wait, there are other movies outside of Star Wars? Why, yes young padawan. And the other big story this week is the huge helping of trailers that are breathing new life into old franchises… starting with a first look at Independence Day: Resurgence. We caught a peek at the alien invasion once again threatening Earth, along with old timers Jeff Goldblum and Bill Pullman (but no Will Smith!). We also caught a glimpse at some new faces like Liam Hemsworth and Jessie Usher. We were also treated to the Star Trek Beyond trailer, which featured booming music from the Beastie Boys, jumping motorcycles, and feisty alien females. Next up, X-Men: Apocalypse gave us our first glimpses at a young Jean Grey, Cyclops, and Storm, as well as the world's first mutant, Apocalypse himself. And last but definitely not least, we dive back into J.K. Rowling's Wizarding World with the Fantastic Beasts and Where to Find Them teaser. This new adventure is set well before Harry and crew were born, and tells the story of Newt Scamander — a wizard who accidentally unleashes the titular beasts onto 1920s New York. For a full look at this season's new trailers, check out Nick Nunziata's roundup.
Super Smash Bros. and More Nintendo News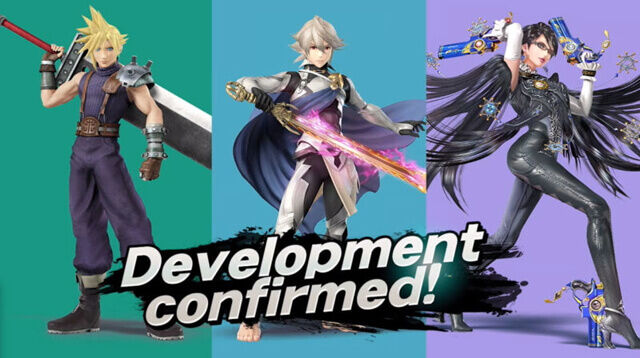 Speaking of old made new again, Nintendo announced this week that they'll be bringing back some major fan favorites in the next edition of Super Smash Bros: Cloud from Final Fantasy VII, Corrin from Fire Emblem Fates, and Bayonetta from the critically acclaimed Bayonetta games. When fans were asked by Fighter Ballot who they'd nominate to be in the next game, Bayonetta was the clear worldwide choice. On top of being featured in the game, all three will also get their very own amiibo figures. What other characters would we have liked to see in Smash? Check out our wishlist here.
Kojima Productions
Elsewhere in the gaming world, we finally got some answers about one of the industry's most-beloved game makers. Rumors have been swirling for months around legendary Metal Gear Solid game creator Hideo Kojima parting ways with his longtime studio Konami, and this week those rumors have been confirmed. Kojima told IGN he's forming his own independent game studio Kojima Productions, which has already partnered with Sony for its first project and may work on more than just games. While he was mum on all the Konami drama, Kojima was eager to talk about what's next, including hinting that the new Sony title will be "slightly more edgy" than his previous titles. Edgier than Metal Gear? Yes, please.
Golden Globes

Lastly, the Golden Globes nominees was released earlier this week, giving us a first taste at what may be the favorites for the upcoming awards season. Carol, The Big Short, and The Revenant saw the most attention, which seems like a good look at the beginning of the Oscar race. The big story on the TV side, however, was the strong showing from streaming services like Netflix, Hulu and Amazon. Netflix overtook HBO for the most nominations, ending a 14-year streak. Plus, it was a pretty good year for the little cable guys like Starz and FX. On the flip side, there were many snubs: Straight Outta Compton and Brooklyn didn't make the cut. Neither did The Americans (will it ever?). And while Mad Men only picked up a single nomination, at least it was for Jon Hamm who may finally have a chance at winning this year.