Once Upon A Time in Venice might not be one of the biggest movies on your radar, but it totally should be. From the first Once Upon A Time in Venice trailer, it looks to be an awesome blend of John Wick and Taken, but with someone pinching Bruce Willis' dog instead of his daughter and it being held hostage rather than killed on the spot (thank goodness, we don't think our hearts could take it).
From the looks of this trailer alone, this could be Bruce Willis back on form. His last few movies haven't exactly been knockouts – Precious Cargo, Extraction, Vice or The Prince anyone? In this, he plays LA private investigator, Steve Ford, who ends up getting involved with some bad, bad people after they steal his little Jack Russell, Buddy.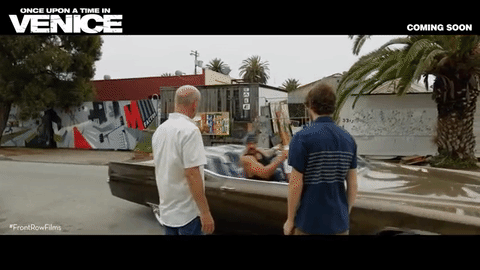 But more importantly, especially for Game of Thrones and Marvel fans, it also stars Jason Momoa as the dog-stealing drug dealer, with just a touch of comedy.
We also love that the excellent John Goodman has been signed up to play Ford's friend 'Dave', who joins him on the quest to get Buddy back. There are also roles for X-Men star Famke Janssen and Silicon Valley's Thomas Middleditch.
Apparently, the film will see Willis and Goodman find themselves in a series of crazy circumstances as they work to get the gang's cocaine stash back in exchange for the dog. We know how far we'd go to save our dog, so we don't really blame Willis for finding himself in this big mess.
There's no word on when Once Upon A Time in Venice will hit cinemas, but hopefully, it'll be as good as the trailer suggests. It's been penned by writing duo Robb and Mark Cullen who are the minds behind another Bruce Willis film, Cop Out.