When it comes to smart, lighthearted comedy for adults, I'm not sure any show is doing it better right now than Unbreakable Kimmy Schmidt.
No other current show is so packed with non-stop, buoyant humor, both verbal and visual. And the show is more than just a silly joke factory — it's based in smart, thoughtful, and bold observations on moral relativism, urban gentrification, gay stereotypes, materialism, classism, religion, trauma, and sexual violence.
After Kimmy used the video evidence she found in the bunker to get the Reverend Richard Wayne Gary Wayne (Jon Hamm) locked up, several plot threads picked up that lead us directly into Season 2: Titus met Vonda, the woman he married back when he was still closeted. We saw a newly divorced Jacqueline accidentally steal a cop car to return to her Lakota family. And Kimmy's romantic interest, Dong Nguyen, married Sonja to get his green card.
—SPOILERS PAST THIS POINT—
Season 2 picks up those threads after a strange flash-forward opening that introduces three new characters and an important recurring gag in under a minute. I have no idea why they chose to start the season off this way. It's a lot to take in, but after a "three months earlier" title card, we get a proper start to…
Episode 1: "Kimmy Goes Roller Skating!"
Aside from the weird flash-forward sequence, this is one of the best and funniest episodes in the show's entire run. Titus and Vonda are trying to reconcile after he disappeared and was declared dead, and the flashbacks to their relationship and marriage reception are among the episode's highlights. Dong's thick accent has been cleverly written out of the show. Jacqueline, desperate to reconnect with her parents and heritage, is told to stay away from the sweat lodge but gets locked in the back seat of the cop car from last season's finale where she overheats and experiences a hilarious series of hallucinations.
Funniest Moment(s): Nothing tops the reveal of Fred Armisen as Lillian's first love, "Bobby," a.k.a. Robert Durst of The Jinx. "What a disaster!"
Episode 2: "Kimmy Goes on a Play Date!"
In another strong episode, Kimmy gets a job at a year-round Christmas store. The episode kicks off with a joke about gender ambiguity that is actually funny when we meet Terry (Doug Plaut), Kimmy's new boss. Kimmy goes on a rant about Rudolph the red-nosed reindeer and how no one took him seriously. ("Some say his mother made it with a doorbell light!")
Titus meets Mike, a construction worker who catcalled Kimmy in Season 1. Mike reveals that he is gay and closeted. Jacqueline returns to New York City to reestablish her life, and she meets up with an old rival, Deirdre Robespierre (Anna Camp).
Funniest Moment(s): When Jacqueline wonders why Kimmy's phone has been going straight to voicemail, it turns out her phone's been on a call to Lillian for 73 hours, and Lillian is still talking. Also, Mike claims to have airbrushed a "hot chick" on the back of his truck, only to reveal the face of Tilda Swinton. God, I love this show.
Episode 3: "Kimmy Goes to a Play!"
This episode, while not as consistently funny as the first two, is an incredibly pointed criticism of outrage culture. Titus develops a new one-man show (Kimono You Didn't!) inspired by one of his past lives: a geisha named Murasaki. When the website Respectful Asian Portrayals in Entertainment (guess the intentional acronym) hears about this, they dub him "one of their top five Hitlers of all time" and stage a protest at his performance. Meanwhile, Lillian is starting to get ticked off that hipsters are gentrifying her once crummy neighborhood.
Funniest Moment(s): When one of the protestors at Titus' show admits that she offended herself, she vanishes in a beam of light.
Episode 4: "Kimmy Kidnaps Gretchen!"
When fellow mole woman Gretchen falls in with the nefarious Church of Cosmetology, Kimmy kidnaps her to stage an intervention. There's a lot of dark stuff running under the surface of this very funny episode, but the darkness pokes through when Kimmy finally convinces Gretchen to do something of her own volition, instead of just following others. Mike and Titus go on their first date together, and it's adorable.
Funniest Moment(s): When wilding out on the streets of New York, Gretchen asks Kimmy,"What's nose candy?" Kimmy, as expected, replies "That sounds harmless. Let's ask around!"
Episode 5: "Kimmy Gives Up!"
Dong is in danger of being deported, so Kimmy shirks her studying for the GED. Titus is distraught because he's genuinely happy with Mike — something he's never felt before. Jacqueline is having trouble parenting her hyperactive son Buckley, and medicates him with a drug called Dyziplen.
Funniest Moment(s): The scene with Jacqueline and the doctor discussing Dyziplen is top to bottom brilliant — "Treats hyperactivity, ADHD, and Kanye West spectrum disorder."
Episode 6: "Kimmy Drives a Car!"
This riotously funny episode sees Austin hipsters (Zosia Mamet and Evan Jonigkeit) invade Kimmy's neighborhood, so Lillian continues to wage war on gentrification. Kimmy is fired from the Christmas store, gets her learner's permit, and becomes an Uber driver with Jacqueline's cop car. Jacqueline breaks one of her front teeth on a biscotti and uses a Mentos as a false tooth until she can get it fixed.
Funniest Moment(s): Kimmy and Titus decide to rent their place on Airbnb. Upon seeing the listing, Kimmy asks Titus, "What's a cozy uptown duck palace?" Titus balks, "Stupid autocorrect!"
Episode 7: "Kimmy Walks Into a Bar!"

Jacqueline's rivalry with Deirdre Robespierre escalates when Jacqueline hosts a charity gala event on the same as one of Deirdre's events. This episode sees Jacqueline hit an amazing high and a rough low, when she uses her wits to steal guests from Deirdre's party but realizes they don't have any intention of donating money to benefit Native Americans. Kimmy meets a handsome Army vet in a bar, and their brief flirtations reveal that both of them are dealing with post-traumatic stress.
Funniest Moment(s): Kimmy reveals how she can listen to boring people — by imagining their eyes and mouth switching places. Seeing this happen to Jon Hamm's face was a season highlight.
Episode 8: "Kimmy Goes to a Hotel!"
In another one of the show's best episodes (directed by Steve Buscemi!), we finally see the season premiere's weird opening scene in context, where it actually makes sense. Jacqueline meets Russ Snyder (David Cross), a property lawyer who represents a couple who believes Jacqueline's valuable Mondrian painting is theirs. Titus is promoted to manager at the restaurant, where he is forced to don a costume that makes him look like Ebenezer Scrooge and goes on a journey of Scrooge-like self-discovery. Kimmy and Dong rekindle their romance and take a trip to a dilapidated hotel in the Poconos. When they decide to have sex, they go to a convenience store for condoms, where Joshua Jackson plays the clerk. This episode deals with the consequences of sexual assault in a way that is smart, tender, and lighthearted but still carries the necessary gravitas.
Funniest Moment(s): This episode is chock full of flat-out hilarity. Lillian calls a scrunchie a "pocket butthole," and when Dong has an allergic reaction to a latex condom, he cries, "Now I can't breathe which means my brain isn't getting… any of your e-mails, Peter!"
Episode 9: "Kimmy Meets a Drunk Lady!"
In yet another fantastic episode, Kimmy picks up a drunk Uber passenger: psychiatrist Andrea Bayden (Tina Fey). Andrea encourages Kimmy, who can't stop burping, to stop putting everyone else's needs before her own. As Andrea keeps winding up in Kimmy's car, it comes to light that Kimmy can't keep repressing her complex emotions surrounding her trauma.
Funniest Moment(s): There are many including Kimmy eating gummy worms with a fork, but my favorite is when Andrea bluntly tells Kimmy, "I make my life work by separating my days from what I do at night. It's called compartmentalizing, and it's not a problem because I know the words to describe it."
Episode 10: "Kimmy Goes to Her Happy Place!"
The show continues its hottest streak. Lillian is disgusted with the new hipster bakery, A Pinched Loaf, in the neighborhood. Kimmy begins therapy with Andrea and reveals that she avoids negative emotions by escaping to her inner Disney-inspired fantasy world. This is done in two animated sequences, and they're some of the darkest material the show has ever tackled. The idea that Kimmy harbors resentment for her mother is uncovered in therapy. Mike comes out to his Catholic Italian family, who readily accepts him.
Funniest Moment(s): Again, this is a packed episode. But the reveal of Michael's "Pupazza," a grandmotherly figure so ancient she had to be played by a puppet, made me pause the show because I was laughing too hard.
Episode 11: "Kimmy Meets a Celebrity!"
Cyndee, another one of the mole women, shows up on a Maury-esque TV show hosted by Dr. Dave (Jeff Goldblum). Dr. Dave exploits Cyndee and Kimmy for the sake of "therapy-tainment." Cyndee is going to get married to her gay fiancé on the show, so Kimmy intervenes.
Funniest Moment(s): We find out that the neighborhood tweaker, Methhead Charlie, is actually named Methadone H. Charles.
Episode 12: "Kimmy Sees a Sunset!"
In a more heartbreaking episode, Kimmy continues her therapy and reveals that her mother is a "coaster head," who is addicted to riding roller coasters. Andrea's debauchery and drinking peaks, so Kimmy, in an attempt to keep Andrea from drinking for one night, handcuffs herself to Andrea and sits with her on a rooftop. Jacqueline romantically pursues lawyer Russ Snyder. Titus goes on auditions and gets a peek at his potential future when an older acquaintance, Norman Gordon, dies suddenly. Ice-T shows up at Norman's funeral to conduct the service and reveals that Norman died during improv. It's pretty damn funny, but it doesn't derail this episode's powerful emotional story with Andrea.
Funniest Moment(s): As Jacqueline follows Russ around New York, she overhears Russ having some really strange phone conversations: "Jerry —you push those people out of their homes, I'll push your wife's wedding ring out of my ass!"
Episode 13: "Kimmy Finds Her Mom!"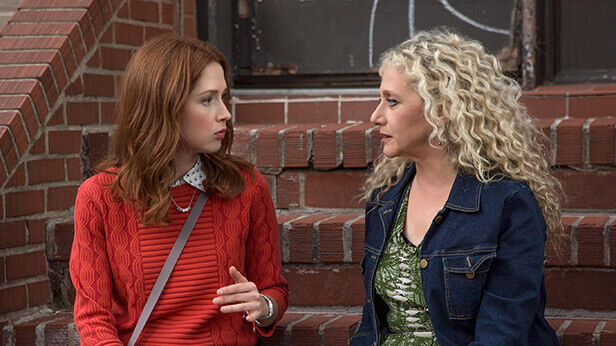 Titus gets offered a contract gig on a cruise ship and has to decide whether to move in with Mike or leave for four months ("That's like three Judd Apatow movies!") for the cruise job. Jacqueline encounters trouble with Russ when she finds out that his family owns the Washington Redskins. Kimmy travels to Universal Studios Orlando to find her mother, Lori-Ann Schmidt (Lisa Kudrow). The two have a rocky reunion and trade harsh words about Kimmy's trauma and their relationship. They reach an uncomfortable resolution when Kimmy admits, "There's nothing I can say that will un-kidnap me or fix my childhood… I just have to accept that." Then, the Reverend returns to reveal that he and Kimmy are still technically married, and he wants a divorce. Cliffhanger!
Funniest Moment(s): Kimmy and Titus keep running over alligators on their drive through Florida.
Though its second season was darker and definitely raunchier than its first, the show has strongly defined its identity. At times it feels like the writer's room was mining cheap meme jokes from Buzzfeed and Tumblr, but the core of the humor on the show is timeless and the performances are all so great that the silly topical humor will stay fresh for a long time. Long live Kimmy, and bring on Season 3!