Fans mourn the loss of two amazing artists, Oscar noms are announced, a surprise sequel from J.J. Abrams, more Deadpool outrageousness, and an epic Star Wars Rebels trailer.
Oscar season is in full effect, but Awards talk was overshadow by some terrible losses in the music and film world. We'll break it all down for you in this latest installment of "The Week in Fandom."
Alan Rickman & David Bowie, R.I.P.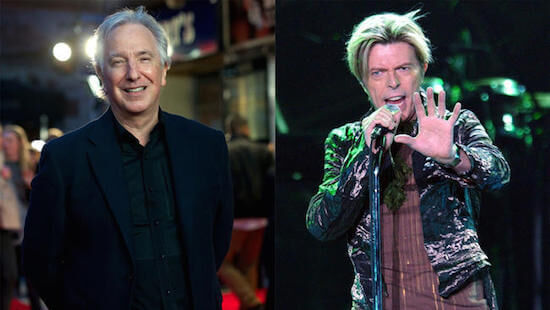 The world lost two greats this week with the deaths of David Bowie and Alan Rickman, both of whom died of cancer at the age of 69.
Bowie, who's music career spanned over five decades, sold over 140 million records worldwide and made an indelible mark on pop culture. He left fans with a new album, 'Blackstar,' and an astonishing self-penned eulogy in the form of his final music video for the song "Lazarus."
Alan Rickman, rose to global notoriety after playing Hans Gruber, the villain who faces-off against Bruce Willis in 1988's Die Hard, setting up decades of memorable film performances — Robin Hood: Prince of Thieves; Truly, Madly, Deeply; Michael Collins; Galaxy Quest; Love Actually, and dozens more. He was most beloved by Harry Potter fans around the world for his portrayal of Professor Severus Snape.
The Revenant Leads Oscar Noms
The nominations for the 88th annual Academy Awards were announced on Thursday. The Revenant leads the pack with 12 nods, and Mad Max: Fury Road is a close second with 10 nominations. The Martian made the cut in numerous categories, and Bridge of Spies made a strong showing as well.
Of course, everyone's talking about some notable snubs. Straight Outta Compton was essentially ignored and Todd Haynes' Carol, a critical darling, failed to earn a Best Picture nomination.
Check out the full list of Oscar nominees here.
J.J. Abrams Surprise Movie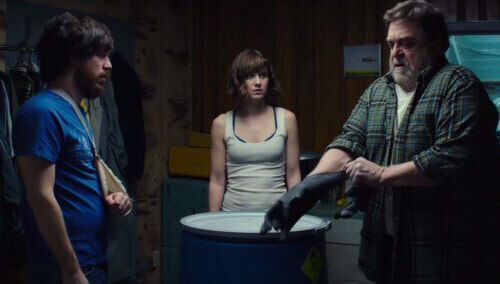 Hold up! J.J. Abrams has produced a surprise Cloverfield sequel? It's true… sort of. The trailer for 10 Cloverfield Lane dropped unexpectedly Friday morning.
The movie stars Mary Elizabeth Winstead, John Goodman and John Gallagher, Jr., and is set in a survivalist's bunker, presumably in the aftermath (?) of the "Cloverfield" event.
Reluctant to call the movie a sequel to the 2008 monster movie, Abrams has termed it a "blood relative."
Dan Trachtenberg directed the movie from a script by Josh Campbell, Matthew Stuecken, and Damien Chazelle. And even though we just learned that the movie existed, it'll be in theaters soon — March 11!
Epic Star Wars Rebels Trailer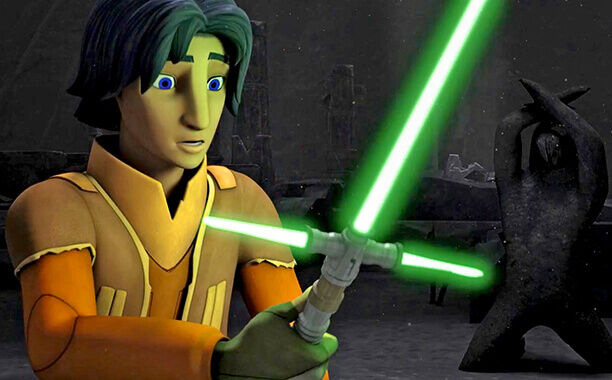 An epic new trailer for the second half of this season of Star Wars Rebels has dropped, and it's guaranteed to blow your mind! The show has upped the ante this season, adding two new villainous Inquisitors, Darth Vader, and now Princess Leia.
In the preview, Ezra Bridger is counseled by the spirit of Yoda, while contending with the pull of the dark side. He even seeks out someone who calls himself "Old Master" – who looks an awful lot like Darth Maul! Matt Lanter returns to reprise his role as Anakin Skywalker, and Ahsoka Tano inches closer to discovering the true identity of Darth Vader.
There's also a visual reference to The Force Awakens in the form of a crossguard lightsaber. This one's green, but it's the same form as the weapon wielded by Kylo Ren.
More Deadpool Craziness
The totally fearless marketing campaign for Fox's Deadpool movie continues to make waves and garner buzz for the upcoming comic book movie starring Ryan Reynolds as the "Merc with a Mouth."
On the heels of a hilarious banner that promotes the movie's Valentine's Day release date, Fox raised a massive emoji billboard in Los Angeles. We can't wait to see their next move!
---
Would you like to be part of the Wikia team? Join our Fan Contributor Program and share your voice on Wikia.com!