SPOILER ALERT: This post contains spoilers from the Season 8, Episode 4 of The Walking Dead entitled "Some Guy." Process with caution.
The "All Out War" continued between Rick's survivors and Negan's Saviors, with the former taking massive casualties.
The Kingdom army was nearly wiped out by the Saviors, except for King Ezekiel.
Without further ado, here are the five most shocking moments from "Some Guy."
Sheer Violence
The Walking Dead has always been a graphic show, but this episode took it to new heights (or depths). The bodies of the Kingdom soldiers were ripped apart, with limbs littering the field and bodies riddled with bullet wounds.
As the U.S. suffers from its deadliest shooting ever, one can't help but think of the scene in Las Vegas — where 58 people were killed in similar fashion — gunned down by a sniper with high-powered rifles.
Of course, the show was filmed well before the deadly Vegas massacre, but this type of imagery is pushing the boundaries, even if the tragic real-life event hadn't happened yet.
Bad-ass Carol
Carol proved to be a one-woman army, taking down the snipers by shooting them from inside the ceiling. Unfortunately, she was outnumbered, and found herself caught in a shootout with other Saviors.
One of the most resourceful survivors, Carol pretended to surrender, but then turned the tables on the Saviors by opening a gate and having walkers attack them.
They escaped only after Carol decided to rescue the Kingdom survivors.
Jerry Saves the Day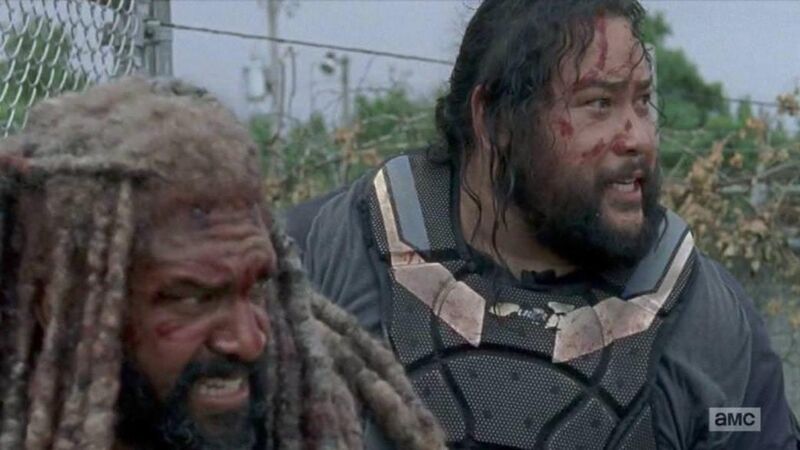 One Kingdom warrior survived the ambush: the axe-wielding Jerry. Jerry literally split Ezekiel's Jeffrey Dahmer-esque captor Gunther in half in yet another graphic scene. The loyal lieutenant wouldn't leave his king's side.
We Got the Guns
Carol wasn't able to stop the Saviors from fleeing, but once she heard the rip from Daryl's hog she knew that the guns wouldn't end up in Negan's hands.
After an epic chase where the Daryl and Rick tag-team took down the Saviors Grand Theft Auto style, the guns are now in the hands of the survivors.
Tiger Beat
As Carol, Jerry, and an injured Ezekiel fled the walkers, they ran out of weapons and ammo.
Coming upon a polluted creek, Ezekiel decided to make his last stand, revealing to Jerry that he wasn't a king at all, just "Some Guy" (the title of the episode).
As the undead surrounded Ezekiel, Shiva appeared out of nowhere, thrashing the zombies and giving his master a chance to escape. As the walkers surrounded Shiva, a horrified Ezekiel watched as his best friend was torn apart.
Sadly, there are no more smiles for Ezekiel. R.I.P. Shiva.