The Walking Dead has reached a milestone. The Season 8 premiere marks the 100th episode of the AMC series, but the San Diego Comic-Con panel opened on a sad note. The death of stuntman John Bernecker last week was the first thing the panel addressed and it cast a somber mood over the room. Bernecker died from injuries sustained in fall on the set.
Showrunner Scott Gimple read a statement about their colleague: "John passed away this week after he was injured doing something he loved: helping tell stories that excite, entertain, and give people escape. He helped make movies and shows for people like everybody in this room. John was someone who was beloved in the stunt community, who helped train people and helped them break into the business. He was living his dream, and he helped other people do the same."
The panel then jumped into the new Season 8 trailer, and there was plenty to see. Check it out here:
As far as what we gleaned from the new trailer, the biggest surprise was a shot of Rick waking up in bed. He has a huge beard and a cane rests next to the bed — both clear indicators that the show is going to follow the comic in jumping forward a few years after the war with the Saviors. That likely means the Whisperers are just around the corner…
This side-by-side picture of post-time jump Rick from the comic and dreamy "Big-Beard" Rick from the Season 8 trailer seems like a fairly solid confirmation:
During the Q&A, one fan asked about the death of legendary horror director George A. Romero and how he influenced the cast and crew. Robert Kirkman spoke at length about how he would see Night of the Living Dead on television a bunch of times late at night. Considering how much Romero's work directly influenced The Walking Dead, it was heartwarming to hear this acknowledgment.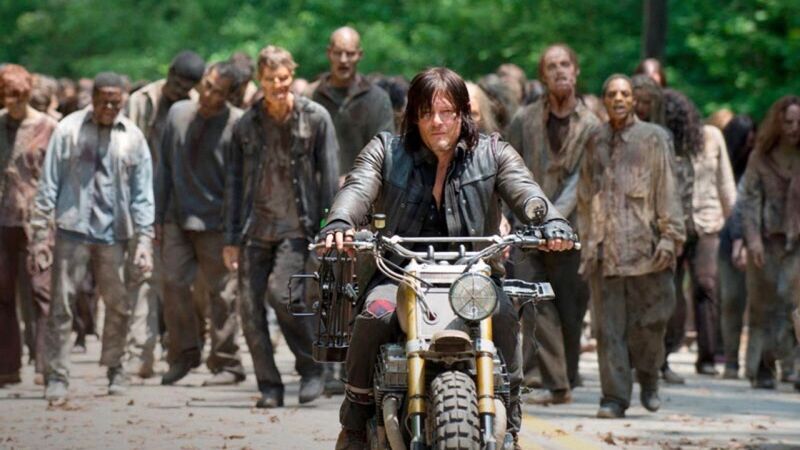 The mood wasn't all dark, though. The cast lamented how hot the shoots can be, which led to Robert Kirkman shouting about spinoffs like The Walking Dead: Serengeti. When a fan from Sweden asked a question, the cast asked if it was cool in the summer. It was a bit of light fun for a panel that couldn't help feel somewhat sad.
The Walking Dead will continue to go on and its fans couldn't be happier. It was surprising to have a Comic-Con panel that felt like a bit of a downer. But, given the recent tragic events, it made some sense. Plus, The Walking Dead is a show that wouldn't exactly be described as cheery, so maybe it was appropriate.