New year, new tube. From reboots to robots to rock 'n' roll, 2016 is shaping up to be an exciting year for television. Here are 10 new shows we've got our eyes and remotes on.
The Shannara Chronicles
Tuesdays 10 p.m. MTV (premieres Jan. 5)

The Shannara Chronicles is an adaptation of Terry Brooks' book series, with the first season based on his second novel, The Elfstones of Shannara. Thousands of years in the future, a nuclear holocaust has destroyed most of civilization on Earth and the Four Lands have risen, now home to humans and mutations thereof — gnomes, dwarves, trolls, and elves. Wil (Austin Butler), a part-human/part-elf Healer; Amberle (Poppy Drayton), an elven princess; and Eretria (Ivana Baquero), a human, set out on a journey to save their world from a rising demon army. True to MTV style, this is an epic fantasy series for millennials, complete with attractive leads, complex characters, love and heartache. But beyond the magic and costumes, this is a story of young people trying to discover themselves. Add Executive Producer Jon Favreau and the sweeping landscapes of New Zealand, and we're ready to join the quest.
Check out our NYCC interviews with the cast here.
Shadowhunters
Tuesdays 9 p.m. Freeform (premieres January 12)

Based on Cassandra Clare's international best-selling young adult book series The Mortal Instruments, the series centers around heroine Clary Fray (Katherine McNamara). While most other 18-year-olds are celebrating official adulthood and college admissions, Clary discovers on her milestone birthday that she comes from a long line of Shadowhunters — human-angel hybrids whose purpose is to hunt down demons. Pulled out of her mundane life and thrown into the Shadow World, Clary is introduced to fairies, vampires, werewolves, and warlocks. Along for the ride are her handsome best friend Simon (Alberto Rosende) and lethally gorgeous fellow Shadowhunter Jace (Dominic Sherwood); if a girl's gotta fight, at least she should do it in good (looking) company. Happy birthday, Clary. Welcome to the "Supernatural Fight Club."
Check out our NYCC interviews with the cast here.
Legends of Tomorrow
Thursdays 8 p.m. CW (premieres Jan. 21)

The Arrowverse welcomes another spin-off series to the family, featuring established players from DC predecessors Arrow and The Flash, as well as new characters. Time traveler Rip Hunter (Arthur Darvill) has witnessed humanity on the brink of destruction at the hands of Vandal Savage (Casper Crump) and travels back in time (our present) to assemble a group of "Legends" to stop him. The unconventional team has some super bench strength in the form of heroes AND villains: billionaire inventor Ray Palmer/The Atom (Brandon Routh); vigilante Sara Lance/White Canary (Caity Lotz); nuclear physicist Professor Martin Stein (Victor Garber) and Jefferson "Jax" Jackson (Franz Drameh), who combined form Firestorm; partners-in-crime, career thief Leonard Snart/Captain Cold (Wentworth Miller) and arsonist Mick Rory/Heat Wave (Dominic Purcell); and reincarnated Egyptian power couple Kendra Saunders/Hawkgirl (Ciara Renée) and Carter Hall/Hawkman (Falk Hentschel). Talk about #squadgoals.
Check out our NYCC interviews with the cast here.
X-Files
Mondays 8 p.m. FOX (Two night premiere: Jan. 24, 7 p.m. PST; Jan. 25, 8 p.m. PST)

It's been 13 years since the series ended and seven since the last film, X-Files: I Want To Believe, but the truth is still out there. Agents Fox Mulder and Dana Scully have since taken different directions from the FBI and from each other. When their former boss, FBI Assistant Director Skinner, calls, the former partners are reunited — at least professionally — to investigate the claims of a paranoid conservative talk-show host (Joel McHale). The believer and skeptic are thrown back into a familiar world of science, alien abductions, and government conspiracies. Also back are Cigarette Smoking Man, who apparently has defied all surgeon general warnings, and original series creator and director Chris Carter. The six-episode event will be a mixture of stand-alone (Monster of the Week) and mythology episodes. Prepare to believe again.
Check out our NYCC interviews with the cast here.
Lucifer
Mondays 9 p.m. FOX (premieres Jan. 25)

The devil is bored and has decided to retire, trading Hell for — where else — the City of Angels. The dark and charming Lucifer Morningstar (Tom Ellis), based loosely on the DC/Vertigo character, now owns a nightclub called Lux and is happily indulging in earthly delights. After he witnesses a murder outside his club, Lucifer experiences an unfamiliar sensation — compassion — and uses his unique set of skills to help the LAPD punish criminals. Meanwhile, the angel Amenadiel (DB Woodside) has been sent to Los Angeles to convince Lucifer to return to his place in the underworld. Sounds like a devil of a time.
Vinyl
Sundays 9 p.m. HBO (premieres Feb. 14)

There are only two words you need to know about this show: Martin. Scorsese. The Oscar winner is executive producing the upcoming series, along with Terence Winter (of The Sopranos and The Wolf of Wall Street fame) and Mick Jagger (of Rock and Roll Hall of Fame fame). It's 1970s New York. Punk, hip-hop, disco, and jazz are all exploding onto the scene. Bobby Cannavale plays Richie Finestra, a coked up record exec trying to resurrect his American Century label in a changing musical landscape. Olivia Wilde plays Richie's wife; Juno Temple is an ambitious assistant; Max Casella is American Century's head of artists and repertoire; and Ray Romano is one of Richie's trusted partners. Also series regulars: sex, drugs, and violence. Rock on.
Preacher
May 2016 AMC

Based on the DC Comics/Vertigo character and written/directed by Seth Rogen and Evan Goldberg, the series follows Jesse Custer (Dominic Cooper) — a small town preacher who is inhabited by a supernatural entity allowing him to tap into the Word of God and command the obedience of others. Along with his volatile, bazooka-constructing, criminal ex-girlfriend, Tulip (Ruth Negga), and a 100-year-dead joyriding, peyote dropping vampire named Cassidy (Joseph Gilgun), the three embark on a cross-country journey to literally find God. In the first episode, we also meet Arseface (Ian Colletti) — a boy whose shotgun-to-the-face suicide attempt failed and left him with the disfigured appearance accurately described by his name. Saints and sinners beware: This is not your typical God Squad.
Luke Cage
2016 Netflix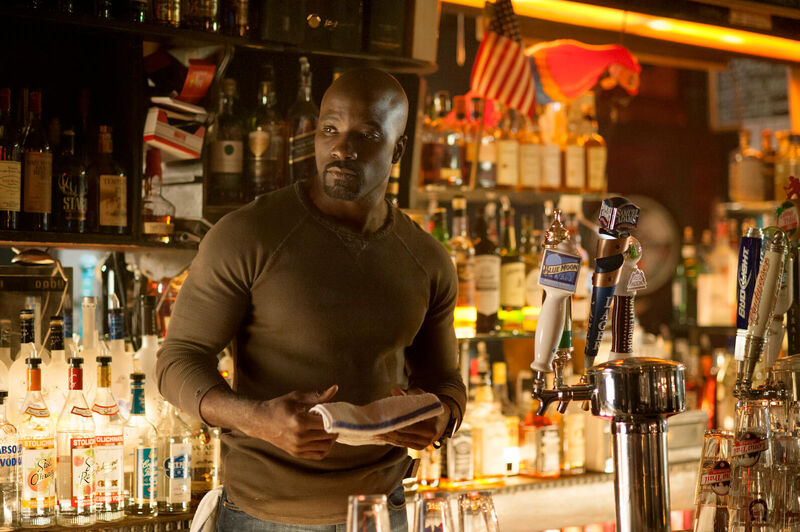 Marvel's Jessica Jones first introduced us to more-than-meets-the-eye barkeep Luke Cage (Mike Colter) and this year, he'll star in his own series. After a sabotaged experiment leaves him with super strength and unbreakable skin, Luke is a fugitive trying to rebuild his life in Harlem. He is soon forced to confront his past and fight for the heart of his city. Also in the mix are Cornell "Cottonmouth" Stokes (Mahershala Ali), a nightclub owner with criminal activities; Mariah Dillard (Alfre Woodard), a Harlem politician and cousin to Cottonmouth; and Claire Temple (Rosario Dawson), a night-shift nurse and superhero ally, who has appeared in both Daredevil and Jessica Jones. Netflix's previous superhero series have been gritty, intense, character stories and we expect nothing less from Luke Cage.
The Get Down
2016 Netflix

Baz Luhrmann spent over a decade developing his new drama, a take on the thriving 1970s New York music scene (similar to Vinyl, but we're guessing with less street drugs and more street dancing). The Get Down explores the rise of punk, disco, and hip hop through the eyes and music of a crew of South Bronx teenagers. With names like Shaolin Fantastic, Boo-Boo, Ra-Ra, and Ezekiel, the teenagers are likely to be just as loud, colorful, and chaotic as Luhrmann's signature visuals. Giancarlo Esposito and Jimmy Smits have been cast along with a slew of fresh young talent. Classic '70s music as well as original tunes, artist collaborations, and big Baz style? We're down.
Westworld
2016 HBO
The official description of the series calls it "a dark odyssey about the dawn of artificial consciousness and the future of sin." Now in English: From Executive Producers Jonathan Nolan and J.J. Abrams, Westworld is a remake of the Michael Crichton sci-fi western thriller film. The show is centered around a futuristic Western-themed amusement park where visitors can act out their fantasies with life-like robots. Naturally, something goes awry (did we learn nothing from Jurassic Park?), causing the robots to malfunction and revolt, turning on the park guests with deadly results. Anthony Hopkins portrays the creative mastermind behind Westworld, and Ed Harris, Thandie Newton, James Marsden, and Evan Rachel Wood also star. Man vs. machine, reality vs. belief — it seems only fitting that Abrams' production company is named Bad Robot.