The holiday season is often a minefield of family dramas. After eating an insane amount of food and dealing with your family's political opinions that may or may not jibe with your own, you're going to need some "me" time. So, to take your mind off your dysfunctional relatives, give thanks to the TV gods who brought us the dramas of other people's families. These families sure have their dramas, but at least they're not yours. Get lost in a Christmas holiday binge-watch with these gripping dramas.
Netflix
The Crown
If you happen to enjoy family drama of the royal variety then Netflix's The Crown is for you. Based on the award-winning play (The Audience) by showrunner Peter Morgan, The Crown is a lavishly-staged drama about Queen Elizabeth II and her ascent to the throne at age 25 after the death of her father, King George VI.
Claire Foy's embodiment of the Elizabeth Windsor role is uncanny, and you'll forget all about the Eleventh Doctor when Matt Smith is on screen as Prince Philip, Duke of Edinburgh. Likewise, John Lithgow's scene-stealing performance as Winston Churchill cannot go unmentioned.
And the raves don't stop with the performances. The writing, direction, cinematography and overall production values are equally worthy of praise.
The Crown's entire first season, 10 one-hour episodes in all, are available to binge-watch right now on Netflix. The experience will, no doubt, leave you wanting more, and in that case, there's good news — Netflix has already commissioned a second season, and Morgan has a full four-season run mapped out. [Brian Linder]
Better Call Saul 
AMC's Better Call Saul may not seem like a family drama at first glance. After all, this Breaking Bad prequel tells the origins of Saul Goodman, who isn't exactly the marrying type. But despite the protagonist's sometimes-sleaziness, Better Call Saul contains a strong emotional core. While Saul's rise to power remains an important focus, his relationship with his mentally ill brother — masterfully played by Michael McKean —provides some of the most heartfelt and heartbreaking moments of the series. Without this element of Better Call Saul, the titular character wouldn't be nearly as sympathetic. This kind of familial relationship is rarely seen on TV, and thankfully, Better Call Saul does it right. [Bob Mackey]
Gilmore Girls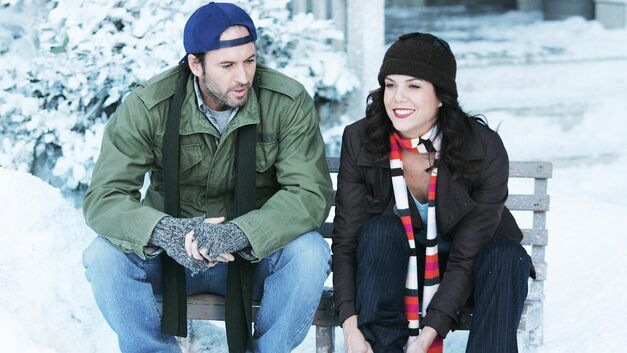 This year, the Christmas holidays should all be about the Gilmore Girls because now you can finally catch up on the show's return, A Year in the Life. In case you're not up-to-date with the original seven seasons, the Christmas holidays are the perfect time to slip into something more comfortable (like your jimjams), toast yourself some Pop-Tarts, and let the dramas of Lorelai, Rory and the batty residents of Stars Hollow wash over you.
In reality, not much happens on Gilmore Girls. What makes the show so binge-able, however, are the small hooks each episode digs in. It's the little dramas, the quirky small town characters contrasted against the wealthy quasi-stereotypes of Lorelai's parents, the relatable and enviable relationships, and the obscure pop culture references that make this so very binge-worthy. All these things also make the Gilmore Girls world a comfortable and safe place to escape into and forget whatever else might be going on in the world. [Colette Smith]
Jane the Virgin 
Jane the Virgin has all the family drama you could ever ask for: sexy baby-daddies, crime lord mothers, long lost brothers, surprise twin sisters, the list goes on.
What makes Jane the Virgin so much fun, even after 50 episodes, is its self-aware telenovela narrative and the adorable-ness of the characters. From Jane's estranged daytime television father Rogelio De La Vega played by real telenovela star Jaime Camil to ex-wife baby-mama Petra Solano, who somehow goes from bitch to sweetheart in a matter of seconds.
Then there's Jane, played by the brilliant Gina Rodriguez who won an Emmy for the role. Jane gets into fights with every member of her "extended" family but makes up with them all with an open heart, lots of missteps, and tons of honesty. And, she always does in the cutest dresses.
The Salano family is as far as you can get from traditional (accidental artificial insemination, hello?) but they are a real family, who occasionally have to deal with a kidnapping or two. [Jamie Freedman]
Amazon Prime
The Sopranos (also on HBO Go)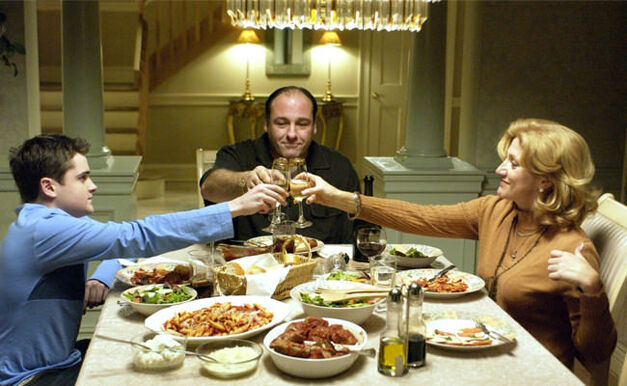 For HBO, there really is a pre- and post-Sopranos era for the network. After years of original programming, the 1999 debut of The Sopranos ushered in today's era of Prestige TV with high (and deserved) praise. Though the series ended years ago, the exploration of one tragic man and his criminal family remains current and worth revisiting even now.
The late James Gandolfini gives a performance for the ages as Tony Soprano, a Mafia boss who is self-aware enough to be filled with existential dread about his criminal empire. Each season mixes dangerous criminal plots with mundane family problems, often overlapping with each other in tragicomic ways. It's a fascinating show that parents and their adult children can enjoy together. [Henry Gilbert]
Transparent Seasons 1-3
What are family gatherings for, if not to escape? Just ask Jill Soloway, creator of Transparent, who wrote and co-produced another very binge-able show, Six Feet Under.
If you're looking for a good binge-watch at home over the holidays, Transparent, starring Jeffrey Tambor, will do everything but serve you the actual Chrismas ham. Soloway's Transparent rolls three seasons deep, but after one Shabbat meal with the Pfeffermans and three geese on the run in a Los Angeles retirement community, escapism transcends reality.
The dynamics of laughter, love, friendship, relationships, culture, and identity in this show will keep you pressing the play button. While the title implies a self-titled show about a real trans-parent, Soloway covers just about every aspect of identity. This ranges from sexuality and ambiguity in love to epigenetics and the biological transfer of traumatic memories from generation to generation. While the timing wasn't planned to meet with the current political climate in America, (the show is two years old now), it provides deep insight into the dynamics of immigration once families have assimilated.
Transparent will have you looking in the mirror with a box of tissues and laughing so hard you'll have to catch your breath. Just when you aren't sure who is looking back at you in your own reflection, you'll get to the episode that asks "Why Do We Cover The Mirrors?"

Transparent will fulfill a case of the lonelies as much as it will inspire the entire family to sit together in the same room and binge on leftover Christmas cookies. With three seasons on Amazon Prime at 30 minutes each, you'll stay hooked with enough time for that second slice of pie. [Corey Denis]
Search Party (Also on TBS)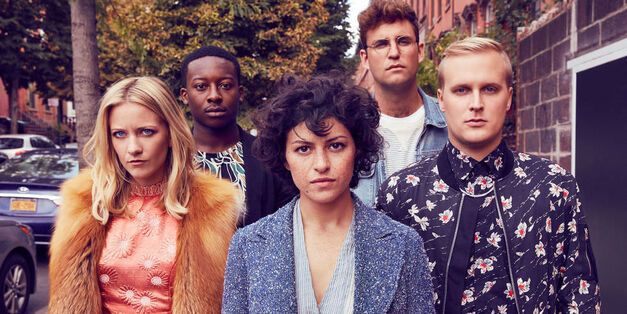 Search Party is a concept that shouldn't work, but it does — perhaps a commonality of much of co-creator Michael Showalter's work. A mix of Girls, a mature Nancy Drew and a touch of something darker, the show follows Dory (played by Arrested Development's Alia Shawkat) and her close-knit circle of self-obsessed Brooklynite friends as they search for a missing acquaintance from college, Chantal Witherbottom.
While never close with Chantal, Dory, who has been complacent in her post-college life, becomes obsessed with finding her and develops as an amateur detective in the process. Smart writing that rides the line between suspense, drama, and comedy, interesting characters, great casting (including Parker Posey as a new age cult leader with a penchant for artisanal jewelry making) and a killer indie pop soundtrack that perfectly punctuates the storyline make Search Party one to binge. While it may not include real blood relatives, sometimes the people we choose as friends are as good (or bad) as our real family.
The whole 10-episode season is now available to watch on TBS's streaming platforms, including TBS.com and select cable On Demand. [Nikki Flynn]
Hulu
Casual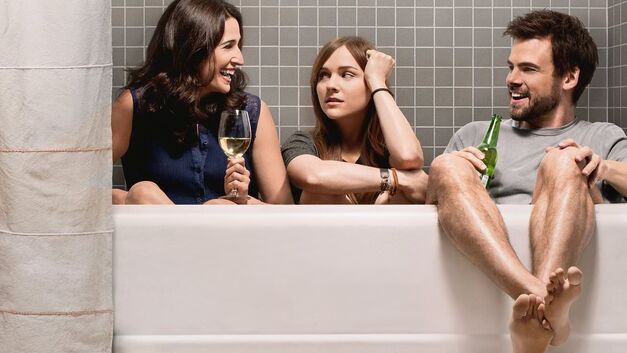 Hulu's original series Casual hasn't received nearly as much buzz as it deserves. Directed by Jason Reitman (Juno, Up in the Air), the show follows the dramas of siblings Alex and Valerie and Valerie's teenage daughter, Laura, trying to navigate the dating world. Beyond that, Casual explores some deeply fascinating and complex subject matter. It looks at topics like co-dependency, discovering sexuality from a teenage and adult perspective, and casual relationships versus the ones that really stick.
The Casual family are probably a bit more screwed up than yours, but not in some hyper-realistic way. This isn't some far-out Married… With Children family dealing with dating hijinx. This is a carefully crafted, quiet drama that's unlike anything else on TV right now, and is the perfect show to sink into this holiday season. [Colette Smith]
Battlestar Galactica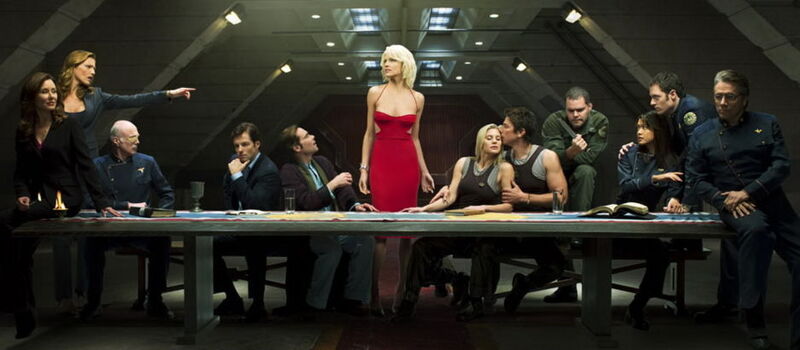 We tend to think of families as who we are related to by blood. But the term is far more encompassing than that. A family is any group of people who have bonded on the deepest of levels. A family is also formed when people survive through the darkest of times together. And no other show creates that sense of family like Battlestar Galactica.
The Syfy series exemplifies what it means to be part of the human family when artificially created life-forms known as Cylons nearly bring an entire civilization to extinction. As this struggling band of survivors traverse the galaxy in search of a new home, they are tested in ways that could break apart even the most unified of families.
There is a lot of actual familial drama in the show courtesy of Admiral William Adama (Edward James Olmos) and his son, Captain Lee Adama (Jamie Bamber). Their relationship is one of the most gut-wrenching and heartwarming in all of sci-fi television. And there are plenty of parent/child concepts that play out between the humans and their creations, the Cylons.
Battlestar Galactica makes for a great binge watch. It will certainly give you some perspective on the squabbles you have with your relatives. Maybe Grandpa's political beliefs are a little more tolerable when compared to the near-eradication of the human species. [Drew Dietsch]
The Affair Season 1 (Also on Showtime)
The first season of The Affair explores the twisted mess that arises out of the titular affair between well-off family-man author, Noah and married lower-class waitress, Alison. As the lead characters discover and act upon their mutual attraction, the effects have far-reaching tendrils for both families.
The show follows a unique structure where the audience sees events from different perspectives. Sometimes we'll see one scene from Noah's perspective where he's the hero of the moment. But then, half-way through the episode, we'll switch to see Alison's perspective. From her angle, we see the scene with a different context and view of Noah as not the hero he thinks he is. Few shows have successfully pulled this kind of structure off, but The Affair's first season does it seamlessly.
Season two is worth watching too, if for nothing more than to tie together the fragments season one left dangling. However, the show meanders into a very different tone and loses some of its specialness along the way. And by the end of the season, the show's premise starts wearing a little thin. But season one is engrossing and well worth binging on this Chirstmas holidays — it's a little bit titillating, a little bit mysterious, and completely compelling. [Colette Smith]
[A version of this article was originally published on Nov 24, 2016]