For this week's Throwback Thursday, we're honoring the birth of Mega Man — the scrappy little blue robot that's gone on to become one of the most revered characters in video gaming.
Mega Man, also known as Rockman (or Rokkuman) in Japan, was released in North America in December 1987 for the Nintendo Entertainment System, and was the first game created specifically for home consoles by Capcom, a Japanese arcade company who was looking to capitalize on the massive popularity of the NES.
While the moment-to-moment action of Mega Man was familiar to anyone who'd played popular platformers like Super Mario Bros., Mega Man had a novel approach to beating the game: You could tackle its six levels in any order. Once you defeated a level boss, you'd gain its special power, and since each special power was either more or less effective on the other bosses, how you beat the game was a puzzle in and of itself. This led to plenty of schoolyard arguments over which order was the "best" order to beat the game.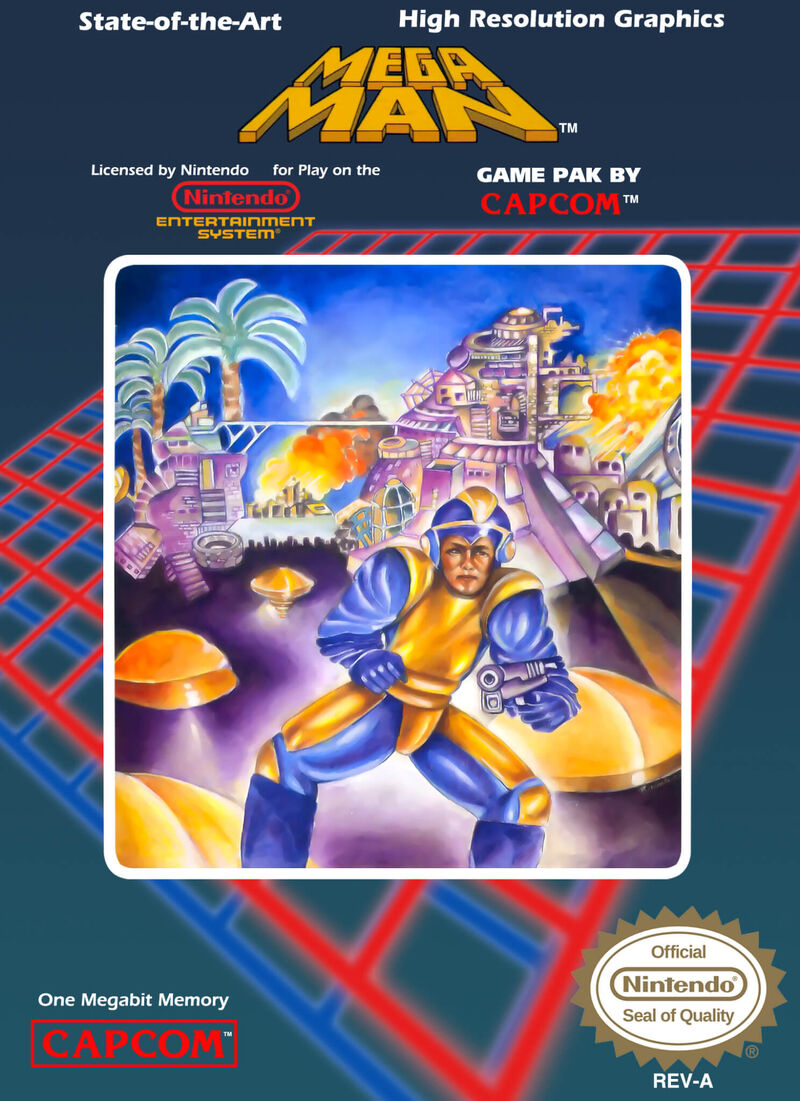 (My recommendation: Bomb Man, Guts Man, Cut Man, Elec Man, Ice Man, Fire Man.)
The first Mega Man game never found major commercial success (having arguably the worst box art of any video game ever probably didn't help), but it did do well enough for Capcom to greenlight a sequel… and another… and another. In fact, Mega Man is now in the Guinness Book of World Records for the "Most Number of Games in a Single Series."
Today, the Mega Man franchise goes well beyond the core games. You can find Mega Man cartoons, role-playing games, soccer games, kart-racing games, board games, a major movie in development, a life-size light-up helmet, and more.
If you're looking to get your Mega Man fix this very second, he recently appeared on the PS4, Xbox One, and PC in the Mega Man Legacy Collection, and a spiritual sequel called Mighty No. 9, from the co-creator of the franchise, Keiji Inafune, is due out on February 9, 2016.
For everything you'll ever want to know about the Mega Man series, check out the Mega Man Knowledge Base, home to nearly 4,000 articles about the Blue Bomber.
---
Elsewhere in December 1987:
America Had to Have Faith, Faith, Faith: The title track "Faith," off George Michael's solo album — his first after disbanding Wham! — dominated the Billboard music charts and went on to become the top-selling single in the U.S. in 1988. It was famously covered by rap-metal group Limp Bizkit in the late '90s… which most thirty-somethings will embarrassingly admit seemed pretty cool at the time.
The Teenage Mutant Ninja Turtles "Cowabunga" onto Saturday Morning TV: A considerably tamer cartoon version of the Teenage Mutant Ninja Turtles comic book created by Kevin Eastman and Peter Laird made its television debut as a five-part miniseries. The next year, the popular TMNT toy line would launch, leading to massive pop culture saturation, multiple hit movies, and one epic ninja rap.
Stand-up Dominates the #@*!ing Box Office: Eddie Murphy's concert film Raw took the top box office slot over the December 18 weekend, briefly supplanting the family-friendly Three Men and a Baby. In addition to being critically acclaimed, Raw held the distinction of featuring more f-bombs than any movie released before it.