We already know that the lucky folks in Japan are getting a Super Nintendo World as part of Universal Studios Japan in 2020, but it seems like it might be even better than we expected.
So far, Nintendo has kept details of what will be actually included within Super Nintendo World aside from some concept art that showed off a Super Mario themed multi-leveled structure, a Toad house, a Princess Peach-style castle and a Bowser gate. Concrete details are currently pretty scarce.
However, we might now have some additional details thanks to a recent trademark filing filed with the US for the Japanese theme park. The trademark specifically talks of "providing hotel accommodation, restaurant services, rental of conference rooms, exhibition spaces and rental of event venues", which all sounds pretty theme parky.
But more importantly, in those vast chunks of text, there's specific mention of "amusement park shows and special events at an amusement park" and… wait for it… "KART RACING".
No longer will our karting, banana-dropping, shell-throwing, ink-splatting dreams be limited to mere videogames. We could be playing proper Mario Kart in reality in just three years.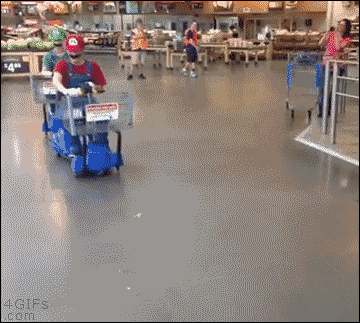 The trademark goes on to suggest that these shows and special events could include an "arrangement of motorcycle events and other events with vehicles". That could well mean Nintendo has plans to bring other racing games to life at Super Nintendo World. Excitebike Live anyone?
It looks like Nintendo has thought of everything if this trademark filing is to be believed. It covers everything from arcade video game machines, chess and dice games all the way to Halloween costumes, athletics kit and swimwear.
No doubt Nintendo will give us some more official information before Super Nintendo World at Universal Studios Japan launches in 2020, but until then we'll be over here getting far too excited about real-life Mario Kart.