UPDATE: The WWE SummerSlam 2016 results with reactions have been added below. In a rare turn of events, all three of us ended up with the same results, going 5-4 in our predictions (not counting the Rusev vs. Reigns no contest). Overall, it was an extremely solid PPV with one or two questionable decisions on behalf of the creative team, and an unorthodox and slightly confusing ending. We'll see what questions get answered, what feuds will continue, and what new storylines will begin to take shape on this week's RAW and SmackDown shows. 
SummerSlam 2016 is here, and after last night's spectacular NXT Takeover: Brooklyn II event, WWE's biggest show of the summer has a lot to live up to. On paper, SummerSlam looks fantastic. The show features big matchups between Superstars like John Cena and AJ Styles, the first official WWE appearance of Finn Bálor's alter ego, The Demon, and no doubt a surprise or two. It even features the return of Jon Stewart to WWE television, and — as he proved last year — he isn't afraid to jump into the fray and get involved in an angle.
Fandom Executive Games Editor Matthew Allen, Fan Contributor Jacob Anderson, and I have made our picks for the outcome of the biggest matches tonight. We'll be updating the SummerSlam 2016 predictions with results after the show, to see how Team AAA (Aday, Allen, Anderson) did. Considering my recent predictions performance, "The People's Fan" Matthew Allen and Jacob would be wise to align their picks with "The American Dream" Ryan Aday.
Carmella, Becky Lynch & Naomi vs. Natalya & Alexa Bliss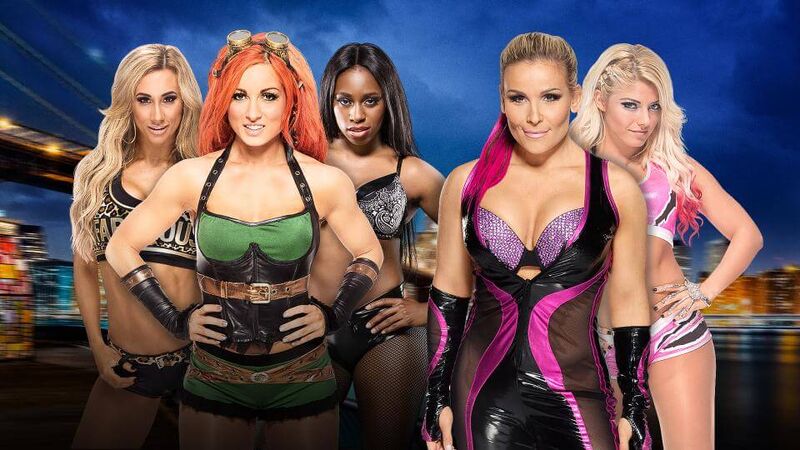 Predictions:
Aday: Becky Lynch, Naomi, and Carmella. Word on the street is that a new Women's Title belt will debut on Smackdown. Becky Lynch seems a viable titleholder and should get the pinfall here.
Allen: Becky Lynch, Naomi, and Carmela. Becky has had to "do the honors" (lose) for other wrestlers too often lately. Hopefully, she was just paying her dues and will be rewarded with the new title. As far as the TBD opponent, could this be the chance for Nia Jax to step in and prove she is a force to be reckoned with?
Anderson: Lynch, Naomi and Carmella. Somehow, Eva's impact, whether she's actually involved in the contest or not, is going to cost her team the victory.
Result: Natalya, Alexa Bliss, and a returning Nikki Bella win via pinfall after Bella delivers a TKO to Carmella. It was great to see Nikki return to the ring after a long hiatus due to a neck injury. I'm not sure about her aligning with what would generally be considered the heel team here, but that can be overlooked for the fact that they needed someone to replace Eva Marie. Speaking of Eva Marie, the WWE explained her absence by saying she needed some time to recuperate, rather than mentioning the suspension. 
Intercontinental Champion The Miz vs. Apollo Crews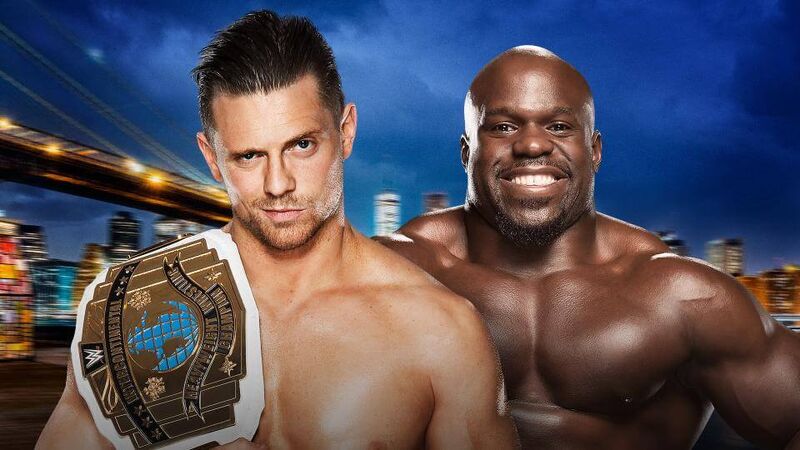 (WWE Intercontinental Championship Match)
Predictions:
Aday: The Miz. Making the Intercontinental Title relevant should not mean Apollo Crews as champion.  Look for an "A-List" challenger to emerge by RAW on Monday.
Allen: The Miz. I am not sure how The Miz does it, but somehow he always manages to keep himself part of the Intercontinental Title picture. Look for Crews to come close, setting up a rematch at a future event.
Anderson: The Miz. Until a bigger name comes along that even has a chance of challenging him for the gold, he'll be the one to hang onto it.
Result: The Miz wins via pinfall after delivering a Skull Crushing Finale. Meh. This is the definition of a midcard match. It was fine, but not very memorable. Crews hasn't had a chance to connect with the WWE Universe on a personal level, and at this point we know what we can expect from The Miz. 
Enzo Amore & Big Cass vs. Kevin Owens & Chris Jericho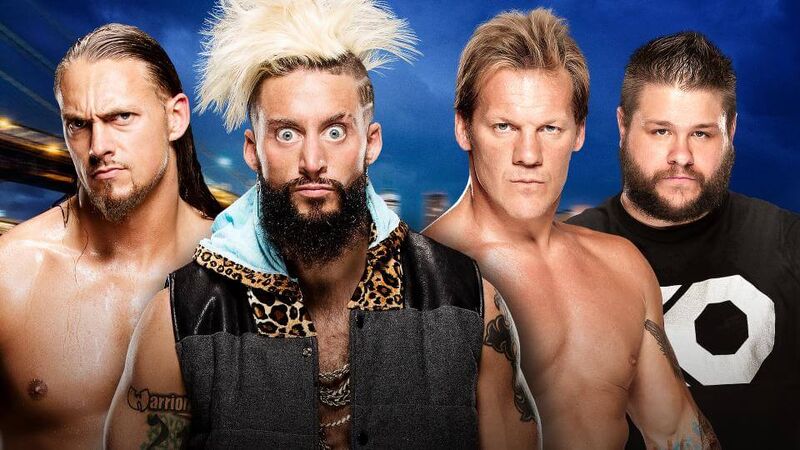 Predictions:
Aday: Enzo and Big Cass. They should get a shot at the titles regardless in the upcoming months.  Jeri-KO is cool but it feels more like a future rivalry that could blow up here.
Allen: Enzo and Big Cass. Enzo and Big Cass need a win to maintain their momentum and further establish them as a tag team to be reckoned with. Hopefully, they continue this feud with Jericho and Owens, as they are delivering comedy gold in their promos and interactions with Enzo and Cass.
Anderson: Owens and Jericho. Enzo & Cass will always get huge pops from the crowd, and they'll get pushed into the Tag Team title picture regardless of if they win at SummerSlam. Giving the win to Owens and Jericho allows them to flourish in the title picture as well.
Result: Chris Jericho and Kevin Owens win via pinfall after Owens launched Amore into a modified Codebreaker. This was a solid match from both teams. Jericho and Owens are over as heels, and they made the newcomers look good in the loss. If this win means we get more promos and backstage interviews out of Jeri-KO, I'm all for it. 
WWE Tag Team Champions The New Day vs. Gallows & Anderson
(WWE Tag Team Championship Match)
Predictions:
Aday: Anderson and Gallows. Club gets gold part 1. The New Day without Big E loses, which causes the team to split. 
Allen: Anderson and Gallows. The absence of Big E will prove to be The New Day's downfall. The question becomes: Do they chase The Club for the titles, or move on to feud with another team?
Anderson: The Club. The chances of titles changing hands at a pay-per-view that isn't considered part of WWE's Big Four are always slim, and Gallows and Anderson would look strong as title-holders. The New Day can take the loss, which can set up a rematch and possibly give Enzo & Cass their chance at the Championships down the line.
Result: Anderson and Gallows win via disqualification after Big E rushes to the ring to attack both men. Say what you will about Jon Stewart's involvement in this match (has a non-wrestler ever really added that much to a match?), the big question here is if Big E was healthy enough to attack Gallows and Anderson, why wasn't he healthy enough to compete? Since this was a DQ, The New Day retains their titles, and if they can hold onto them for another two days, they will have held the Tag Team Championship for one year. 
WWE Women's Champion Sasha Banks vs. Charlotte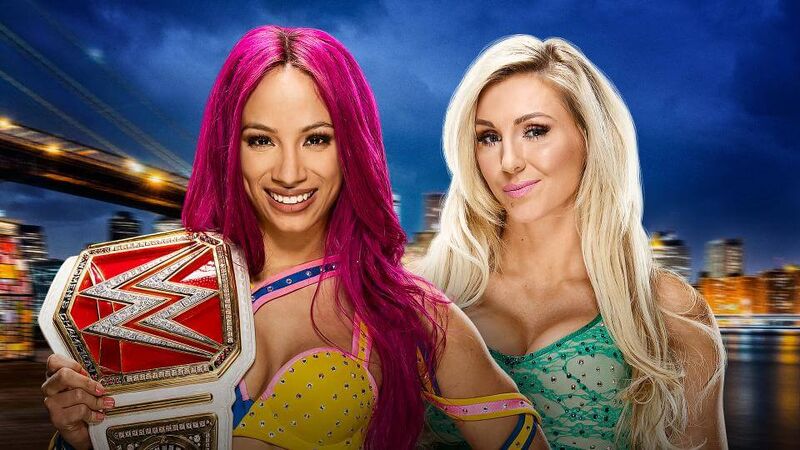 (WWE Women's Championship Match)
Predictions:
Aday: Sasha Banks. There is no reason to have Sasha win last time if she's just gonna drop it back to Charlotte.  Somehow I see Nia Jax getting involved.
Allen: Sasha Banks. Although they will eventually need Charlotte to get a win and add some drama to the feud, right now it is too soon. Sasha needs her time to shine, make a "Banks Statement" and establish herself as a champion for a bit longer.
Anderson: Sasha Banks. Charlotte had a good run with the Women's Championship, but I'm interested to see Women's Title matchups with Sasha in the picture against…oh, I dunno, Paige? Nikki Bella? Maybe even Becky Lynch or Bayley? So long as Banks is champ.
Result: Charlotte defeats Sasha Banks after rolling out of a Bank Statement, pinning Banks' shoulders to the mat for the win. A babyface chasing a heel to win back a championship is always compelling to watch. It is just surprising that they chose to start that chase so soon after Banks won the title. Hopefully, there will be some good slow-burn booking, and we won't see a lot of back and forth with the belt, as that only hurts the prestige of the title in the long run. 
U.S. Champion Rusev vs. Roman Reigns
(WWE United States Championship Match)
Predictions:
Aday: Roman Reigns. There are only 4 or 5 people who I would say beat Rusev at a pay-per-view.  Roman Reigns is one.  Check mark for "the guy."
Allen: Roman Reigns. It appears Reigns has "done his time" in the eyes of WWE management. I'm sure they realize they still have a long way to go before he can be the main event draw they were setting him up to be. One way get him back on track is to win the U.S. Title and work his way up from there.
Anderson: Rusev. Giving the title to Reigns is just going to infuriate the crowd even more, and Rusev's only title loss was to John Cena. Even though Reigns is kinda playing an annoying duplicate of Cena's character, Rusev needs to look strong and keep dominating his opposition.
Result: The match is ruled a no contest after Rusev attacks Roman Reigns outside the ring before the bell. Reigns fought back and appeared to injure Rusev, who was ruled unable to compete. Reigns returned to the arena to deliver a Spear to Rusev on the entry ramp. Call me crazy, but it seemed like some members of the audience were sympathizing for Rusev. That could have just been the crowd that continues to boo Reigns, though. The choice to cancel the match appeared to be a last-minute decision as the show was running long, as it is hard to believe they would have booked a no-contest on one of the biggest events of the year. 
John Cena vs. AJ Styles
Predictions:
Aday: AJ Styles. This is a marquee feud and Johnny usually wins at the big ones.  I kind of see full-time vs. part-time here with AJ's full schedule helping him pick up the W.
Allen: AJ Styles. AJ has done everything necessary to establish himself as a top-level Superstar in WWE. A win at SummerSlam will be his reward for doing so.
Anderson: AJ Styles. John Cena has a knack of putting over good talent, and even though his SummerSlam record isn't the best, his losses have skyrocketed the careers of several Superstars over the past several years. Styles desperately needs this victory.
Result: AJ Styles wins via pinfall after delivering a Styles Clash followed by a Phenomenal Forearm. This was hands-down the match of the night, and could be considered a match of the year contender. 
WWE World Champion Dean Ambrose vs. Dolph Ziggler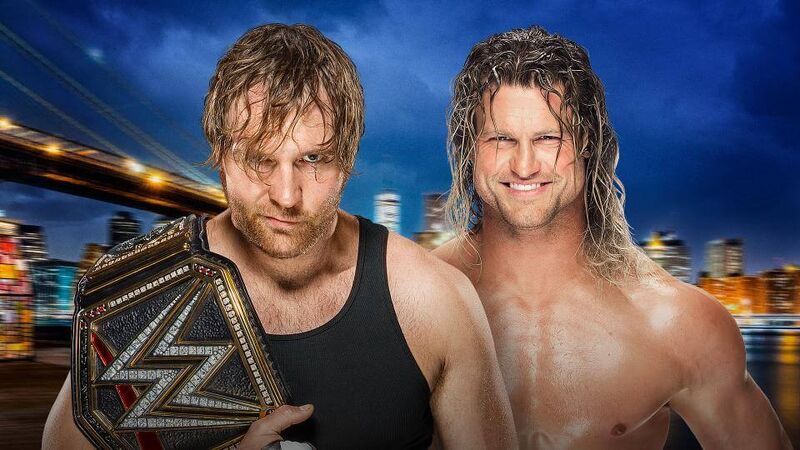 (WWE World Championship Match)
Predictions:
Aday: Dean Ambrose. As much as we all love Dolph Ziggler, the current roster cannot justify him as champion.  He should have been showcased two or three years ago when the top-end talent was thinner.
Allen: Dean Ambrose. Ziggler is the go-to guy when WWE needs a good match, and I fully expect him to deliver in that area at Summer Slam. He'll come close, but Ambrose will walk away with his title belt.
Anderson: Dean Ambrose. Ziggler signed a contract in 2015 that essentially kept him in the midcard of WWE's programming with no hope of getting to the top of the ladder. While he is co-main eventing the evening, don't expect him to walk out with the title tonight.
Result: Dean Ambrose wins via pinfall after delivering a Dirty Deeds. As all three of us predicted, it is just too soon to take the title off Ambrose, and Ziggler — while one of the best performers on the roster — isn't currently at a high enough level on the card to be a serious title contender. 
Seth Rollins vs. Finn Bálor
(WWE Universal Championship Match)
Predictions:
Aday: Finn Bálor. Club gets gold part 2. A Bálor win puts NXT over like nobody's business.  Rollins doesn't need gold to be "the guy." A rematch at Clash of Champions seems likely.
Allen: Finn Bálor. You can't let Bálor lose his first big match on the main roster, especially when he is channeling The Demon.
Anderson: Seth Rollins. Giving Bálor the championship only a month after debuting seems a little premature, even if Finn is deserving of more than just one main roster title opportunity. Give Rollins the title now and set up an underdog story with Bálor to make his eventual Universal Championship win more meaningful.
Result: Finn Bálor wins via pinfall after a Coup de Grace, capturing the all-new (and extremely red) WWE Universal Championship. Bálor indeed makes a statement, and though the crowd was getting fatigued from the long night, they got up for this one. Those boos you may have heard were for that new title. So red…
Brock Lesnar vs. Randy Orton
Predictions:
Aday: Randy Orton. Unless they pull a swerve, Orton wins — but not cleanly — when Goldberg either distracts or makes contact with Lesnar setting up a WrestleMania 33 match.
Allen: Randy Orton by way of interference from Goldberg. Goldberg has been extremely vocal about WWE lately.  While it would be easy to dismiss that as hype for the WWE 2K17 game coming out later this year, somehow I think both men want to make up for their terrible match at WrestleMania XX. Goldberg will interfere in this match, resulting in Lesnar losing, which kicks off a feud that runs all the way until WrestleMania 33. 
Anderson: Orton. Having Lesnar squash another opponent would be interesting and fun to watch, but if Orton plans on returning with any success, he can't have is momentum squashed so quickly after returning to the company.
Result: Brock Lesnar defeats Randy Orton via TKO after busting him open with a brutal forearm to the head and repeatedly attacking Orton while medical staff and referees were trying to attend to him. This result was unexpected. It almost seemed like WWE had to go to that finish after Orton actually was accidentally busted open. That cut on his head looked nasty. It appears that the Goldberg talk was a swerve, and we will see him on TV in the coming weeks, or he won't be coming back after all. 
WWE SummerSlam 2016 is available on demand on the WWE Network.