What's so special about Steven Universe and why does it have so many dedicated fans? It's hard to put into words, but there's something about it that speaks to people young and old who're misfits searching for friends and family in a scary world. That's definitely what I love about the animated series, and it's why I was so excited for a chance for a roundtable interview with some of the creators and stars of the show, right after they finished their packed musical Comic-Con panel.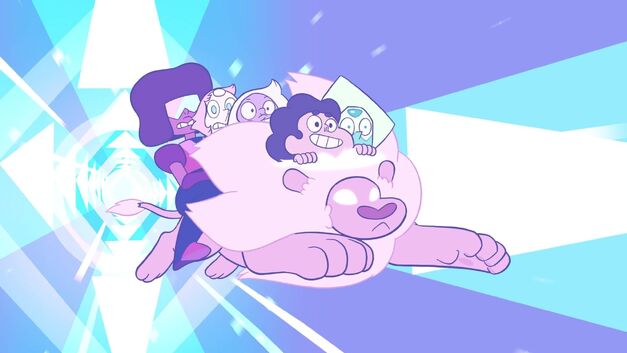 Steven Universe's former supervising director Ian Jones-Quartey says that the animators definitely took some inspiration from classic Japanese animation of the 1970s, '80s, and '90s when crafting episodes. That's obvious when you look at any given minute of the show, though Ian's chief anime influence isn't one that's known much in America: Future Boy Conan, one of the early TV series from Studio Ghibli mastermind Hayao Miyazaki. Jone-Quartey said of Future Boy Conan, "That's like major for us. It's got everything: Action, adventure, the pure hearts of children, It's like everything we love and that just carries itself through to the rest of the crew."
The voice of Steven Universe, Zach Callison, definitely brings a specific energy to the series. Ian pointed out that the artists started drawing Steven's eyes as stars in response to Zach's unique brand of excitement as the character. Now 18, Zach has grown with the character, and he thinks that his real-time aging has really helped Steven's arc. "I just kind of aged Steven's voice as my voice changed. And it kind of aided Steven's arc as well. He's grown up, learned to use his powers, So that helped in a certain way."
Most of the actors have grown into their roles similar to Zach. Deedee Mango-Hall, the voice of Crystal Gem Pearl, knew that Steven Universe was going to be musical in some way because she'd sung in the audition for the show, but the amount of musical moments have certainly grown. And given Hall's background as a Broadway performer in shows like Miss Saigon, she's definitely excited that legends like Patti LuPone have lent their voices to the show. "I'm so thrilled every time we get new music for the show."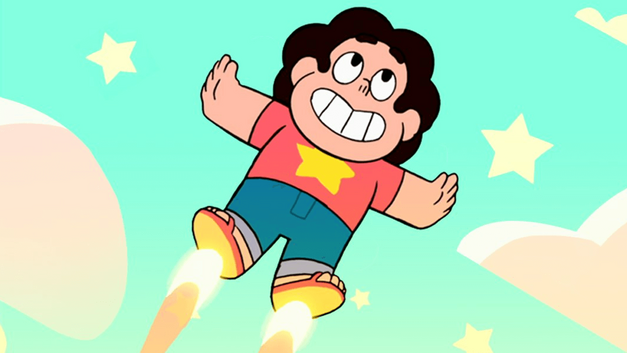 "And I'm like sweating bullets," replied Michaela Dietz at the prospect of singing for the show. Dietz plays Amethyst on the show, the funniest and brattiest member of the group, and you can hear the character even in natural conversation during the interview. The character's voice is very close to her own, something Dietz is a slightly concerned about given her other work. "The challenge is I use my natural voice for Amethyst. I use my natural voice for Grand Theft Auto. Then these kids come online and then they sync stuff up and I get really, like… She should not be saying these words!"
Estelle is a big name recording artist with multiple hit albums and has worked with the likes of Kanye West and John Legend, but a younger generation knows her as Steven Universe regular Garnet. She recalled meeting some recording industry friends, "They say, 'Yo, my daughter loves you.' And I'm like, 'Thanks, but does your daughter know my dirty records?'" And it's always a pleasure to realize the kid knows her from Steven Universe. "It's a boundary crossing, audience crossing show that so many people love. I have friends I hang out with every single day who only recently realized I'm on the show. I'm like 'Didn't you hear my voice?" But she's quick to laugh it off.
And for Rebecca Sugar, Steven Universe's creator, she seems very pleased with where the show is at in its third season. Steven Universe's growth into the very musical show it has become was always in the plans for Sugar. "I was writing so many songs for Adventure Time, and I knew I wanted my next project to be very musical. It's no accident that Steven is the son of a musician and a fighter because he's both of those things. That's part of the foundation of the show."
And lastly, just like on Fandom's own list of the best Steven Universe songs, both Sugar and Estelle rank "Stronger Than You" as their favorite tune on the show. And it's hard to argue with that, though we'll have to wait and see if this current crop of shows can somehow top such an iconic tune.