Warning: Some spoilers for Deadpool within.
This weekend, Deadpool has broken a nice list of records. 20th Century Fox's marketing campaign is arguably the most subversive ever taken on for a film, and the rich payoff for Ryan Reynolds' X-Men spinoff has resulted in:
The biggest three- and four-day weekend for an R-rated film of all time.
The biggest opening weekend for any X-Men film.
The biggest President's Day opening weekend of all time.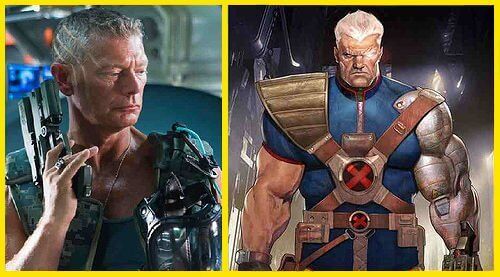 Fox is pursuing a Deadpool sequel post haste, enough that Mr. Pool himself coyly reveals after the credits that Cable—the time-traveling, telekinetic cyborg who has often teamed with Deadpool in their own series and the X-Force—will appear in Deadpool 2. Mel Gibson, Dolph Lundgren, and Keira Knightley are all named as contenders for the part before the Merc with a Mouth retreats to his bedroom a la Ferris Bueller.
Admittedly, Gibson and Lundgren could pull off the cranky edge of Cable with poise. However, a beloved, muscular character actor has begun lying in wait for his shot at Nathan Summers—with a heavy fan presence to support him.
Stephen Lang, best known for his delightful scenery chewing as the villainous Col. Quaritch in Avatar and its upcoming sequels, took to Twitter to show off his personal—and physical—desire for the role.
Let's lay some CABLE. You know I want it. This is pre-training. Thanks for spreading the word. #Deadpool pic.twitter.com/jI1Y1i0oH0

— Stephen Lang (@IAmStephenLang) February 13, 2016
Shakespeare:"CABLEs of perdurable toughness". Slang: Just staying fit. Training another story. Let's go! #Deadpool pic.twitter.com/cCZ2WTzPi9

— Stephen Lang (@IAmStephenLang) February 14, 2016
Lang cheekily quotes Shakespeare to say he was "just staying fit," calling the pictures "pre-training" and thanking fans for "spreading the word."
Is he gearing up for Avatar 2? Are discussions underway? Lang's participation is far from confirmed for a sequel that's been greenlit but undated. The venerable character actor was beloved in James Cameron's game changer, but his three-decade-plus career has also produced memorable supporting turns in films like Manhunter and Tombstone, where his intense edge shows the prospect of a wonderful foil to the hyperactive slapstick that has made Reynolds' take on Wade Wilson an instant icon.
Will Fox be monitoring fan feedback as closely as they did for Deadpool? Only time will tell.
Writers Paul Wernick and Rhett Reese are penning the sequel, with Reynolds and director Tim Miller likely to return as well.