Stephen Amell is a boss as Oliver Queen on The CW's action-packed Arrow. Fans of the superhero series are well aware of Amell's physical prowess, having seen him doing crazy workout scenes, like the "salmon ladder," and many of his own stunts. But you've never seen him like this.
Amell is appearing on a special episode of NBC's American Ninja Warrior on May 25, running the course with other celebrities for Red Nose Day.
From the looks of this promo, it seems like Stephen has a shot at mastering much of the course. At one point, after Amell successfully completes the flywheel portion of the course, the announcer screams, "Fans all across America are losing their minds!" And YES, yes we are.
Set your reminders for the special Red Nose Day episode of American Ninja Warrior for Thursday, May 25 at 8/7c on NBC.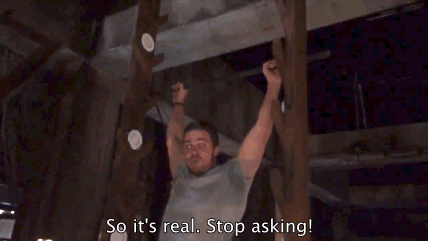 Want more Stephen Amell in your life? We don't blame you. Arrow airs each Wednesday at 8/7 c on The CW.

Brian Linder is Sr. Entertainment Editor at FANDOM. He's been on the fan-media scene since dial-up. Arriving at FANDOM from IGN, Brian was a founding editor at early Star Wars fansite TheForce.net and co-creator of the movie site, FilmForce, acquired in 2006. He's into space operas and superheroes.