Few characters are so iconic that they change the course of an entire franchise. Yet, time and again, that is exactly what Grand Admiral Thrawn has done. Ever since his debut in the 1991 novel Heir to the Empire, Thrawn has become one of the most important characters in Star Wars. His long-running popularity earned him a leading role as the main villain of Star Wars Rebels season three, which ended a month ago. Now, Thrawn has finally come home to Star Wars fiction.
Simply titled Thrawn, this new novel is written by none other than the character's original creator, Timothy Zahn. The novel capitalizes on Thrawn's stardom by crafting his origin story within the saga's new continuity. It's fitting, since Thrawn was responsible for launching the Star Wars Expanded Universe in the first place. Let's look back at what made Thrawn so popular, and why his debut canon novel is the best addition to Star Wars fiction.
Thrawn Captures the Success of Heir to the Empire
If you know any Star Wars fans who were old enough to read in the 1990s, their favorite novel is likely Heir to the Empire. The reason this novel became a classic is because it arrived at an opportune time. Back in the '90s, Star Wars was suffering from a drought, since new stories were few and far between. Into this dark time came Heir to the Empire, which against all odds became a #1 New York Times Best Seller. The novel paved the way for future Star Wars books to populate the same list — the final, coveted hurdle in a book's success.
Almost single-handedly, Heir to the Empire proved there was an enduring demand for Star Wars stories. The timing of the novel's publication was, in part, responsible for Thrawn's success. Here we are sixteen years later, and Lucasfilm has integrated Thrawn into the saga's new canon. For that reason, Thrawn represents a fitting homecoming for both its titular character as well as his creator, Timothy Zahn.
So much of Thrawn captures the original success of Heir to the Empire. The novel's April 11, 2017 publication date was spot-on, since it fell less than three weeks after Thrawn's critical role in "Zero Hour," the Star Wars Rebels season three finale. It also came days before Celebration Orlando, which gave Timothy Zahn the opportunity to do author signings at the convention. Moreover, Thrawn falls within the wider programming slate for Star Wars' 40th anniversary.
It's no wonder that Thrawn — like its predecessor, Heir to the Empire — rocketed to the top of the New York Times Best Sellers List, debuting at the #2 position. It's a well-deserved win for Zahn. Zahn's high-caliber writing style reminds us why Ballantine Books chose him to helm the Thrawn Trilogy in the first place.
Thrawn is an Origin Story, Not a Tie-In
All of Star Wars fiction is, by definition, tie-in material. Each novel relies heavily on the saga's films and TV shows by using them as starting points. Still, a few novels have branched out by focusing entirely on original characters. For example, major characters like Luke, Leia, and Han were largely absent from Alexander Freed's Battlefront: Twilight Company, which allowed the novel to cover new ground.
In much the same way, Thrawn concentrates more on telling an original story than serving as a prequel to other Star Wars material. For the first time, we see Thrawn begin his naval career within the Galactic Empire. Thrawn has earned starring roles in countless other Star Wars stories. But never before have we seen his rise to power as an alien outsider in the xenophobic, human-biased Galactic Empire.
Author Timothy Zahn knows Thrawn so well as a character that he brings out a side of the Grand Admiral that we've never seen before: the underdog. Even with Emperor Palpatine's support, Thrawn faces an endless series of obstacles while climbing the ranks of the Imperial Navy. Since many of Thrawn's superior officers are self-serving and corrupt, they don't want him to succeed. It's through this grueling scenario that Zahn shows how Thrawn became the Grand Admiral we've always known him to be.
The other side of Thrawn that the novel emphasizes is his sense of honor. Thrawn is not a pure villain, but instead something akin to an antihero. Although he commits his knowledge and talents to the Imperial cause, his true loyalty is to his people, the Chiss. Moreover, he cares about preserving innocent lives and avoids causing civilian casualties when possible. All of it goes to show that per Timothy Zahn's designs, Thrawn is always even more complex than he appears.
Timothy Zahn is a Master of Sci-Fi
I've known about Heir to the Empire since I became a Star Wars fan, but I didn't actually read it until two years ago. It wasn't until then that I truly understood why this book had an impact on an entire generation of fans. Timothy Zahn is one of the most talented writers of science fiction. And it's Zahn's masterful writing that has made him — as well as his creation, Thrawn — an integral part of the Star Wars pantheon.
From his well-crafted sentences to his engaging plot structure, Zahn has produced another worthy addition to Star Wars fiction. Zahn uses two protagonists, one new and the other pre-existing, as foils for Thrawn. Ensign Eli Vanto, an original creation for the novel, serves as the Chiss's aide and becomes the Dr. Watson to Thrawn's Sherlock Holmes. And Arihnda Pryce, the future governor of Lothal on Star Wars Rebels, becomes a necessary but dangerous ally for the future Grand Admiral.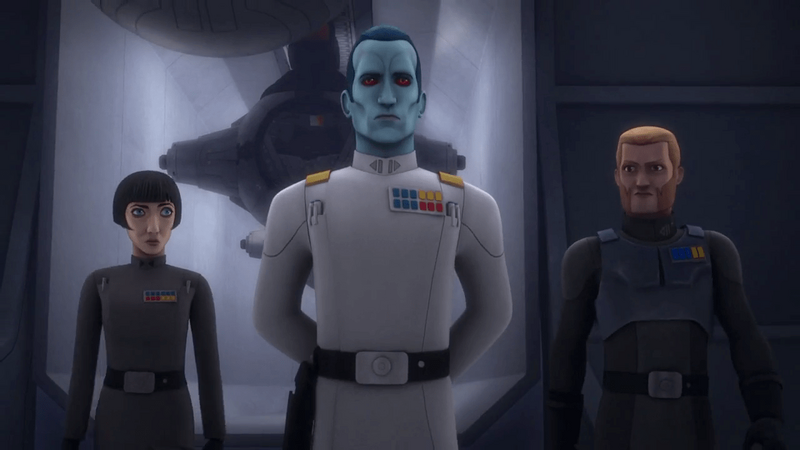 As members of Thrawn's support network, both Vanto and Pryce become integral to the Chiss's own success. Thrawn may possess the greatest tactical mind in the galaxy, but he requires a smart tactician to enact his plans. And that person is Eli Vanto. On the other hand, it isn't a coincidence that Pryce debuted on Rebels at the same time as Thrawn. Both of them need each other: Thrawn requires a colleague with political savvy, while the equally cunning Pryce needs an ally to advance her own goals. Vanto's and Pryce's compelling roles in the novel serve as further evidence of Zahn's own mastery over science fiction.
Thrawn is headed for another leading role in the upcoming final season of Star Wars Rebels. Due to his connection to the Unknown Regions, some fans have speculated that Thrawn is tied to the origin of the First Order. No matter what Thrawn's ultimate destiny is, Timothy Zahn has delivered yet another meaningful addition to Star Wars canon. That's why Thrawn is one of the best Star Wars novels of all time.