From cult classic The Usual Suspects to Marvel's Guardians of the Galaxy, Benicio Del Toro's film resume is quite impressive. Now, the Oscar winner (for 2000's Traffic) joins an elite list of actors in a galaxy far, far away in Star Wars: The Last Jedi.
His character, only known currently as DJ, is an elusive figure. Not much is known about him, his loyalties or the role he'll play in the film, until now. Let's take a look at DJ.
Welcome to Canto Bight
According to EW, DJ is a galactic hacker, also known as a "slicer." His hacking skills are highly sought after by the Resistance. His reputation as a codebreaker is so legendary that the Resistance send Finn (John Boyega) and Rose (Kelly Marie Tran) on a mission to find him.
This brings Finn and Rose to the glamorous casino world of Canto Bight. Star Wars: The Last Jedi director Rian Johnson had this to say about Canto Bright to EW: "The whole city is kind of one sort of luxury resort that's been built on this very otherwise abandoned, arid planet. It's like Vegas with aliens. So maybe it is just like Vegas."
DJ's Role in Star Wars: The Last Jedi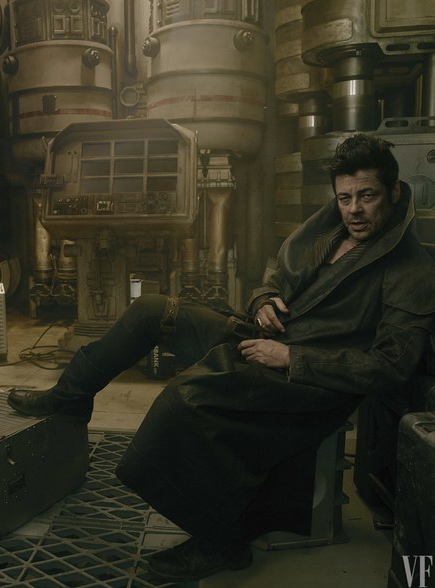 Based on the events of The Force Awakens, we know that the Republic has been destroyed. We also know that Starkiller Base was wiped off the map. So where does that leave the Resistance and the First Order, if both teams were dealt fatal blows? Both sides must be rebuilding their forces in hiding. Snoke, Kylo and Hux must be taking refuge on a secret First Order base somewhere. Could DJ help Finn and Rose break into this base?
This wouldn't be the first time a hacker was needed in a Star Wars film. In Star Wars: The Return of the Jedi, two things were required to help destroy the second Death Star: access codes to land on the moon of Endor and the Death Star schematics. Both of these things were acquired on secret missions that required spies and hackers. Could Benicio Del Toro be joining the ranks of these unnamed Return of the Jedi heroes? In fact, the entire premise of Rogue One was based on hacking into the databanks on Scarif, so hackers are very important to this universe.
Star Wars: The Last Jedi opens in the UK on December 14 and in the US on December 15, 2018.