As we await the premiere of Star Wars Rebels season three, fans of the show have something else to look forward to. Star Wars Rebels: Complete Season Two arrives on Blu-ray and DVD on August 30, 2016. The home video release includes all twenty-two episodes of the hit animated series' second season. It also features exclusive bonus content to enrich your understanding of the Star Wars Saga.
Now is as good a time as any to look back at the series' latest season. Season two boasted a much darker tone as it raised the stakes for the Ghost crew. Here are some of the highlights of Rebels season two.
Season 2 Got Much, Much Darker
In the traditions of TV, a series' second season usually reveals more information about the show's characters. Season two of Rebels definitely delivered on that front. Zeb reconnected with his Lasat heritage in "Legends of the Lasat." Hera reconciled her relationship with her estranged father, Cham Syndulla, in "Homecoming." Sabine got to face off with the Mandalorian Protectors in "The Protector of Concord Dawn." Even Chopper got his own story line, befriending protocol droid AP-5 and helping the rebellion establish a much-needed base of operations in "The Forgotten Droid."
At the same time, Rebels season two marked a dark turn for the series. In the premiere, entitled The Siege of Lothal, the Empire forced the Ghost crew to abandon its presence on Lothal. Even as Kanan became a de facto Jedi Knight and Ezra made great strides as Kanan's Padawan, the shroud of the dark side continued to loom over them.
The return of Ahsoka Tano meant that Darth Vader and his Inquisitorius entered the mix. The season finale, "Twilight of the Apprentice," ended with Kanan blind, Ahsoka absent, Ezra embracing the dark side, and Darth Maul unleashed upon the galaxy once more. Showrunner Dave Filoni likened Rebels season two, as a whole, to The Empire Strikes Back. That turned out to be quite a fitting comparison.
Even on a basic level, Rebels season two delivered richer — and more — content than its first season. For season two, Disney XD increased the season's length from fifteen to twenty-two episodes. That's the same format as Star Wars: The Clone Wars, the predecessor of Rebels, and it's served both shows well. Season three will also have twenty-two episodes, so fans can look forward to seeing just as much Rebels this year.
What to Look For on Rebels: Complete Season Two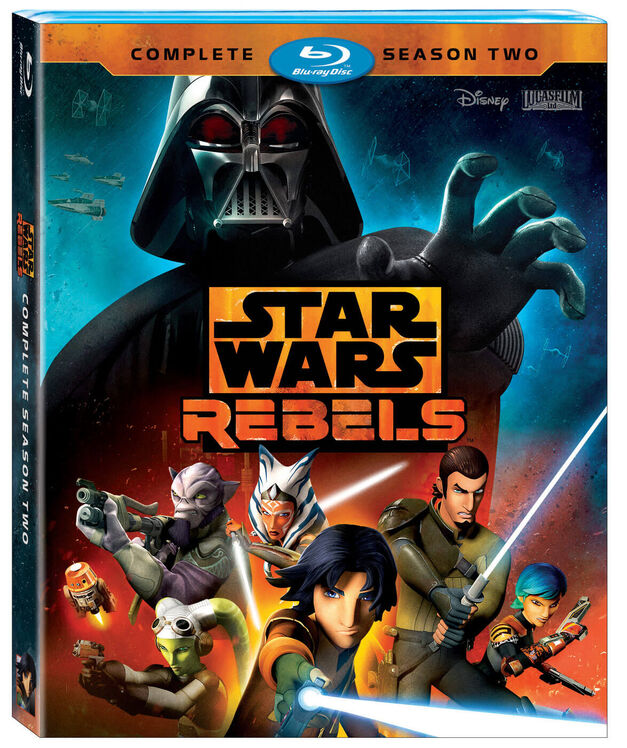 Here's a rundown of the bonus features on the Blu-ray and DVD sets:
Connecting the Galaxy: Rebels Season Two – Uncover hidden references, Easter eggs, and connections to the Star Wars universe found throughout the season.
Rebels Recon – Blast off with 20 fun, fast-paced episode recons, featuring behind-the-scenes footage, interviews with cast and crew, and more!
From Apprentice to Adversary: Vader vs. Ahsoka (Exclusive to Blu-ray) – Executive Producer Dave Filoni reflects on the climactic ending of the season, when Ahsoka Tano finally confronts Darth Vader in a long-awaited, fierce and epic lightsaber battle.
The Blu-ray set consists of 3 discs, while the DVD set has 4 discs. Languages and subtitles are also provided in English, French, German, and Spanish. Not including bonus content, the whole set has a total run time of 485 minutes. That's over 8 hours, if you're prepared to binge-watch the entire season.
And don't forget to keep your TV at the ready! "Steps Into Shadow," the hour-long season three premiere of Rebels, is only one month away. Look for it on September 24, at the show's new airtime of Saturdays at 8:30 P.M. ET on Disney XD. Read more about it here on Fandom!

James Akinaka arrives at Fandom by way of Wookieepedia. He covers Star Wars, superheroes, and animation and values bold, inclusive stories. He suffers from a lifelong case of nitpicking and high standards.