Final Fantasy XV may not be perfect, but it's a fantastic game. While other titles in the series have been divisive and split fans down the middle, there's more of a consensus with FFXV: it was a great but flawed game, as Fandom touched on in its Final Fantasy XV review. Square Enix got a lot of things wrong while creating a Final Fantasy for fans and newcomers alike, but also got a lot of things right. FFXV is full of many lessons Square Enix can take with it for future entries the series.
With the first bits of DLC coming to Final Fantasy XV now, it's a better time than ever to reexamine the core game. Check out our list the positive things Square Enix could carry over to future installments, along with the negative bits the developers should avoid next time.
The Positive Lessons
Combat System
This game marks the first action-RPG in the main series. While most singleplayer entries changed up the combat system a lot, most of them featured a menu-based system of sorts. But leaving Active Time Battle was a massive risk for the series, and it really paid off. Menu based, turn-based combat is dated, and for a lot of gamers, unexciting. The combat system in FFXV is both exciting, familiar and very easy to pick up. It's far from perfect, but this is an example of a huge risk taken that really paid off, and is the right direction for the series.
Open World Exploration
The series has historically been non-linear and filled with chances to explore (often in the past featuring a World Map). It's also been filled with beautiful worlds and settings with a great and unique aesthetic. Final Fantasy XV is the first to combine these into a seamless, open world that players can drive through in a car. It absolutely feels like a road trip through a gorgeous setting, and the world contains plenty of people to meet and dungeons to complete. This is the first time the series has embraced open worlds, and it worked spectacularly.
The Right Kind of Setting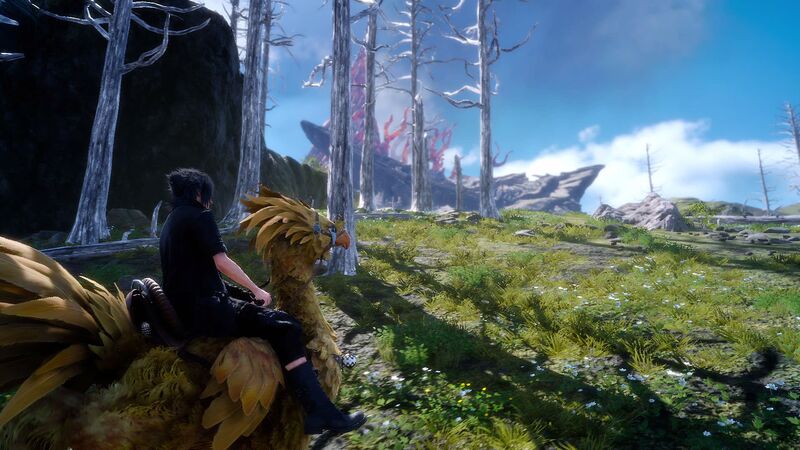 Not only is its setting aesthetically pleasing, it's also great lore-wise, and right up there with the series' best. Final Fantasy XV may feature giant robots battling it out with demonic beasts, but its setting is still consistent and coherent. The game features medieval kings ruling over modern-day metropolises and works superbly. This shows the right mix of weirdness and intrigue that people loved about the series already. Square Enix still know how to be creative, and should keep at it.
Fantastic Main Cast and Villain
Noctis, Prompto, Ignis and Gladio are a fantastic cast. You may not have delved into their backstories much, but they're still extremely likeable. Noctis, while he is a typical JRPG protagonist, is much easier to sympathize with than many others in the series' past. The banter between the other three, and the time shared with them makes them really easy to like. Meanwhile, Ardyn is a superb villain who is one of the most well-developed in the series. The way he is so mysterious early on, to the way he taunts Noctis, and to his wicked actions, make him a compelling villain. Not only that, but his motivation makes him believable. The main cast and the villain are some of the best Square Enix have pulled off, and again, preserve what was so great about the series.
Transparent (Later) Development and Excellent Marketing
Inspired by the development of Final Fantasy XIV: A Realm Reborn, Final Fantasy XV's later development was extremely transparent. With director Tabata at the helm, he very often communicated the progress made to the fans. Through "Active Time Reports" and the Uncovered event, it was easy to trust that he knew what he was doing. He also gave fans just enough to be excited about the game. For non-fans, a fantastic marketing campaign promoted the game and allowed it to be very successful. It built up a lot of excitement for the game while humbly acknowledging why many would be doubtful. We need more transparency in future, Square.
The Negative Lessons
Too Little Combat Depth
While the combat system is fun, it also lacked sorely in depth. While Techniques, Warps, Magic and some moves kept it interesting, ultimately it felt rather samey at times. If the player keeps enough healing items, spamming those items ensures they may never die. Most of the strategy is based around the gear and grinding rather than in combat. The Magic system, while neat, may not be explored deeply by many players at all. And the allies don't get enough to do. There are ways to solve this problem: adding additional layers of depth to it. A more complex additional magic system (with actual healing magic, perhaps weakening items to compensate?), perhaps a deeper Techniques system, or another way to switch the strategy up against enemies mid-combat would be a welcome addition. So while the combat was great, Square should add more depth next time.
Not Enough Worldbuilding
Final Fantasy XV has dozens of side characters with their own side quests. Many of these quests are boring, formulaic fetch or kill quests. Just about every RPG is guilty of this, but it didn't have to be this way. If these side characters and their sidequest arcs featured interesting subplots or explored the lore of the world more, they would be much more interesting. Fun as the dungeons may be, after the party chat about it upon entering, nothing else about the location is discovered. It's a missed opportunity and shows where Square Enix could introduce more worldbuilding. The only elements of lore were present in some newspapers and radio. It would be much better to make its dozens of sidequests more interesting by giving them subplots instead.
Requirement to Watch Anime & Film
Brotherhood and Kingsglaive films are packed with plenty of lore for Final Fantasy XV. They're decent if forgettable viewing experiences that build up the characters and the backstory to the game more. The problem is that not every player has followed FFXV since release, and would be left rather confused at points during the campaign if they hadn't watched them. Without Brotherhood, the four characters aren't as well established. Without Kingsglaive, little background is given as to the stakes of these warring nations. There's no harm in releasing other media to promote the game, but we should be able to understand what's going on without it.
Characters Not Developed Enough
The characters in the game are mostly well-designed. They fit their world perfectly, they're likeable enough and they work as a team. However, they often don't have major roles or extremely developed backstories. Frequent allies like Aranea, Cindy are perfect examples of this. Outside of Ardyn, most of the Empire's characters get little to no role. Luna is given too little screen time for how important she's supposed to be. Her brother, Ravus, seems to have an entire story arc that was just completely skipped over. This just shows that the characters in the game are not developed well enough and could've used more time.
Rushed Storytelling
Lastly, several parts of the story feel extremely underdeveloped. Yes, the final chapter of Final Fantasy XV is excellent, and arguably the best part of the game featuring one of the best finales in the series. However, the problem is before that, things feel rushed. Explanations of many plot points are brief. Ardyn's backstory is confusingly told, the Empire is given little to do. Though it goes beyond that, as even the opening sequence seems choppy and confusing. This just shows a game with a perfectly good base story, but due to its development issues and a need to finally put it out there, it's a campaign that wasn't fleshed out enough. It's hard to blame Square Enix for wanting to release the game after so long. However, it shows that some content could have been cut (and released as DLC later) to make the story flow better, or simply been given more priority when developed.