Spring is in the air. That means warmer weather, flowers in bloom, annual spring cleaning, and — with the recent daylight saving time change — longer days. But who needs more sunlight when there are so many good games coming out? Let our Spring Games Guide help you choose which games will keep you locked indoors all season.
Tom Clancy's The Division
Release Date: March 8
Platforms: Xbox One, PlayStation 4, PC
Tom Clancy's The Division was an honorable mention in our 2016 Most Anticipated AAA Games list. Since then, the game has managed to build up a ton of buzz and excitement through its betas and word of mouth to become possibly the biggest game of the season. The Division launched last week, and players are loving the mix of MMO and shooter mechanics, interesting storyline and premise, and the tension that arises while traversing the PVP Dark Zones while looking over your shoulder for other players trying to gank you for your loot. [Matthew Allen]
The Guest
Release Date: March 10
Platform: PC
Hey, it's another walking simulator! But before you skip straight on to the next entry, know this: Walking simulators are totally hot right now — and they're actually much more interesting than the blasé genre tag implies. The Guest, for example, combines elements from real-life "room escape" events with old-school point-and-click adventure games to create a unique experience: You wake up in a locked hotel room with no idea how you got there, and you must use the items in the room to figure out how to get out. And that only begins to describe the game's full Twilight Zone-esque headspace, which slowly unfurls as you explore your environs. [Brett Bates]
Hitman
Release Date: March 11 (future episodes TBD)
Platforms: Xbox One, PlayStation 4, PC
Hitman is back. The series reboot promises the kind of "choose your own path" stealth that fans loved in 2006's Hitman: Blood Money, offering players a series of fully-realized sandboxes to do their bidding in. The game's release structure is a bit strange — levels will be released episodically, which means only the intro and first mission are available for purchase now — but it's looking like this might be the valiant return of Agent 47 we have all been waiting for. [Matt Hadick]
Pokkén Tournament
Release Date: April 18
Platform: Nintendo 3DS
The Pokémon series has been around for two decades and we've never seen anything like this. Bandai-Namco, the creators of the famous Tekken fighting games series, have created a unique take on Pokémon battles with Pokkén Tournament. This time around, players take direct control of Pokémon in heated one-on-one battles! Pokémon can freely move around an arena, chain together combo attacks, unleash special moves, and perform Mega Evolutions. The game includes some of the most popular Pokémon, including Pikachu, Lucario, and Mewtwo! [Doug Trein]
Adrift
Release Date: March 28
Platforms: Xbox One, PlayStation 4, PC
Set in the not-so-distant future, the player takes on the role of an astronaut floating through a destroyed space station. They will need to navigate through the space station carefully, taking care of their vitals while trying to find valuable information to bring back to Earth. The goal for this game is simple, survive, piece together what went wrong,  and make it back to Earth alive. The game will be one of the first Oculus Rift releases, so we are anxious to see how that version differs from the console releases. [Nico Faraguna]
Quantum Break
Release Date: April 5
Platforms: Xbox One, PC
Quantum Break is being developed by Remedy Entertainment, the folks that brought us Max Payne and Alan Wake. The new game combines much of what they learned on those two games. Quantum Break is a third-person shooter that allows you to manipulate time in a variety of ways, a natural evolution of the bullet time mechanic from the Max Payne series. The game takes its storytelling cues from Alan Wake, using that game's episodic format, with a series of digital shorts that act as transitions between action sequences. These shorts feature a cast that includes X-Men's Shawn Ashmore (Iceman) as main protagonist Jack Joyce, Lord of the Rings and Lost alum Dominic Moghnahan, and everyone's favorite Game of Thrones schemer, Littlefinger himself, Aiden Gillan. [Matthew Allen]
Dark Souls III
[ooyala video=o0NzFzMDE6nUXsmqrbXNxj9Zr40m4CJm][/ooyala]
Release date: April 12
Platforms: Xbox One, PlayStation 4, PC
Japanese developer From Software had been making difficult, obtuse RPGs for years, but they finally got the recipe just right with Demon's Souls. After a quick name swap to Dark Souls, (thanks to the PS3 exclusive nature of the first game), Dark Souls exploded, becoming one of the most beloved new franchises of the last decade. Dark Souls III adds some new touches to the swordplay, giving each weapon type a special attack, but remains committed to its gothic fantasy universe and notorious difficulty. DSIII also finds series creator Hidetaka Miyazaki returning to his role as director after his Bloodborne-related hiatus. [Michael Grimm]
Bravely Second: End Layer
Release Date: April 15
Platform: Nintendo 3DS
Bravely Second: End Layer is the sequel to the critically acclaimed 3DS RPG Bravely Default. Players can expect more of the series' expansive job system and dungeon crawling. Taking place two and a half years after the events of the first game, players will once again return to the land of Luxendarc to explore. Expect more challenging boss battles and fun party member interactions! [Doug Trein]
Star Fox Zero
Release Date: April 21
Platforms: Wii U
Fox McCloud and company are back in the first Star Fox title since 2005's Star Fox Assault. Developed by PlatinumGames, whose sadistic touch brought us rage-inducing action experiences like Bayonetta 2 and Metal Gear Rising: Revengeance, Star Fox Zero is poised to revitalize the series with fast-paced dogfighting — as long as the Wii U controls aren't too gimmicky. [Matt Hadick]
Mafia III
Release Date: April 26 (rumored)
Platforms: Xbox One, PlayStation 4, PC, Mac
The Mafia games never get the credit they deserve. Detractors claim its a Grand Theft Auto clone with a mafioso skin — but they're missing the point. These games always offer rich stories with interesting characters, solid gunplay mechanics, and compelling driving sequences. Mafia III, the latest iteration, looks like it's going to push the series even further, with a new interrogation mechanic that will allow players to immerse themselves in the NPCs' psyches. [Matt Hadick]
Battleborn
Release Date: May 3
Platforms: Xbox One, PlayStation 4, PC
Developers have struggled to adapt MOBA mechanics for console audiences, but if anyone's going to pull it off, it's Gearbox, the studio that perfectly wed the RPG to the shooter in the Borderlands series. Battleborn is a team-based, character-focused shooter (don't call it a MOBA) that pits the remaining denizens of the universe in battle on the last habitable planet. Each character is refreshingly unique, and finding one that fits your particular play style — whether you're an FPS junkie or an RPG aficionado — will be easy. How those diverse characters balance each other out when the gaming masses get their hands on it post-release will be the true test of success for Battleborn, but based on preview builds we've played, Gearbox is on the right track. [Brett Bates]
DOOM
Release Date: May 13
Platforms: Xbox One, PlayStation 4, PC
It's hard to believe that in just a few months we will once again grab our BFG9000 and take on demon hellspawn in a return to the granddaddy of all first-person shooter franchises, DOOM. So what can we look forward to in May? According to the game's executive producer, Marty Stratton, "badass demons, big effing guns, and moving really fast." So, just about what you would expect from a DOOM game. The footage they have shown looks brutal so far. However, it remains to be seen how DOOM will fare in today's crowded shooter landscape. A lot has changed in the 12 years since the last major DOOM game was released. Let's hope id has made the most of that time. [Matthew Allen]
Homefront: The Revolution
Release Date: May 17
Platforms: Xbox One, PlayStation 4, PC, Mac
The fact that Homefront: The Revolution is coming out at all makes it worthy for inclusion on this list: It's survived both a studio closure and a developer closure on its way to release. But even without that novelty, Homefront: The Revolution deserves a spot. The first Homefront had an intriguing fictional framework (a unified Korea invades the U.S.) but surrounded it with a mediocre shooter. Revolution, now in the able hands of ex-Crytek employees (Crysis, Far Cry) will bring that concept to an open-world environment, which will hopefully free up the player to make meaningful tactical and moral decisions. [Brett Bates]
Mirror's Edge Catalyst
Release Date: May 24
Platforms: Xbox One, PlayStation 4, PC
The long awaited sequel to EA's successful dystopian action game, Mirror's Edge is finally here. Mirror's Edge Catalyst picks up with the player taking control of Faith Connors and navigating her way through the city of Glass. Parkour is still the primary mode of transportation and the combat system has been completely revamped for the next-gen title. Perhaps the most talked-about feature is the game's open world approach that is a departure from the on-rails experience the original game possessed. [Nico Faraguna]
Dangerous Golf 
Release Date: May TBD
Platforms: PlayStation 4, PC
Extreme golf doesn't seem like an appealing selling point for a game, but this title might become a Twitch sensation. Dangerous Golf is an online and local multiplayer game where players are loaded into highly destructible levels with a golf ball and a putter. Some examples include golfing in a china shop, kitchen, or even a palace. The developers for the game liken it to their previous popular titles: Burnout, NBA Jam and Black. While the objective is to make sure you get the ball in the hole, players earn bonus points for trick shots and destroying the environment. [Nico Faraguna]
Mighty No. 9
Release Date: TBD
Platforms: Xbox One, Xbox 360, PlayStation 4, PlayStation 3, Wii U, PlayStation Vita, Nintendo 3DS, PC, Mac
After a successful Kickstarter campaign, Keiji Inafune has created his own spiritual successor to Mega Man in Mighty No. 9. Players take the role of Beck, a robot capable of absorbing the powers and abilities of fallen enemies and bosses. Expect a stylish blend of 2D and 3D animation, sleek character and enemy designs, and challenging bosses. Retro Mega Man fans and enthusiasts of classic run-and-gun games will feel right at home with this one. [Doug Trein]
DLC
In addition to the big games coming out this spring, there are also some major DLC updates for two of last year's biggest games.
The Witcher 3: Wild Hunt "Blood and Wine" DLC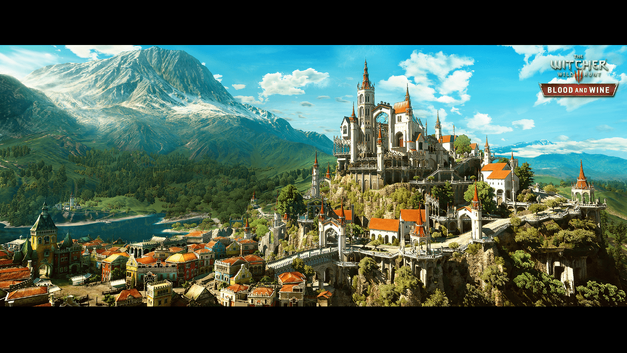 Release Date: April 26 (rumored)
Platforms: Xbox One, PlayStation 4, PC
The last major expansion to The Witcher 3, "Hearts of Stone," was a welcome addition to CD Projekt RED's masterpiece which featured hours of additional content that delved deeper into the lore and backstory of The Witcher universe. The next expansion, "Blood and Wine," looks to continue that tradition by including a 20-hour campaign based in the all-new in-game region of Toussaint for dedicated Witchers to explore. For those needing their Geralt fix, "Blood and Wine" will be a must-buy piece of DLC. [Matthew Allen]
Fallout 4 "Automatron" DLC
Release Date: March 22
Platforms: Xbox One, PlayStation 4, PC
With the release of Fallout 4 behind us, players can look forward to exciting downloadable content packs coming their way soon. "Automatron" is Fallout 4's first DLC pack. A strange villain named The Mechanist has built up a dangerous robotic army in an attempt to wipe out humanity. The Sole Survivor must confront him directly – and play his own game in the process! Players will be able to customize and build their own unique combat robots, outfitted with their own unique weapons, armor, and paint jobs. What can be better than a companion that you can create from the ground up? The Commonwealth will become an even bigger battlefield! [Doug Trein]
The Stragglers
Even though spring technically goes from March 20 – June 20, the staff here wanted to include some other recent releases that fell close to that window, to ensure they got the recognition they deserve.
The Flame in the Flood
Release Date: Feb. 24
Platforms: Xbox One, PC, Mac
The Flame in the Flood is s survival game in the vein of Don't Starve, but with a deep Americana theme and a beautiful soundtrack by Chuck Ragan. The world is harsh, and yes, you will die, again and again. Even so, it's easy to climb aboard your makeshift raft and try to make it further down the river. [Jorge Albor]
Superhot
Release Date: Feb. 25
Platforms: Xbox One, PC, Mac
You've never looked as awesome as when you're watching yourself in an epic Superhot replay. The time-bending shooter is actually a puzzle game, but with its intense shooting sequences it makes you feel like an action star. After a successful Kickstarter launch, Superhot is finally playable and it's incredibly impressive. Much to my surprise, it also features a cool fourth-wall breaking story built into the interface itself. It's hot. Super. Hot. [Jorge Albor]
Overwatch
Release Date: June 21
Platforms: Xbox One, PlayStation 4, PC
Distinctly different from all its other franchises, Blizzard Entertainment brings their unique perspective and style to the world of the first-person shooter. The game is the first in over a decade not tied to their other well-known game franchises like Warcraft, StarCraft, or Diablo. Overwatch brings a host of unique characters into the fray, allowing players to find the one that suits their playstyle best in fast-paced matches set within beautiful maps. Though veteran FPS players will have a blast for sure, the game also has the less-experienced player in mind with different modes and some characters that are easier to handle. Add to the mix that Blizzard has said new characters and maps will be free, and Overwatch proves it can compete in the FPS market. [Raylan]
---
Would you like to be part of the Fandom team? Join our Fan Contributor Program and share your voice on Fandom.com!