Winter is here, the perfect opportunity to plant yourself on the couch and blame your inertia on the cold weather outside.  So enjoy the great indoors, bask in the warmth of the television screen, and prepare for 2016's big theatrical releases with these ten binge-worthy movie franchises.
Note: The lists below are fairly comprehensive; for those looking for only a light binge, the films marked with an asterisk (*) are considered essential viewing.
Keep an eye out for our other binge guides coming soon.
Batman and/or Superman
March's release of Batman vs. Superman puts two of DC's most iconic characters on the same screen. Immerse yourself in both of their backstories, cape for cape.
Batman
See the evolution from original 1960s Caped Crusader Adam West to growly Christian Bale and everyone in between – Michael Keaton, Val Kilmer, and George Clooney. Along the way we've seen various batmobiles, gadgets and batsuits (both with and without nipples), three Robins, one Batgirl, and enough villains to fill their own series: Joker, Riddler, Catwoman, Penguin, Bane, Mr. Freeze, and Two-Face, to name a few.
MOVIES: Batman: The Movie, Batman, Batman Returns, Batman Forever, Batman & Robin, Batman Begins*, The Dark Knight*, The Dark Knight Rises*.
Superman
Similar to his counterpoint in black, the Man of Steel has had many iterations over the years, from four-peat star Christopher Reeve to Brandon Routh to current version Henry Cavill. But his super powers – speed, strength, X-ray vision, flight, and ability to completely disguise himself using only a pair a glasses – have remained timeless.
MOVIES: Superman*, Superman II, Superman III, Superman IV: The Quest for Peace, Superman Returns, Man of Steel*.
BINGE TIME: Batman (1,059 minutes) vs. Superman (826 minutes); Batman and Superman (1,885 minutes)
Ghostbusters
If there's anyone we're going to call this summer, it's the badass, ghostbusting, girl squad of Melissa McCarthy, Kristen Wiig, Leslie Jones, and Kate McKinnon. The original slime fighting team also comprised some comedic greats (Bill Murray, Dan Aykroyd, Ernie Hudson, Harold Ramis). Catch them in action and prepare yourself for conflicting feelings of hunger and terror when you lay your eyes on the Stay Puft Marshmallow Man again.
MOVIES: Ghostbusters*, Ghostbusters II
BINGE TIME: 213 minutes
Disney Princesses
Moana is the latest in a long line of Disney princess films. Before you head to the South Pacific, travel back through France, New Orleans, China, Agrabah, Arendelle, and even under the sea to celebrate past Disney royalty and believe in fairytales all over again.
MOVIES: Snow White and the Seven Dwarfs, Cinderella*, Sleeping Beauty, The Little Mermaid*, Beauty and the Beast*, Aladdin, Pocahontas, Mulan, Enchanted, The Princess and the Frog, Tangled, Brave, Frozen, Cinderella (Live Action)
BINGE TIME: 1,262 minutes
Harry Potter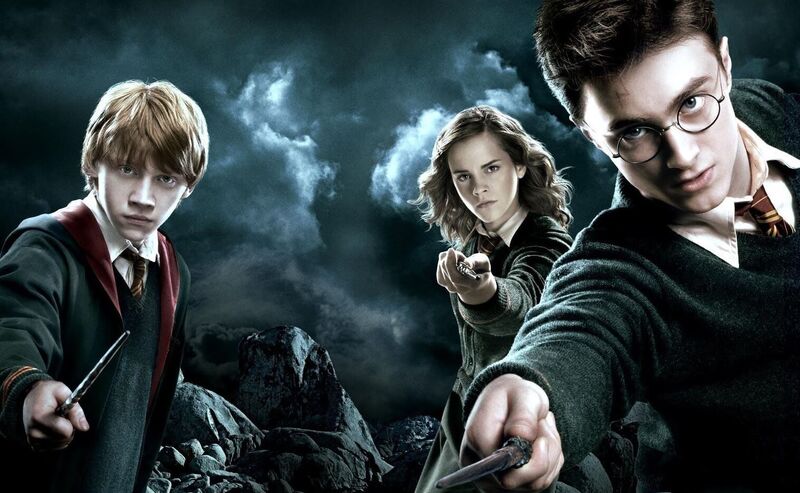 Although it's not a prequel or a sequel to the Harry Potter series, the upcoming Fantastic Beasts and Where to Find Them lives within the same universe created by J.K. Rowling. Whether you're a wizard, No-maj, or aspiring magizoologist, there is no denying the original enchantment of that Wizarding World. Accio Beasts!
MOVIES: Harry Potter and the Sorcerer's Stone*, Harry Potter and the Chamber of Secrets, Harry Potter and the Prisoner of Azkaban, Harry Potter and the Goblet of Fire, Harry Potter and the Order of the Phoenix, Harry Potter and the Half-Blood Prince*, Harry Potter and the Deathly Hallows: Part I*, Harry Potter and the Deathly Hallows: Part 2*
Binge time: 1,179 minutes
Marvel
Phase Three of the Marvel Cinematic Universe kicks off with Captain America: Civil War and Doctor Strange. Before you see who picks Team Cap or Team Iron Man, relive how the Avengers assembled, the fall of S.H.I.E.L.D., and the rise of Ultron. Plus play the always fun game, "Spot the Stan Lee cameo".
MCU PHASE ONE: Iron Man, Incredible Hulk, Iron Man 2, Thor, Captain America: The First Avenger, The Avengers*
MCU PHASE TWO: Iron Man 3, Thor: The Dark World, Captain America: The Winter Soldier, Guardians of the Galaxy*, Avengers: Age of Ultron, Ant-Man
BINGE TIME: Phase One (744 minutes), Phase Two (757 minutes); Total (1,501 minutes)
Pixar
Pixar changed the game for animation by elevating visuals and storytelling and giving us all the feels when it came to toys, talking animals, and of course emotions themselves. Dory has just kept swimming since Finding Nemo; see her debut and remember why Pixar has won numerous Animated Feature Oscars with their slate of films.
MOVIES: Toy Story*, A Bug's Life, Toy Story 2, Monsters Inc., Finding Nemo*, The Incredibles, Cars, Ratatouille, WALL-E, Up*, Toy Story 3, Cars 2, Brave, Monsters University, Inside Out*, The Good Dinosaur
BINGE TIME: 1,591 minutes
Roald Dahl
In Roald Dahl's magical stories, children befriend giants, visit chocolate factories, and become everyday heroes. Before Steven Spielberg puts his spin on The BFG this summer, watch these films and let the author of all your favorite stories fill your heart with wonder and whimsy, no matter what your age.
MOVIES: 36 Hours; The BFG; Charlie and the Chocolate Factory*; Danny, The Champion of the World; Fantastic Mr. Fox; Four Rooms; James and the Giant Peach*; Roald Dahl's Esio Trot; Matilda*; Willy Wonka and the Chocolate Factory; The Witches
BINGE TIME: 1,061 minutes
Star Trek
Star Trek celebrates its golden anniversary this year and Star Trek Into Darkness marks the 13th theatrical release for the beloved sci-fi franchise. It has inspired technological innovation, advocated multi-cultural acceptance, and created an impactful cultural legacy. Join the adventures of the Starfleet and its original cast – William Shatner, Sir Patrick Stewart, and the iconic Leonard Nimoy – and see what has inspired Trekkers to live long and prosper for 50 years.
MOVIES: Original Series: Star Trek: The Motion Picture*, Star Trek II: The Wrath Of Khan*, Star Trek III: The Search for Spock, Star Trek IV: The Voyage Home, Star Trek V: The Final Frontier, Star Trek VI: The Undiscovered Country
The Next Generation: Star Trek Generations; Star Trek: First Contact*; Star Trek: Insurrection; Star Trek: Nemesis
J.J. Abrams era: Star Trek*, Star Trek Into Darkness*
BINGE TIME: Original Series (689 minutes); TNG (448 minutes); J.J. era (259 minutes); Total (1,396 minutes)
Star Wars
Chances are you already rewatched all the movies leading into The Force Awakens, but there's no such thing as too much Star Wars, especially with Rogue One releasing this December and Episodes VIII and IX not far far, away.
MOVIES: Star Wars Episode 1: The Phantom Menace, Star Wars Episode II: Attack of the Clones, Star Wars Episode III: Revenge of the Sith, Star Wars Episode IV: A New Hope*, Star Wars Episode V: The Empire Strikes Back*, Star Wars Episode VI: Return of the Jedi, Star Wars Episode VII: The Force Awakens*
BINGE TIME: 939 minutes
X-Men
Three additional X-Men movies are coming to theaters this year, Deadpool, X-Men: Apocalypse, and Gambit. See the Merc with the Mouth and the Cajun's previous appearances, compare mutants past and present, and relive Professor X and Magneto's best frenemy moments. Also reconsider procuring some adamantium, as neither Wolverine or Hugh Jackman have aged in the last decade.
MOVIES: X-Men*, X2, X-Men: The Last Stand, X-Men Origins: Wolverine, X-Men: First Class*, The Wolverine, X-Men: Days of Future Past*
BINGE TIME: 839 minutes
TOTAL BINGE TIME: 11,856 minutes, or long enough to wait out the cold.