Sam Rockwell is one of the best actors working in Hollywood today. He has a kind of emotional depth that other actors could only dream of. Seriously. Rockwell is a prolific actor, with 94 acting credits to his name.
Rockwell doesn't limit himself, either. His roles span from big budget blockbusters like Iron Man 2 and Charlie's Angels to indie flicks like Moon and Seven Psychopaths. Unconvinced that he's an acting genius? Here's a guide to everything Sam Rockwell, and why he deserves more appreciation. (Be warned: this guide isn't entirely spoiler-free.)
Comedy Chops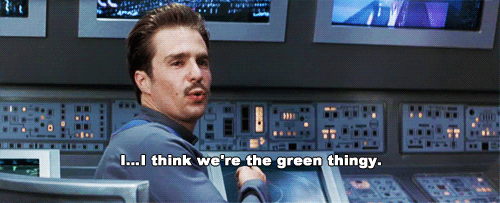 A lot of Sam Rockwell's roles are in comedies. He's a funny guy, and doesn't seem to take himself too seriously. Rockwell has a kind of dry wit that makes it hard not to laugh. He can do silly or sarcastic, self-deprecating or pompous. Sam Rockwell's various roles seem to transform him. Thankfully, his comedic timing changes along with those transformations.
One of Rockwell's first major film roles was in Galaxy Quest, a spoof on Star Trek and its fandom. In Galaxy Quest, Rockwell plays Guy Fleegman. Guy is an actor who played a "redshirt" character whose only purpose was to get killed off. He occasionally hosts "Galaxy Quest" conventions and hates that the other actors never remember him. When the cast goes on an actual alien adventure, Guy is the only one who doesn't get hurt. Rockwell is great in the role. He's paranoid about the similarities between the fictional TV series and real life. He is also irritated with his crewmates for their diva-actor behavior. It's no wonder that he was chosen to star in Charlie's Angels only a year later.
In Charlie's Angels, Rockwell was given a much meatier role as the film's (secret) villain. It was this role that really propelled his career forward, and Rockwell has gotten a number of great villain roles as a result.
One Vile Villain
A role in the Marvel Cinematic Universe is no small thing, and Sam Rockwell came at it with everything he had. Cast as the secondary villain in Iron Man 2, Rockwell is slimy and slick as Tony Stark's business rival Justin Hammer. Hammer is an ethically bankrupt weapons designer who does everything he can to discredit Stark and create his own Iron Man suit. Rockwell's portrayal of Hammer is comedic and biting – he's the kind of villain that translates well to the real world. It wouldn't be hard to picture any weapons manufacturer as behaving like Hammer. Rockwell nails it, and his inevitable downfall is deeply satisfying.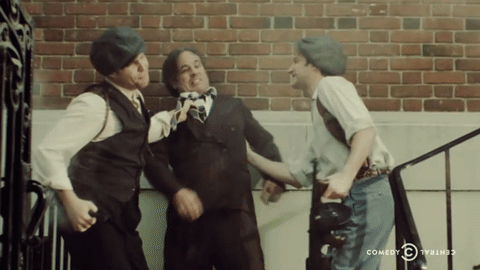 Rockwell even took to the small screen for a fun villain role as famed mobster Bugsy Siegel for an episode of Comedy Central's Drunk History. Without even speaking any of his own lines, Rockwell brings the short-tempered ladies man to life. He also imbues his classic comedic style, giving his buddy Meyer Lansky (Ben Schwartz) a chest bump after murdering a guy.
Moon
There's one movie that captures everything great about Sam Rockwell, and that's Moon. Besides a short bit at the beginning where Rockwell's character Sam Bell is talking to his wife Tess, no other actors get any screen time. Kevin Spacey is great voicing the moon bases' AI, GERTY, but that's it. For the film's entire runtime, the movie is all Rockwell. He has to completely carry an emotionally challenging, mind-bending science fiction film. It's one hell of a task, but Rockwell manages it with apparent ease.
Moon, directed by David Bowie's son Duncan Jones, tells the story of a guy (Sam) who is just about done with his two-year stint managing a moon station that mines alternative fuel helium-3. He's anxious to get back to civilization after two years of complete isolation, but things go wrong. He has a nasty moon rover accident and wakes up to discover that he's… well, find out for yourself. Moon is too incredible to spoil. This is Rockwell at his finest, delivering both comedy and tragedy without breaking a sweat.
Get the Tissues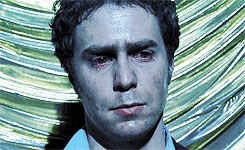 Moon is an emotional rollercoaster, and it's definitely not Rockwell's only tear-jerking dramatic performance.
In The Way, Way Back, Rockwell plays Owen, manager of the Water Wizz waterpark. He hires a teen (Liam James) who's wrestling with his own identity and feels crushed by his overbearing stepfather (Steve Carell). Owen encourages the kid to be whoever he wants to be and pushes him forward in this coming-of-age comedy. It's funny, sure, but there's a lot of heart to the film and Rockwell steals every scene he's in.
Rockwell also stars in Choke, based on the Chuck Palahniuk novel of the same name. The film didn't do well in part because people were expecting another Fight Club, but Rockwell is perfect as protagonist Victor. Victor works at a colonial-era theme park. He's also a sex addict who goes to Sex Addicts Anonymous to pick up women. A med-school dropout with the mother from hell, Victor is a sad sap of a character that acts as if he's the world's greatest conman. Rockwell is brilliant here, and his performance echoes the tone of the novels precisely. Choke is technically a comedy, but it's a dark one that deals with issues of child abuse, sexual addiction, treatment of the elderly, and existential quandaries.
Confessions of a Dangerous Mind is another of Rockwell's films where he goes through an incredible range of emotions on screen. As Gong Show creator Chuck Barris, Rockwell must convince the audience that he was both a game show creator and a CIA hitman. Barris had quite a persona, and Rockwell mirrors it without making a mockery. He's incredible in Confessions, mixing his ability to be funny, dramatic, and weird, all in one film.
Gettin' Weird With It
Speaking of weird, Rockwell plays the president of the entire galaxy in the film adaptation of Douglas Adams' Hitchhiker's Guide to the Galaxy. As "The Big Z", Rockwell gets to play dual roles (he has two heads), show off his ability to do physical comedy, and act like a complete imbecile. He's funny and weirdly charming, though Zaphod's not the nicest guy in outer space. Rockwell doesn't shy away from the bizarre, and he's great playing an alien-slash-president-slash-conjoined-twin.
On the opposite end of the comedy spectrum, Rockwell also stars in the brutally dark Seven Psychopaths. The film features a good deal of weirdness, with Rockwell at its epicenter. He out-weirds fellow cast member Christopher Walken, and that's a feat. As one of the seven titular psychopaths, Rockwell kidnaps a Shih Tzu belonging to psychotic gangster Charlie (Woody Harrelson). Along the way, he waxes philosophical about killing animals in movies, STD clinics, Irish alcoholics, and Gandhi. Seven Psychopaths features lots of great actors, but Rockwell really stands out. His character is also a total nutjob, which makes things more interesting.
Conclusion
Sam Rockwell is incredible. He's capable of drama, comedy, and the weird in-between. More movies should take advantage of his acting chops, and he deserves to receive more award attention. Also, the guy can dance.