It's rare that a Star Wars story does something that fans haven't seen before. Yet, that's exactly what Star Wars Rebels did in "Legacy of Mandalore." The episode delves into Sabine Wren's story and depicts a strained reunion with her mother, Ursa Wren. Believe it or not, this is one of the first complex mother-daughter relationships in Star Wars.
(James Akinaka also contributed to this post.)
Ursa Wren is not like other Star Wars mothers. Here's why…
Ursa differs from other Star Wars mothers in that she's alive and well. Star Wars has historically given more emphasis to fathers and father figures, and that often makes the story (and the universe) feel a little smaller. Mothers have been a little bit harder to come by. They tend to die off, like Padmé or, more recently, Lyra Erso. What Star Wars has in abundance are non-traditional mother figures, like Aunt Beru (also crispy, toasty dead) and Mother Talzin (Grievously slain), who is a mother in a "mother-to-all" kind of way. To date even Leia, the most famous Star Wars mother, has had no interaction with her son, Ben, in film, TV series, novel, or comic. In fact, her very distance from her family is a major plot point in Bloodline.
What sets Ursa Wren apart from newer characters like Norra Wexley and Lyra Erso is the fact that she gets to be a mother on-screen, even after her child has grown up. In both Rogue One and the Catalyst tie-in novel, Lyra has certainly been protective of her daughter Jyn, but their relationship feels more one-sided because Jyn only knew her mother while she was a child. Moreover, the Aftermath novels show how Norra repairs her relationship with her estranged son, Temmin, even as Norra's husband Brentin drifts in and out of the picture. In that case, however, Temmin still hasn't fully matured. Sabine, by contrast, is already a fierce woman in her own right.
"Legacy of Mandalore" focuses on Sabine's decision to put family first. That's important for a couple of reasons…
Sabine's willingness to take a sabbatical from the larger Rebellion says two things: that she is poised to become a true leader, and that she trusts in the capabilities of her fellows. It's a very interesting, if obvious, decision. She grew the most of any of the characters this season. Her arc recovered well from the slightly disappointing mission to extract Wedge and Hobbie. She honed her skills as a warrior, got some sweet new gear, and started to critically examine her heritage and history. The one negative of it all is that her decision to stay and fight for Mandalore is couched in yet another "gotta-save-daddy" story.
All the same, it was a good choice for the series to keep Sabine's father alive. It would have been easy to kill him off in dialogue, but the fact that he's alive instead raises questions about where Sabine left things with her father, and where their relationship might go. For that reason, it seemed like the series made the right choice when it introduced Sabine's mother before her father. Dave Filoni revealed that Sabine's father married into the Wren clan, dropping his own surname in favor of Ursa's more influential moniker.
The most telling element of this entire arc, however, is that Sabine still cares. She hinted in conversations with Ezra that her family life was relatively happy before the Empire mucked things up. Could it be that we're going to be able to see a healthy, relatively functional nuclear family in a Star Wars show? If we are, Clan Wren is really going to have to earn it.
Sabine's story isn't entirely unlike Ahsoka Tano's. Here's how…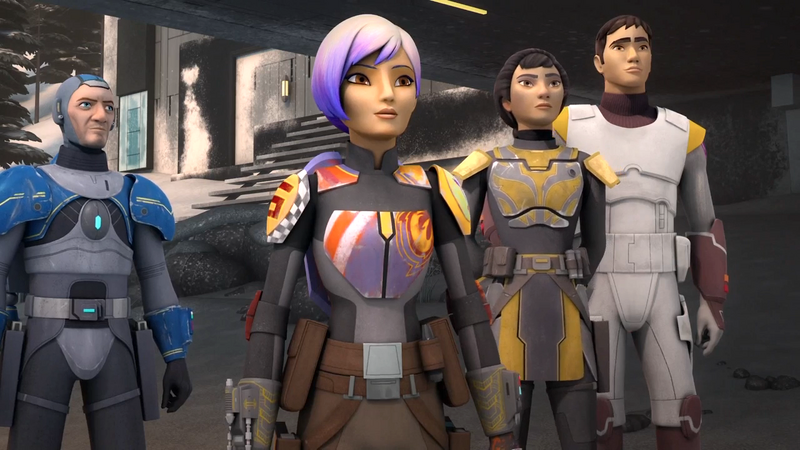 Sabine's story parallels that of Ahsoka Tano. In "Trials of the Darksaber," Sabine revealed that she left her family because they refused to join her in standing up to the Empire. Likewise, Ahsoka ultimately left the Jedi Order in Star Wars: The Clone Wars because the Jedi Council expelled her, rather than stand by her when she was framed for murder. Yet, both characters also had the strength to return home and reach some form of reconciliation. For Ahsoka, that reconciliation was supposed to occur as a grand finale battle for Mandalore, but Disney canceled the series before it could air. We may see that become Sabine's story to tell instead.
Whatever happens next for the Wren family, there are still compelling stories to tell about the Mandalorians. When planning for the Clone Wars finale, the creative team poured a lot of effort into design and modeling. Bo-Katan Kryze still needs to show up at some point. With the direction the rest of this season is headed, she probably won't make her Rebels debut until next season. So the series' full-on exploration of Mandalore certainly seems to be a "when," not an "if."
But how much of the story will belong solely to Sabine, instead of being ancillary to the larger Rebellion? Hopefully, she'll get the mythosaur's share of the focus. If the Rebels are left in dire straits at season's end (and they will be), we wouldn't put it past Filoni and friends to keep viewers on the hook a little longer and spend the first part of season 4 focusing on Sabine's insurrection on Mandalore. How wonderful, then, that we will get to see more of Star Wars' first true mother daughter super team.