Shadowhunters, the hot new fantasy show based on the popular young-adult books by Cassandra Clare, debuted on Freeform last night. This is not the first time that an interpretation of Clare's book series has hit the screens- The Mortal Instruments: City of Bones opened in theaters in 2013 to less than stellar reviews.
In this week's edition of Reboot Camp, we're doing a side-by-side comparison of the TV show and the movie to see how they stack up against one another.
Clary Fray

The story revolves around Clary Fray, a young doe-eyed redhead who lives a normal life until she stumbles upon a group of Shadowhunters. She soon discovers that she herself is a Shadowhunter and that she has a whole new past and future to explore. Lily Collins, who portrays Clary in the movie, successfully delivers Clary's effervescent, innocent attitude. Freeform's version is played by newcomer Katherine McNamara, who definitely looks the part, but appears to be a little bewildered at first. The show has just begun, so her Clary may evolve as the season progresses and as she grows into her powers. This winner of this round goes to movie Clary.
Jace Wayland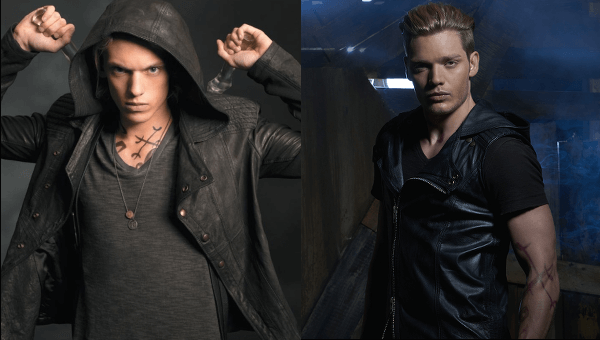 Jace is the hunky, brooding Shadowhunter that first discovers Clary's gifts. He is naturally the main love interest in the story. Jamie Campbell Bower portrays Jace in the movie, while Dominic Sherwood plays him in the show. Forgive me, Jamie Campbell Bower fans, but he just does not do it for me. Nothing can compare to the natural charm and allure of Dominic Sherwood, who also happens to have experience in the young-adult film world with his leading role in Vampire Academy. Jamie Campbell Bower and Lily Collins did have natural chemistry in the movie because they were actually dating in real life. At the end of the day, Jace has to win over Clary and the audience – which makes Sherwood the clear winner. This one goes to TV show Jace.
Simon Lewis

Simon is Clary's nerdy, long-time best friend who sticks by her side as she explores this new world of Shadowhunters. Veteran actor Robert Sheehan portrays Simon in the movie, whereas newcomer Alberto Rosende plays him in the TV show. This is the hardest round so far because I love, LOVE Robert Sheehan. He has an undeniable charm and quirkiness that instantly draws the audience in. Sheehan also owned the role as Simon in the movie. Yet, despite all of that, I'm still really rooting for Alberto Rosende. Despite the fact that this is his first lead role, he still masters Simon's geeky charisma and has a lot of potential. I'm going to call this round a tie and hope that Rosende doesn't let us down!
Isabelle Lightwood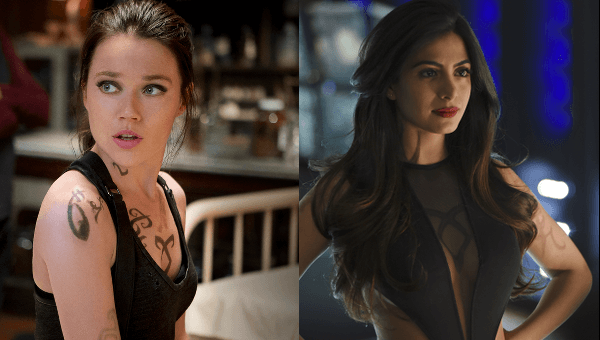 Isabelle, aka Izzy, is Alec's independent, skepical, and strong Shadowhunter sister who doesn't take crap from anyone. Jemima West portrays Izzy in the movie and she definitely captures Isabelle's attitude, but she lacks that Izzy sass. Emeraude Toubia, who portrays Izzy in the show, makes up for what Jemima lacks. From head to toe, Emeraude embodies Izzy's fire and spice. Emeraude even does all of her own stunts – in seven inch heels, to boot. Fighting in heels alone gives Emeraude Toubia and the show the point this round.
Malec

Malec, aka Magnus and Alec, is one of the most popular ships and couples in Shadowhunters. Magnus Bane is the sultry, immortal warlock who throws killer parties and rocks the guyliner like no one else. Alec, on the other hand, is a shy Shadowhunter and an unexpected match for Magnus. Kevin Zegers and Godfrey Gao play Alec and Magnus in the movie. Zegers never really sold us as Alec, but Godfrey Gao fit the bill for Magnus visually – just not so much his acting skills. In the show, Matthew Daddario and Harry Shum Jr., from Glee, play Alec and Magnus. Harry is not exactly who I pictured as Magnus, but he's such a fun actor. I know that he can dance from Glee so I'm sure he'll have the warlock moves down. Matthew Daddario is drop dead gorgeous and exudes the same shy awkwardness as Alec. I'm giving this point to the show.
Directors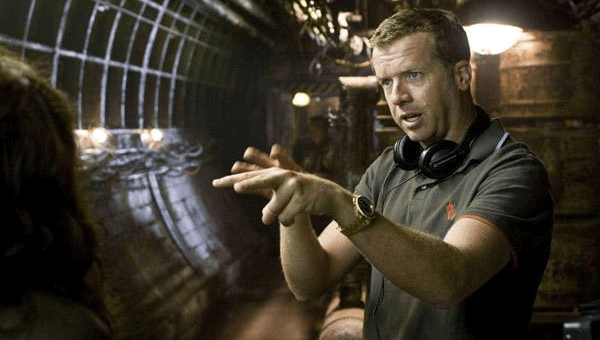 There is not a lot of competition for this round. Harald Zwart, the director of the City of Bones movie, has a short filmography including Agent Cody Banks and Pink Panther 2. On the TV side, we have the prolific McG, known for Supernatural, Nikita, The O.C., and Charlie's Angels and J. Miles Dale, known for Scott Pilgrim vs. the World. With the show, McG and Dale have more freedom and time to build and explore the story, characters, and details of the Shadowhunters universe, whereas Zwart had to cram the extensive world into two hours. McG's colorful style will also inevitably shine through in creating a setting that's as fun, vibrant, and fantastic as its source material. This round definitely belongs to the TV show.
Verdict
While there were certain elements of The Mortal Instruments: City of Bones movie that we loved, the rebooted Shadowhunters TV show definitely takes the cake…so far. We are into the new cast, crew, and feel of the show and have faith that it can be the book-to-screen adaptation that fans have been waiting for. We'll be tuning in for sure.