The premiere of AMC's Preacher, the television adaptation of Vertigo's hit comic series, has now arrived. Filled to the brim with enough supernatural action and adventure to last an afterlife, the latest foray into genre storytelling by the network that brought you The Walking Dead promises to delight fans with epic drama of divine proportions. While you can certainly spend your time looking through the over-66 issues of the original comic run to get your horror fix, those who have already exhausted that option or are simply looking for something a bit different might want to check out Sean Lewis' recent comic series published by Image comics, Saints. The series, like Preacher, mixes religious and occult themes to weave an apocalyptic tale featuring angels, demons, and lots and lots of violence. Let's take a closer look.
Based on a pitch by artist Benjamin Mackey, who did these stellar Twin Peaks tarot cards, and written by Lewis, who describes the project as "Dogma on steroids", Saints follows the adventures of four reincarnated Catholic Saints with superpowers connected to their martyrdom who do battle with the archangel Michael, who has gone rogue and become the Antichrist. The series draws from the same well of inspiration as Preacher and creates a rich and exciting comic book milieu from the merging of theological sources with pop culture and a bit of the occult.
The main character and narrator of the series is Blaise Ramirez, the reincarnation of Saint Blaise, patron healer of throats, a heavy metal groupie with the ability to miraculously heal throats who is thrust into an unfamiliar world filled with angels, superpowered saints, and evil Protestants when his strange dreams begin coming true. In the first issue, Blaise meets Saint Sebastian, who can produce magical arrows out of wounds in his flesh, and Lucy Sweetapple, who has the power of prophetic visions, and the group embarks on a journey that, as most stories about martyred saints go, doesn't seem like it will end well. Over the course of the series, the group adds new allies to its ranks, including Stephen, a runaway from Kansas with the superpowered ability to manipulate the earth, much like an earthbender, and the literally Satanic members of the death metal band, Mutilated Corpse.
Among the villains of the series are the Midwestern preacher, Pastor James, and megachurch televangelist, Danny Cortez, who work alongside Michael to hunt down and destroy saints with special abilities, the only people capable of stopping Michael's plan to use an army of children to initiate the final battle of the apocalypse and showdown with God himself. The series' antagonists, which include a band of gun-toting rednecks and plenty of Bible-thumping fire-and-brimstone preachers, are an interesting allegory for the current state of religious rhetoric in America and the inclusion of an army of indoctrinated children in the series-ending final battle is a chilling call-back to documentaries on fundamentalist groups like the ones featured in Jesus Camp.
With such heavy subject matter at play, religion, God, the end of the world, the series could easily fall into the trap of taking itself way too seriously but Lewis manages to strike a balance with his material, maintaining high stakes and the religious weight of his themes while still injecting the series with a self-aware style of humor that is necessarily refreshing. Each issue is smartly written and the juxtaposition of the lofty aims of God's unlikely warriors with the jarring reality of a complex world filled with reluctant saints and hilariously misguided sinners lends the series a wry sense of irony and humor that helps to anchor both the story and characters in their world. The jokes and references are dead-on, sure to make lapsed-Catholics and others laugh and sneer at Lewis' sly jabs at megachurch leaders and metalhead posers.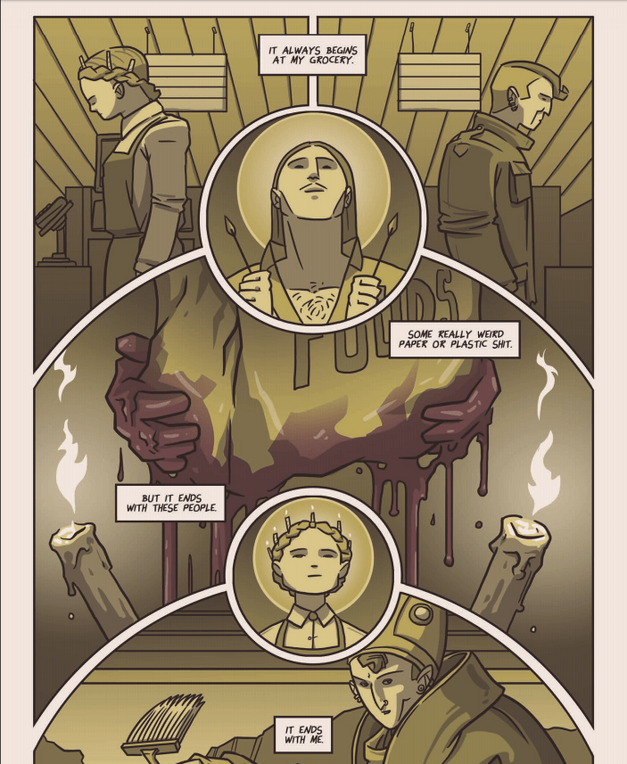 Mackey's art is also impressive. Inspired in places by the artwork that adorns stained glass windows in many a Catholic church, the artwork in each issue is at times rich and revelatory, while also beautifully simple at others. While the violence in the series is certainly graphic, it is refreshing to see a change in pace from the more traditional, horror-inspired artwork of similarly themed comic series like Preacher.  As the tension builds with each passing issue, the artwork becomes more varied and Mackey is able to show off his amazing attention to detail with incredible fight sequences that show off not only the saints' superpowers but also a wide variety of eccentric personalities, like the metal band that does battle with their guitars, and massive demonic monsters as well.
Each page of Saints is overflowing with action, sex, jokes, and more as the war for heaven rages on. If you can't get enough of Preacher or just are interested in religious-themed comics in general, Saints is sure to entertain you with its genuine characters, graphic violence, and spot-on humor. Preacher premiered on AMC on Sunday, May 22nd at 10pm while the final, apocalyptic issue of Saints will be available at your local comic book store on June 1st.
---
Would you like to be part of the Fandom team? Join our Fan Contributor Program and share your voice on Fandom.com!