SPOILER ALERT: This post contains spoilers from Season 8 Premiere of The Walking Dead, entitled "Mercy." Proceed with caution.
For seven seasons, The Walking Dead has consistently topped TV ratings, but it's no secret the show attracts an audience of bullied misfits who are survivors themselves. The Walking Dead fans have struggled, survived, and are sick of getting pushed around.
"Mercy," the Season 8 premiere, broke the fourth wall and reached out directly to its core fanbase, without looking at the camera. The entire episode is intense, advancing Alexandria, the Hilltop Colony, and The Kingdom into "All Out War" against The Saviors. While actions push the story forward, the dialogue serves a dual purpose. The Walking Dead characters spend a large portion of this episode inspiring fans to survive obstacles, against all odds. Here are the best quotes from Season 8 Episode 1, guaranteed to help us all just survive, somehow. 💪
The Trifecta We Need  3️⃣
Three is a magic number. Whether it's a subtle biblical implication or simple inspiration, the opening speech from Rick, Maggie, and Ezekiel will fire up every survivor to seize the day IRL, no matter how difficult.
ICYMI, Rick Grimes is not going to let his tribe get pushed around anymore. He knows "All Out War" will result in evil acts on both sides. Ridding the post-outbreak world of Negan and The Saviors won't be easy. Choosing sides and fighting, despite the damage it will do is the best path to long-term survival. Rick draws a line in the sand. The bullies are the baddies, and it's time to fight back.
"When I first met him, Jesus said that my world was going to get a whole lot bigger. Well, we found that world. We found each other. That bigger world is ours by right. That we've come together for it, all of us, it's that much more true. It's ours, by right!  Any person that would live in peace and fairness, who would find common ground — it's their right, too. But those who use and take and kill to carve out the world and make it theirs alone — we end them. We don't celebrate it, we don't have shame about it either." — Rick Grimes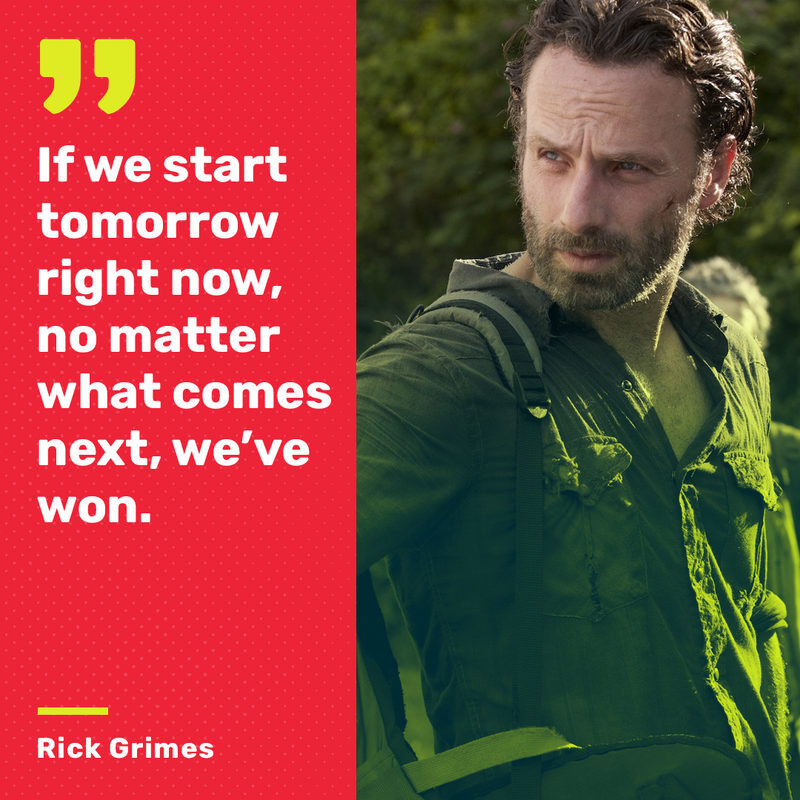 True dat, Rick. True dat.
Maggie Rhee (née Greene) has a lot to fight for. She stands with her chosen family and seeks revenge against Negan for murdering her husband, Glenn. She also knows how to give a damn good speech in a short amount of time.
"We've practiced. We've been through it over and over again. We all know the plan doesn't end this morning, that we may have to live in uncertainty for days, maybe more. That we have to keep our faith in each other. If we can hold on to that with everything we have, the future is ours. The world is ours." — Maggie Rhee
For his portion of the most inspiring three-person speech ever, King Ezekiel turns to Shakespeare. Henry V (Act 4) to be exact: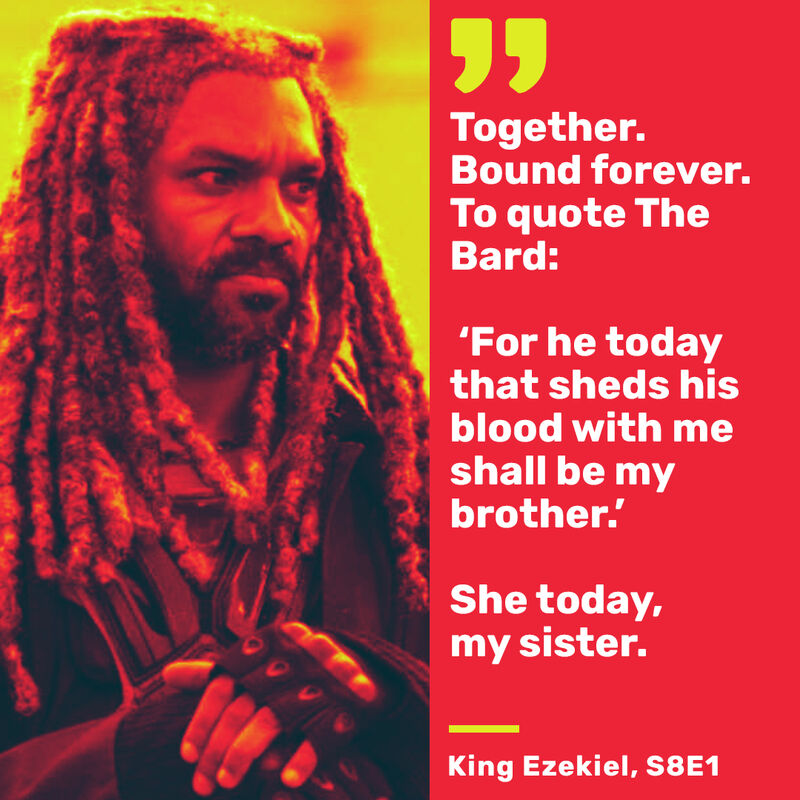 King Ezekiel includes women in his version, something The Bard did not do when he wrote Henry V. And now we love King Ezekiel even more. 💯
Father Gabriel Gets It
If three is a magic number, one is most definitely the loneliest. Leadership often means speaking out for the greater good when others are afraid to do it for themselves. After the speech, Father Gabriel Stokes approaches Rick to offer support. Rick is frustrated that one person, Negan, is evil enough to force them into a war. Father Gabriel turns Rick's frown upside-down and reminds him it only takes one leader to stand up to a bully in equal measure.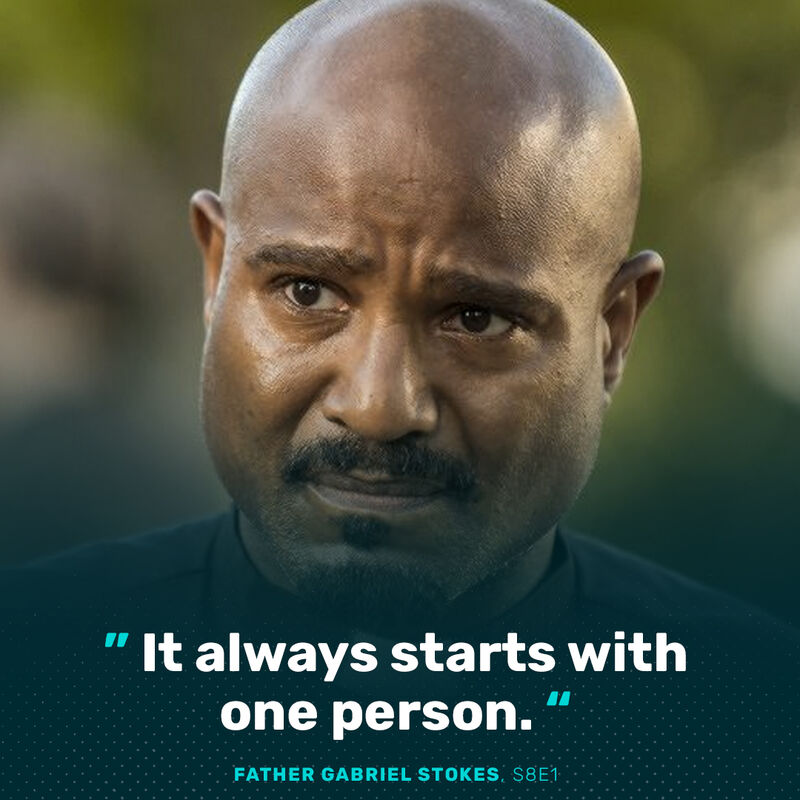 Father Gabriel: Everyone's ready. Are you?
Rick: It's one person who brought it to this [all out war]. One person.
Father Gabriel: It always starts with one person. [points to Alexandria] This did. What we're doing here now.
Rick: This? This isn't about me.
Father Gabriel: Yes. It isn't. You made it like that.
Father Gabriel pats Rick on the back and the two exchange an acknowledging glance. Neither of them knows what's next, but both of them are ready to fight against an evildoer. Here's to hoping Father Gabriel has enough inner strength to fight Negan, given his predicament by the end of the show. 💩 👖  It only takes one person, and we hope Father Gabriel can just survive Negan on his own, somehow.
Sorry Not Sorry, Negan
I hope you're wearing your 💩ing pants, Negan. Rick is coming for you, and the end of your reign is nigh.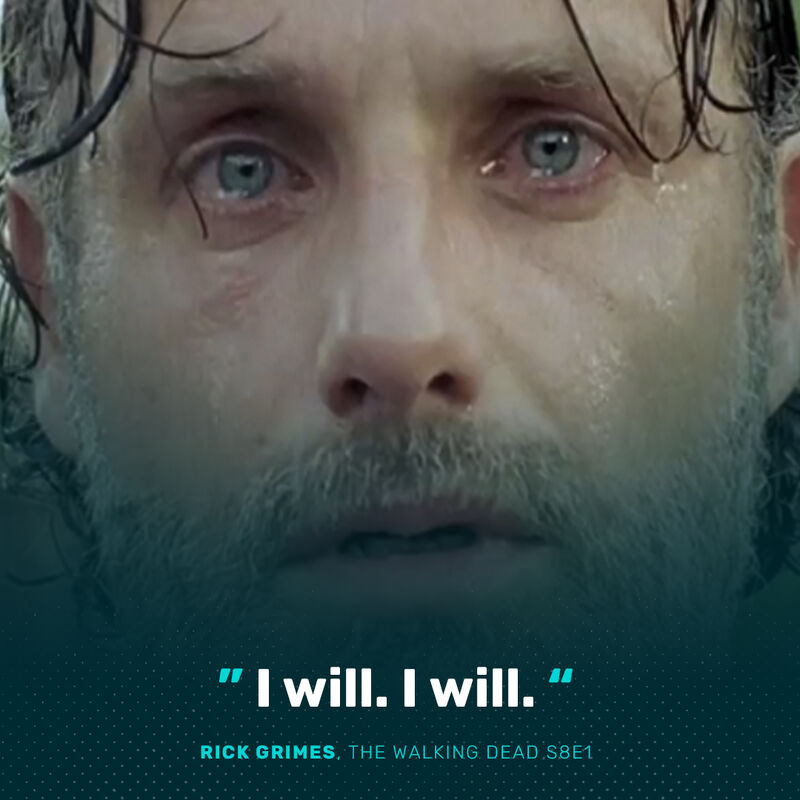 "There's only one person who has to die, and I will kill him myself. I will. I will." — Rick Grimes
Michonne Is a Real Superhero
She's talking to Carl, but it's clear: Michonne is the vigilante of Alexandria and she's not going to let anything happen to them, or us. For now, Carl Grimes and Michonne are left behind to defend Alexandria during the war. Both of them are strong survivors with rebellious tendencies and want to fight. Standing still and waiting is painful, but defending their territory is a vital part of all out war. Michonne reassures Carl, and the entire TWD fanbase.
Carl: (to Michonne) I know you wanted to go with them. I did, too.
Michonne: Everything hurts. But I'll help you defend this place.
Carl: Help me?
Michonne: Oh yeah. This is your show, ok? You'll see.
Having a bad day? Bullies got ya down? Don't sweat it, The Walking Dead is our show; Michonne and Carl are just in it.
#JSS
Regardless of what one has survived or how it feels to be bullied into oblivion, The Walking Dead characters inspire fans to fight for the right to be their authentic selves. In a post-outbreak world, the will to survive relies on authenticity.
Hardship and bullies may get in the way and make it more difficult to be who we want to be, but with a little help from our favorite zombie slayers, it's easier to feel inspired and overcome obstacles. Survivors know just how scary the world can be, and so do I. I'm a survivor. Me too. As survivors and fans of the show, we're going to get through life together, somehow.
Did you watch the Season 8 premiere of The Walking Dead? Which quotes inspired you the most? Let us know @getfandom on Twitter, Facebook, and Instagram.