We've all been waiting for answers on Pokemon Switch, and now, we finally have them. While most publishers save their goodies for E3, it looks like this year, Nintendo just couldn't help themselves. The big N has revealed not one but three different critter-catching experiences for the hybrid machine.
Alongside the previously announced 'core' Pokemon Switch title, fans can also expect to play Pokemon Let's Go and Pokemon Quest. Confused? We don't blame you. While we go into our thoughts in the video above, here's a written breakdown of what you can expect from all the upcoming Pokemon Switch releases.
What Is Pokemon Let's Go?
Pokemon Let's Go is an HD remake of the Gameboy Colour Classic, Pokemon Yellow. This time around, however, things are a little different. As well as sporting a shiny new HD sheen, Pokemon Let's Go! will come in two different editions — Eveee and Pikachu.
Cashing in on the massive success of Pokemon GO, this re-imagining now sees players catching Pokemon just like in the smash-hit mobile game.
In order to catch 'em all, players will need to use their Joycon controllers to throw their Pokeball at their chosen 'mon, aligning their throw with the rapidly closing circle around the creature.
Whether Pokemon will need to be weakened in battle before being caught still has yet to be confirmed.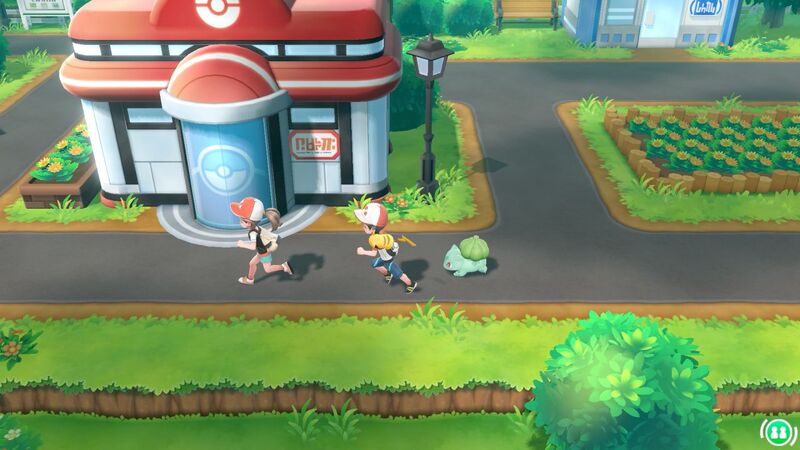 If that wasn't enough of a change, Pokemon Let's Go! also lets a second player join the adventure at any time. Currently its unclear whether this will be a generic avatar or also transfer player 2's party Pokemon.
Speaking of transfers, Pokemon Let's Go! also links up with Pokemon Go. Players will be able to easily transfer Pokemon they've caught in Go over to the new Switch games.
If that wasn't cool enough, Let's Go will also be compatible with the new Pokeball Plus, a motion-controlled Pokeball controller that doubles up as a Tamagotchi for stored Pokemon and a Pokemon Plus capturing device for Pokemon Go.
Traditional battling will be back, but so far there's been no confirmation of either online battles or trades.
What is the 'core' Pokemon Switch Game Coming in 2019?
As well as this much-demanded gen 1 remake, The Pokemon Company was quick to reaffirm that a brand new Pokemon Switch adventure will be coming in 2019. Originally announced during Nintendo's 2017 E3 direct, the company has now confirmed that this brand new RPG will hit the Switch in the latter half of 2019.
While details are still light on the ground, Nintendo confirmed that this game will target a more 'core' audience. The company expanded on this by saying the yet to be titled Pokemon Switch will "follow in the tradition of Pokemon X and Y and Pokemon Sun and Moon."
What Is Pokemon Quest?
Pokemon Quest is the only game on this list that you can play right now.  This bizarre-looking spin-off is a free-to-play game that's out now on Switch and that's coming to Android,  and iOS in June.
Set in a new location called Tumblecube Island, players are tasked with befriending these new blocky-looking Pokemon, discovering treasure and decorating the base camp where the Pokemon are stored.
—
That's all we know for now. We'll keep updating this as we get more information.