It's official, there's a "core RPG Pokémon" in the works for the Switch. Might be a while to come, but it's definitely happening.
We've lost days… no months… to Zelda: Breath of the Wild, are eagerly awaiting Super Mario Odyssey and are ready to get our ink on in Splatoon 2. But there's a certain Pokémon Nintendo Switch craving that really needs satisfying. After all, the Pokémon series has always been a portable experience, with budding trainers catching critters on the go since 1996 on the original Game Boy.
Is there any news of a Nintendo Switch exclusive Pokémon game? Will we see Pokémon Sun and Moon launched on Switch or are we looking at a brand new Pokémon Switch title?
We'll collect all the info on any Pokémon Nintendo Switch title here, just for your reading pleasure.
Pokkén Tournament Deluxe
The first Pokémon game coming to the Switch is actually the fantastic fighting game, Pokkén Tournament with a special Nintendo Switch edition called Pokkén Tournament Deluxe.
The Deluxe edition for the Nintendo Switch will come with five additional playable characters in the form of: Darkrai, Scizor, Empoleon, Croagunk and Decidueye.
The Switch version will also introduce three vs three team battles and online multiplayer features including the more serious Ranked Match, more casual friendly matches and a friends-only battle mode known as Group Match.
It's down for a release date on September 22, 2017.
A fresh Pokémon Nintendo Switch game?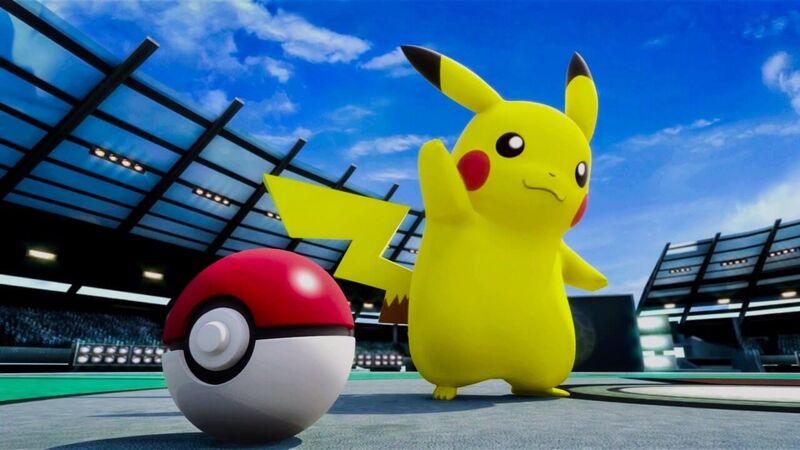 GameFreak has confirmed in the Nintendo E3 Spotlight that it is, in fact, working on a full RPG Pokémon title for the Switch.
"GameFreak has begun developing a core RPG Pokémon title on Nintendo Switch," said The Pokémon Company's Tsunekazu Ishihara. "It may not release for more than a year, but we hope you'll look forward to it all the same."
Back in September 2016, Pokémon Sun and Moon director Shigeru Ohmori spoke about a potential Pokémon Nintendo Switch game.
"When it comes to the main series, thinking of Pokémon RPGs that we develop at Game Freak, we always really consider the timing of when we released them," Ohmori said to Gameinformer. "There has to be a certain point where we're able to release the games and get them into the hands of enough people, to make sure the audience is big enough. This year, with Pokémon Sun and Moon, obviously we're going to be starting to think about the next title, and then depending on what that timing is, I think that will determine which platform we would release it on."
Game Freak posted a variety of job listings for an RPG title that's popular on a "global scale". It also added that it was a game that "everyone knows". Although Game Freak does make other games, it's best known for the Pokémon series, so we'd be incredibly surprised if the jobs weren't related to a new title.
And it seems that this new title could be a brand new Pokémon Nintendo Switch game, as the listings require developers to be familiar with PS Vita and Wii U development and describe it as a "console" title.
Pokémon Sun and Moon on Nintendo Switch?
However, these postings may be related to a rumour we've heard before. It's been said that there is a Nintendo Switch version of the most recent series entries, Pokémon Sun and Moon, in the works. It won't actually be called Sun and Moon, though. Instead, it's tipped to be titled Pokémon Stars, which follows the celestial naming scheme of the latest games.
It would supposedly act as the third entry in the latest generation of Pokémon games, like Pokémon Yellow to the original Pokémon Red and Blue. There's usually a third game in a generation that's launched later than the original pair – a trend that continued until Pokémon Platinum for Pokémon Diamond and Pearl.
Supposedly, Pokémon Stars would be the third game to compliment Pokémon Sun and Moon but for the first time, the third game would launch on a different console to the originals.
If that is true, the Nintendo Switch would technically become the first Pokémon game to launch on a "home" console.
According to a report from Eurogamer, development on Pokémon Stars for the Nintendo Switch was paused at the end of last year to allow the team to apply the finishing touches to Pokémon Sun and Moon for the 3DS. But, it would seem that these efforts have now reignited.
How will Pokémon Stars be different?
Officially, there's been no mention of Pokémon Stars yet, but that hasn't stopped the online rumour mill churning. It seems that it'll be basically the same game as Pokémon Sun and Moon. However, it could be that there might be more Pokémon to collect in Pokémon Stars and all of those featured across both games can be traded using Pokémon Bank, which we assume will come to Nintendo Switch too in the future.
Pokémon Stars will, of course, be running at a much higher resolution than Pokémon Sun and Moon on the 3DS, using separately created graphics. As a reminder, the Nintendo Switch runs games at a max 720p HD in tablet mode, which is boosted to a max 1080p full HD. The 3DS, on the other hand, features a top screen with a resolution of just 800 x 240p.
Aside from that, you're looking at the same map, the same story and the same basic game as Pokémon Sun and Moon.
When is Pokémon Stars coming out?
In fact, the Pokémon Stars release date is allegedly set for Summer 2017, but there are reports that it's been pushed to somewhere later in the year.
If Ohmori's words are to be taken at their face value, it seems The Pokémon Company will wait until the Nintendo Switch has a greater market saturation before unleashing a brand new Pokémon game. We imagine that there will be another Nintendo Switch sales surge nearer Christmas, to coincide both with the arrival of Santa Claus and Super Mario Odyssey.
What about Pokémon Go?
Of course, Pokémon Sun and Moon aren't the only games on Pokéfans' lips, there's also Pokémon Go to consider. However, we can't see Niantic's hit coming to the Nintendo Switch anytime soon.
For one thing, you can't really play Pokémon Go without an internet connection and the Nintendo Switch doesn't come with a 3G/4G Cellular connection to play on the go. So unless your home or office is particularly blessed with great nearby PokéStops, it would be a bit pointless to launch Pokémon Go on the Switch.
It does have a touchscreen, though, so it would technically work.
What about the old Pokémon games on Nintendo Switch?
We'd love to see the older Pokémon titles arrive on the Nintendo Switch via the eShop, just as the original Pokémon Red, Blue and Yellow did on the 3DS. Plus, they'd really work, as they don't need to utilise the dual screens of the 3DS and could be played full screen on the Switch. Of course, we'd love to see that extend to newer entries in the series like Pokémon Gold and Silver or Pokémon Diamond and Pearl.
Interestingly, the Nintendo Switch actually has a vertical mode for some of the Neo Geo games that launched on the Switch eShop in the last few weeks. Could this pave the way for Game Boy Pokémon titles in the future?
Nintendo still hasn't given much information on when the Virtual Console service will come to the Switch. It's rumoured to be coming with a host of GameCube games, which would be a first for Virtual Console. It's believed that Nintendo delayed the service to give the Nintendo Switch launch games time to breathe, but there's still no word on when it will arrive.
Want More Nintendo Switch?