June is here, and with summer vacation on the horizon, we've got your back when it comes to the best in family entertainment. Each month, we round up the hottest, most talked-about releases, and provide you with a guide on whether they're right for your young ones. We also link you to the Wikia Parent Page for each, authored by superfans to provide the most important information parents need to make smart decisions for their children.
Whether it's mutant teenagers, defenders of the universe, or pretty little liars, check out what TV, movies, and games your family can look forward to this month.
Coming to Theaters
Teenage Mutant Ninja Turtles: Out of the Shadows (June 3) — Ages 13 and up
The Ninja Turtles must save New York City and defeat T.C.R.I. scientist Dr. Baxter Stockman, who was hired by the villain Shredder to create mutant henchmen. Fan favorites Bebop and Rocksteady are introduced in this installment, and while the film may only feature mild, computer-generated violence, there's also a few suggestive and teen-targeted jokes.
Warcraft: The Beginning (June 10) — Ages 13 and up
Based on the popular online game World of Warcraft, this film is a high-fantasy epic filled with battle scenes, wizards, and orc warriors. Directed by Duncan Jones and starring Dominic Cooper and Clancy Brown, this action adventure is suitable for kids 13 years and older. Expect fantasy style violence and crude language.
Finding Dory (June 17) — Ages 5 and up
The highly anticipated sequel to Pixar's Finding Nemo swims its way into theaters this month. Finding Dory picks up where we left off, when Dory starts recalling childhood memories and goes on a quest to find her family. This funny animated feature is our top family-friendly movie pick, though younger kids may find some sea creatures scary.
Independence Day: Resurgence (June 24) — Ages 12 and up
Its been 20 years since we last witnessed the alien-fighting banter between Will Smith and Jeff Goldblum. Since then, the nations of Earth have been leveraging found alien technology to better their defenses, but nothing can prepare them for what the aliens have in store. Expect some mild language and stylized violence from combat scenes.
Hot New Game Releases
Mirror's Edge Catalyst (June 7) — Ages 13 and up
This action-adventure platform video game is a full reboot of Runner Faith, and takes place in a continuity separate from that of the first installment, Mirror's Edge. Catalyst will feature some recurring characters and factions, including core themes of freedom and civil liberties versus safety and security. Expect mild language and violence, including hand-to-hand combat.
Kirby: Planet Robobot  (June 10) — Ages 7 and up
One of Nintendo's most popular and best-selling franchises, Kirby is back with another installment. This time, he's up against a group of robotic invaders—the Haltmann Works Company—who descend from the skies of Dream Land and overrun Planet Popstar with machinery. As with most of the games in the Kirby series, some mild cartoon violence is expected, but this one looks to be a future family favorite.
Mario & Sonic at the Rio 2016 Olympic Games (June 24) — Ages 5 and up
The fifth installment of the Olympic-themed crossover series, this sports title will be available to play on the Wii U and Nintendo 3DS. Train with Mario, Sonic, and their friends as they head to the streets of Rio de Janeiro. Aside from some animated mischief, parents have nothing to worry about in terms of violence or language.
Notable TV Shows
American Ninja Warrior (June 1) — Ages 9 and up
America's favorite reality sports competition is back. Based on the Japanese television series Sasuke, American Ninja Warrior features timed obstacle courses with challengers competing against each other. Some courses require jumping, climbing, and performing dangerous physical stunts, which younger kids may want to copy at home.
Voltron: Legendary Defender (June 10) — Ages 8 and up
A reboot of the 1984 Voltron series, this American animated television series will premiere on Netflix, and feature cartoon violence, robot battles, and themes of outer space. Five unlikely heroes — Shiro, Pidge, Keith, Lance, and Hunk — combine robotic lions to form the mighty warrior known as Voltron. Kids eight years and older can safely watch this cartoon classic come to life.
Orange is the New Black (June 17) — Ages 17 and up
Netflix gives us another glimpse of the Litchfield Penitentiary inmates in Season 4, and based on the trailers, there's no shortage of drama and mayhem behind bars. Heads up — this series features violence, nudity, strong sexual content, drug-related material, and strong language. This is not one for the kiddos.
Pretty Little Liars (June 21) — Ages 13 and up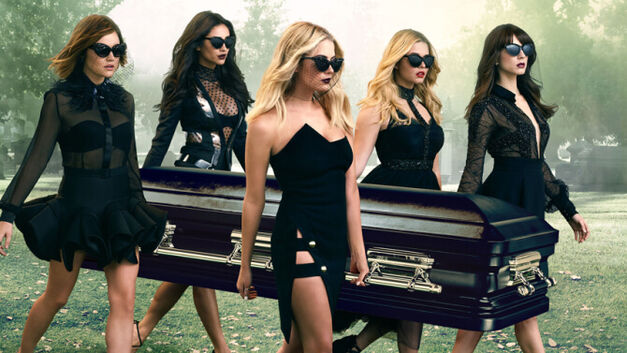 The final season of fan favorite Pretty Little Liars follows the lives of four teenage girls — Aria Montgomery, Emily Fields, Hanna Marin, and Spencer Hastings — whose clique falls apart after the disappearance of their best friend, Alison DiLaurentis. Some mild sexual scenes and themes of violence — including murder — are present.