Group stages are set for the biggest Overwatch tournament to date, the Overwatch Open. Sixteen teams will compete in the finals that are split into two regions — North America and Europe. Each region will have a total of eight teams split into two groups that will vie for a higher seeding in the knockout stage of the tournament.
North America
The North American portion of the tournament takes place Sept. 25 – 26 and includes the following teams: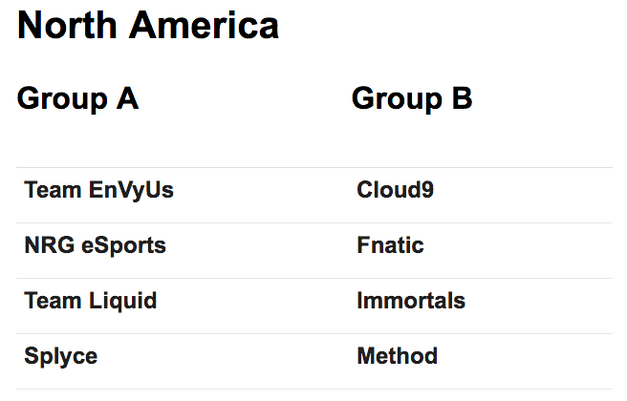 While Team EnVyUs was disappointing in the prequel to this stage of the tournament, they should still be the favorites to win the group. The roster is full of international stars and their achievements to date have been jaw-dropping. Their worst finish in a tournament has been third place. They have taken an overwhelming 20 wins since the game's launch. To put that in perspective, they've entered a total of 25 tournaments.
The competition in Group B looks tight, with a few teams capable of coming out on top. Perhaps the most notable team in the group is Fnatic. They have been on a roll recently and 2-0'd Cloud9 at a recent qualifier. Newly acquired Method is also a dangerous team who might turn some heads and could potentially sneak into a top 2 finish in their group.
Europe
The Europe qualifiers begin just a few days later, running Sept. 28 – 29. Here are the teams participating:
The two biggest surprises of the last month's Atlantic Showdown LAN event at Gamescom were easily Rogue and REUNITED. These two teams finished first and second, respectively. Rogue took a shocking 3-2 victory over tournament favorite Team EnVyUs in the semifinals and went on to beat their European brethren 3-1 in the grand finals to take the tournament win. REUNITED also took down a North American giant in Fnatic with their own semifinal victory. This secured their spot in the grand finals against Rogue. Many pundits believed that the European Overwatch scene was far weaker than North America. The Atlantic Showdown results may have challenged that assumption.
The grand finals of the Overwatch Open take place Sept. 30. They will air on TBS and via Twitch.