Achievements. Trophies. This digital currency has no real-world value, yet it's the hard-earned payment for gamers willing to put in the time and effort to explore every facet of their favorite games. Achievements don't always have to be difficult, however. Sometimes they can be funny, clever, or make you play a game in an all new way.

In our monthly Overachiever feature, we comb through the top monthly game releases and find the achievements you won't want to miss.
Our March list includes a deceptively difficult platformer, a creative kill from a master assassin, and several self-aware references.
Longest Time Coming
Tom Clancy's The Division

"Shut That Door"
Description: Close a car door whilst in cover.
The developers at Ubisoft Massive probably had no idea that creating a cool little animation involving closing a car door would become one of the most talked about things in the game leading up to launch, eventually spawning its own meme.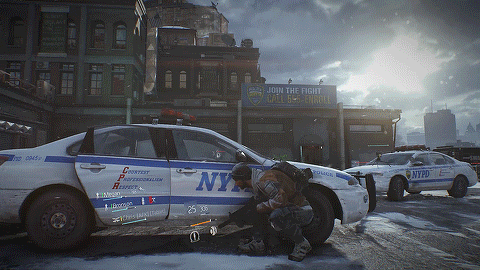 They did get in on the joke, and even included the number of closed car doors in a beta stats infographic.  The "Shut to Door" achievement is a fun nod to the phenomenon, and one of the easiest achievements in the game to unlock.
Best Star Fox Reference
Just Cause 3 "Sky Fortress" DLC
"Look at the Sly Fox"
Description: Use the Barrel Roll to evade 10 incoming missiles.
"Do a Barrel Roll" is one of the most popular memes of all time, and though its heyday has come and gone, you will still see it pop up in gaming culture from time to time.  It is entirely appropriate for the reference to Peppy Hare's notorious phrase to be included in this month's Just Cause 3 DLC, since Star Fox Zero arrives next month.
The Top Gun Goose Memorial Award
Hitman
"K-36D" (Secret Achievement)
Description: (SPOILERS) Assassinate Jasper Knight with a sabotaged ejector seat.
The name K-36D is a reference to the actual ejector seats used in the Mig 29 and several other aircraft of the former Soviet Union.  While they are normally used to save lives, in the hands of Agent 47, the high-powered catapult becomes a creative way to eliminate your target and fulfill a contract in the first episode of the latest Hitman game.
Most Meta
Day of the Tentacle Remastered
"Games History Major"
"Games History Major"
Description: Play Maniac Mansion
Day of the Tentacle Remastered contains several trophies that could make this list. With a healthy amount of self-referential humor such as the "Costume Quest" trophy that is a reference to another Tim Schafer game, and no less than five trophies involving a hamster, you can tell these weren't just an afterthought, and Double Fine took the time to create one of the funniest and most creative trophy lists I have ever seen.
The "Games History Major" trophy is less about the name and more about what you actually do to unlock it. As mentioned in my previous article about games within games, Day of the Tentacle Remastered contains a complete playable version of the prequel, Maniac Mansion. This level of fan service and dedication to preserving the original game — not to mention the legal hoops that must have had to jump through to include the game — deserves to be recognized.
Most Sadistic
Ori and the Blind Forest: Definitive Edition
"Unhinged"
Description: Complete the game on One Life Difficulty.
On its surface, Ori and the Blind Forest may seem like a tranquil experience, with a lavish art style and orchestral soundtrack. Those who have played the game know that under its dreamlike veneer lies a hellaciously difficult platformer in the tradition of Super Meat Boy . There is a reason they call this achievement, where you attempt to complete the game with one life, "Unhinged." For those crazy enough to attempt it, I salute you.
Found any clever achievements this month that I missed? Let us know @getfandom.