This week's episode of Outcast wasn't as fast paced as last week's episode.  The episode shared a title with the fifth issue of the Outcast comics, while sharing plots from the second and fourth issue.  Mildred and Donnie were formally introduced, having minor appearances in previous episodes.  This episode didn't involve any exorcisms, though teased future exorcisms.  Gladly, Outcast doesn't use an "exorcism of the week" format.
This week Reverend Anderson's arrogance was explored.  Initially, Anderson believed he had exorcised Mildred two years prior.  Unfortunately, he was conned by a demon.  After watching Mildred attending church for two years, Anderson doubted Kyle.  Kyle believed she may still be possessed after her reaction when he caught her.  Anderson spent time with Mildred and realized that he had failed his exorcism.  This lead to Kyle believing he may have failed the exorcism on his wife.  Kyle asked Anderson if they could check up on Allison, which he reluctantly agreed to.
Megan's arc continued and we had more insight into her past.  At a young age, she was abused by Donnie Hamel.  Donnie was a boy who was under a foster home owned by Megan's parents.  Kyle, who also lived there was always left helpless.  When an adult Kyle saw Donnie in town, he challenged him, only to be overpowered.  Mark, who had heard stories of Donnie finally met him.  After Megan refused to give much insight on who he is, Mark turned to Kyle.  Mark had asked Kyle if Donnie was "him", and the look on Kyle's face answered him.  Kyle told Mark to let Donnie slide on Megan's request.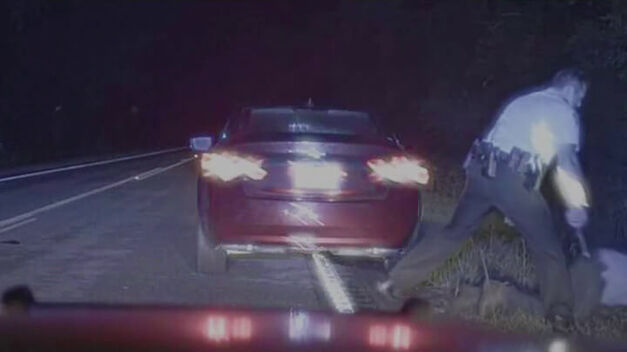 Mark wouldn't listen and followed Donnie while the latter was leaving town.  Mark pulled Donnie over and beat him down.  Unfortunately, Mark had done it in front of his dashcam.  The consequences weren't explored in the comic, despite doing it in front of a crowd.  Due to the focus on the dashcam recording, we'll likely see the repercussions in a future episode.  Donnie's beat down was fairly pleasant to watch.  Directly translated from the second issue of the comics, as well as having knowledge on the worst Donnie had done to Megan.
Giles' investigation was really interesting.  What is up with the fire chief?  The gold watch Mark had found in the previous episode turned out to belong to Ogden.  Perhaps this is why Giles dismissed Mark from the case.  Giles suspects his friend is up to no good.  Giles' dog clearly knows something's up right? It viciously barked at Ogden while the latter was over.  Giles' suspicions were confirmed when he found Ogden lighting the RV in the woods.  Is Ogden doing this on his free will? Or perhaps he's possessed.  The latter is more likely to be true.  This is a demonic possession show after all.
Outcast continued to prove that they have a strong cast, both main and guest.  Grace Zabriskie had an excellent performance as Mildred.  Based on the comics, her story has only begun and we have more to see from her.
This may not have been the fastest paced episode, but we were given more insight of the characters.  The pacing hasn't been a big issue of the series, as it's kept consistent throughout the episode.  This is where Preacher, another supernatural based comic adaption struggles.  Perhaps the Preacher writers should take note of Outcast's writing as Preacher episodes often have inconsistent pacing.
The series hits the mid-season point next week.  Check out the preview for the action packed episode below.