Orphan Black returns for Season 2 on April 14, and we can't wait to see what's next for the clones this season. To prepare ourselves for the awesomeness ahead, those of us who love the show and its many clones decided to write about our favorites and their best moments from the last three seasons.
Alison Hendrix
Favorite scene: Alison and her husband Donnie "dancing" on the bed with their newly-earned stacks of cash and all the glitter.
Why I love her: When we first meet Alison, she's not supposed to be likable. She's anal retentive, snippy, and a seemingly manic suburban mom. But then that slightly twitchy and bitchy way of hers grows on us. And when we start seeing her more criminal side come out when she decides to become a back-of-the-minivan drug dealer to moms who need a little helper, we really start to love her. The same goes for her husband Donnie, who at first seems like a lame sad sack. After admitting to being her monitor, killing the evil Dr. Leekie, and burying the body under their garage, Donnie and Alison both realize they're real peas in a pod, and the couple's love is ignited. Soon they become drug-dealing partners, which results in the happy scene above. [Annette Cardwell, Staff Editor]
Helena posing as Allison

Favorite scene:  When Helena (posing as Alison) goes full Helena on some drug dealers in order to retrieve her frozen embryos and save Donnie.
Why I love her: Helena is a clone of contradictions — she eats like a feral child and kills like a trained assassin. She fluctuates between manic and psychotic but is steadfast in her loyalty to her "sestras." Over the course of the show, she has transformed from an aloof Ukrainian hitman to a hilariously charming, surprisingly maternal, fan-favorite clone. Things she's good at: sniper shots, close-range knife fighting, one-liners, and not dying. Things she's not good at: social norms, singing, and impersonating other clones (a trip to Sephora for some undereye concealer wouldn't hurt…just sayin'). [Lesley Chen, Staff Editor]
Tony Sawicki

Favorite scene: Tony's time on the show was brief so that one scene where he's in Felix's flat.
Why I love her him: I love Tatiana Maslany and I think she's an amazing actress, but seeing Tony in action just goes to show that she's not very good at playing a man. But I love that the show tried bringing in a transgender twist with Tony, a clone who had no problem with his identity Best of all, Tatiana as Tony just makes me LOL. [Grace Cheung, Staff Contributor]
Rachel Duncan

Favorite scene: Rachel's squirm-inducing promotion/seduction of Paul as her new handler.
Why I love her: With her prim manner and the fact that she's seemingly acting against her own interests as an executive at the Dyad Institute, Rachel may feel more like an android than a clone when you first meet her. But as the showrunners fleshed out Rachel's story in Season 2, little pinpricks of emotion began to shine through her facade: a shed tear here, a religiously re-watched home movie there. It's that internal struggle between the scientific reason of her upbringing and her irrational humanity that makes Rachel such an exciting on-screen presence. [Brett Bates, Staff Editor]
Helena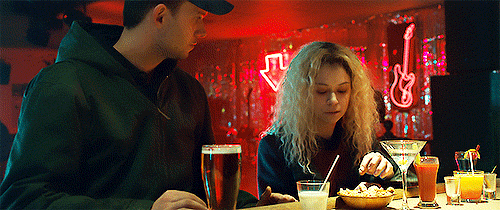 Favorite scene: It's hard to pick only one, but one scene that makes me adore her is when she meets Jesse. Not only does she beat Jesse arm-wrestling and then has her first kiss with him, but then when a different man attempts to make a pass at her, she absolutely brutalizes that guy on a pool table, getting herself arrested. Classic.
Why I love her: Helena had a brutal upbringing. She is a trained assassin who is fierce, loyal, fearless, and can handle pain. Even though she was psychologically and physically tormented, she still has love in her heart for others and a need to be loved, which is shown most deeply in her love for her "sestras." She has no problem inflicting pain upon anyone she perceives as a threat to her or someone she loves. She has a childlike quality because she was never really socialized. She remains partially feral, and in all aspects she is awkward (her dress, mannerisms, dancing, social relations). But through all of her awkward nature, she is delightfully charming. [Alanda Carter, Fan Contributor]
Want to know more about the clones and Orphan Black? Check out all the Orphan Black Wiki for everything you need to know about the show.
---
Would you like to be part of the Fandom team? Join our Fan Contributor Program and share your voice on Fandom.com!