One Piece Film: Gold will be hitting the theaters of Japan in the next couple of weeks. It is the 13th One Piece film to date and will premiere July 23, 2016, on 743 different screens all across Japan. The number of screens is considered to be the largest for any film in the Japanese film industry. The film will also screen with English and Chinese subtitles in five cities from July 23 to August 5. The movie is also getting screenings in 3D, 4DX, and MX4D.
One Piece Film: Gold is directed by Hiroaki Miyamoto, scripted by Tsutomu Kuroiwa, and series creator Eiichiro Oda is serving as executive producer. There will also be a tie-in to the film called Heart of Gold that will be televised on July 16. The ending song for the film is "Gold & Jive ~ Silver Ocean" by singer-songwriter Mayumi Kojima.
Film Synopsis
The film is set in Gran Tesoro, an independent country chartered by the World Government. Gran Tesoro is home of the world's greatest entertainment city where well-known pirates, Marines and millionaires throughout the world gather in an "absolute sanctuary" that even the World Government can't touch.
There, Luffy and the others meet the ruler of the country, the golden emperor Gildo Tesoro who easily wins pirates, the Marines, and even the World Government over to his side with money. Gildo is about to take action to satisfy his bottomless ambition which may result in major changes in power relationships in the New World.
One Piece Film: Gold Characters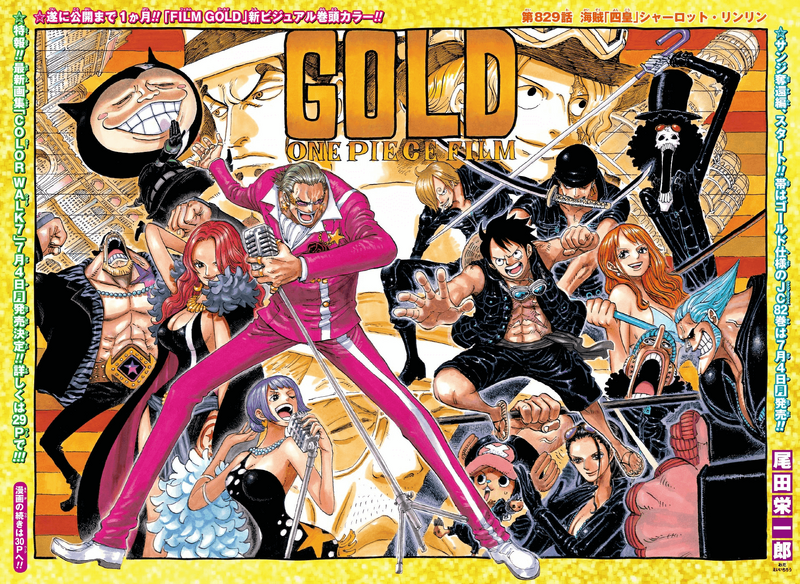 The film will feature the Straw Hat Pirates Luffy, Zoro, Nami, Usopp, Sanji, Chopper, Robin, Franky and Brook. The film will also feature several iconic fan-favorite characters from the anime like Sabo, Koala, Doflamingo, Akainu, Spandam and Rob Lucci.
The cast for the original characters of the film includes:
There currently is no confirmation of the film coming overseas to theaters or an English dub being in development but we will be sure to provide an update as soon as we hear anything.