It's been four years since Disney first took us to the land of Arendelle, where we fell in love with its inhabitants: Anna, Elsa, Kristoff, Olaf, Sven, Oaken, the trolls… basically, everybody except Hans. They're all totally lovable and we haven't been able to let. them. go. But it's been a long time since we've seen the Frozen crew and our hearts have grown cold. The last time we caught a glimpse of them was in the short film Frozen Fever in 2015, but they'll be back soon in Olaf's Frozen Adventure and Frozen 2.
Olaf's Frozen Adventure, a holiday short film, is coming this November.
In theaters with Pixar's Coco beginning November 22, Olaf's Frozen Adventure follows Olaf and Sven as they team up on a holiday mission.
The 21-minute featurette tells the story of the first holiday season since the gates reopened and Anna and Elsa host a celebration for all of Arendelle. When the townspeople unexpectedly leave early to enjoy their individual holiday customs, the sisters realize they have no family traditions of their own. So, Olaf sets out to comb the kingdom to bring home the best traditions and save this first Christmas for his friends.
Olaf's Frozen Adventure has a different creative team than the original film (and the upcoming sequel). Directed by Emmy-winning filmmakers Kevin Deters and Stevie Wermers-Skelton (Prep & Landing), Olaf's Frozen Adventure is from a script by Jac Schaeffer and features four original songs by Elyssa Samsel and Kate Anderson.
Frozen 2 heats up theaters on November 27, 2019.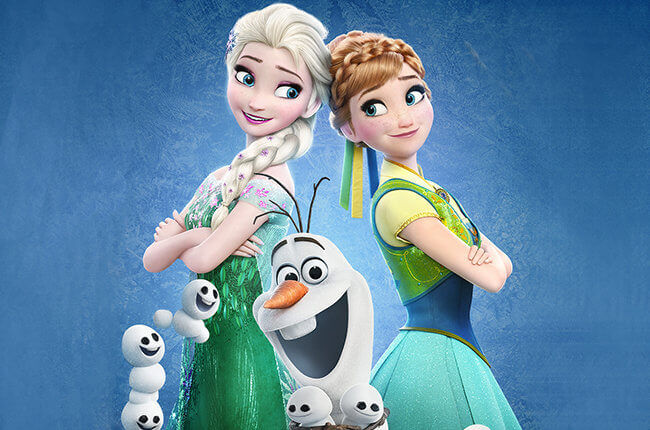 There's still a bit of a wait ahead of us, but the good news for fans is that the sequel is in the hands of the same creative team who made the original. The co-writing/directing team of Jennifer Lee, Chris Buck, and Peter Del Vecho are back for Frozen 2.
The original's delightful songwriters Kristen Anderson-Lopez and Robert Lopez will return, too, so it's a sure bet that the sequel will have plenty of memorable tunes. And Disney will surely try to top "Let It Go" with a big musical number.
The cast favorites are all expected to return, too. Josh Gad, who voices Olaf, is confirmed to be back in the mix. Because you can't have a Frozen movie without Olaf. Will there be Snowgies — the adorable baby snowmen that first appeared in Frozen Fever? We just don't know yet. Kristen Bell (Anna) has said she'll be back, of course. And while she's not officially confirmed right now, it's safe to expect an that Idina Menzel will return to reprise her role as Elsa.
There's even more Frozen coming your way, too. If you're lucky enough to score tickets you can see Frozen: The Musical opening on Broadway in Spring 2018.