The stars and director of the latest film in the Underworld franchise, Underworld: Blood Wars, descended upon New York Comic Con Friday to share the final trailer, chat with the press, and host a panel.
Kate Beckinsale reprises her role as Selene, a vampiric Lycan hunter who had gone through quite a bit over the course of four of the franchise's films. After losing everyone close to her as a result of the war between the vampires and the Lycans, Selene finds herself on the run from those out for her blood – literally. She enlists the help of vampire coven leader Thomas (Charles Dance), who sends her on a mission to the snowy north to find an ancient vampire coven untouched by war.
Theo James also returns as vampire warrior David, who helps Selene as she tries to track down the daughter she's never met and battle against new baddie Marius (Tobias Menzias).
Grrl Power
Director Anna Foerster joins the franchise for the fifth installment, bringing even more girl power to the Underworld universe. Foerster was excited to join the series because of its unique visuals and her background as a director of photography.
" I do love the franchise, I love the first one that really has established a look and a female kickass heroine that's pretty impressive," she said. "When this came my way, it was super exciting because it checks a lot of boxes of what I'm interested in. I come from a cinematography background, so this was great because it has such a visual style."
Beckinsale, for her part, was thrilled to have a female director.
"I'm all about as many vaginas being involved as possible," she joked. "I don't think gender has a lot to do with whether you're a good director or a bad director. I know it's coming up a lot because it's an action heroine used to be unusual and now it's less unusual. I hope in a few years a woman director will be less unusual as well."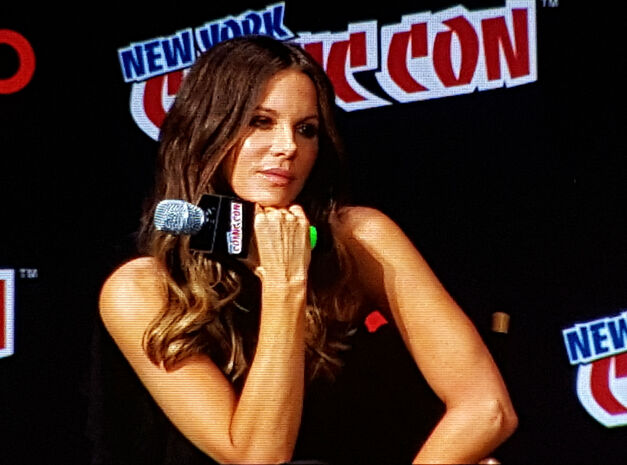 A Funny Leading Lady
Beckinsale frequently cracks jokes and the rest of the cast appreciate her unique take on things.
"I was quite nervous at first," James said. "I was naked and sweating and Kate's very glamorous and I was shivering and jibbering. Kate's sense of humor always helps in any situation."
Beckinsale even went as far as to try and prank James, though it didn't go exactly the way she planned.
"I heard that Theo was really frightened of ferrets. I was bored. So we had an enterprising crew, and in moments we had a ferret to put on set to scare him," she said. "It was a very attractive ferret… it actually looked a bit like Theo. Big eyes, great cheekbones."
One of the crew members ended up adopting the ferret, though James grew attached and held interviews to decide who would make the most responsible pet parent.
Beckinsale also made use of a silicone version of James' torso, much to the actor's chagrin.
"Theo has some injuries in the movie, and they made him a prosthetic stomach. It had all of the same pubes and stuff that Theo has," she said while he turned red. "We would go pay little visits to it and take pictures of ourselves licking it. We left little offerings, little bowls of raisins and stuff."
Underworld: Blood Wars hits theaters January 6, 2017.