The Nintendo Switch is the latest console from the Japanese gaming giant, well-known for its focus on innovation rather than competing on hard technical specs with the competition. It's an interesting console too, attempting to bridge the gap between handheld and home console with a hybrid design.
It's basically a high-end gaming tablet with a pair of controllers docked at either end, but the console can also be inserted into a dock to project your gaming session onto the big screen.
The big sell for the Nintendo Switch is its versatility. This is a console that can be played in multiple ways and aims to appeal to those looking for the portability of a 3DS but the big-screen entertainment of a home console like a PS4.
But with a slightly limited launch game line-up, is the Nintendo Switch actually any good? We've put it through its paces in our Nintendo Switch review.
From tablet to TV
The Nintendo Switch is quite unlike any other console that has come before it. This is a device that aims to be both your 3DS and your go-to games console all in one go. Its versatility is ingrained right from the moment you get it out of the box and you start unpacking the surprising amount of parts that make up your starter pack for the Nintendo Switch.
Switch's main part is the tablet display. It's a 6.2-inch 720p HD display that's actually quite chunky and ugly on its own, especially with the exposed rails at either side. However, it's these rails that the innovative Joy-Con controllers slide onto when you play in Handheld Mode.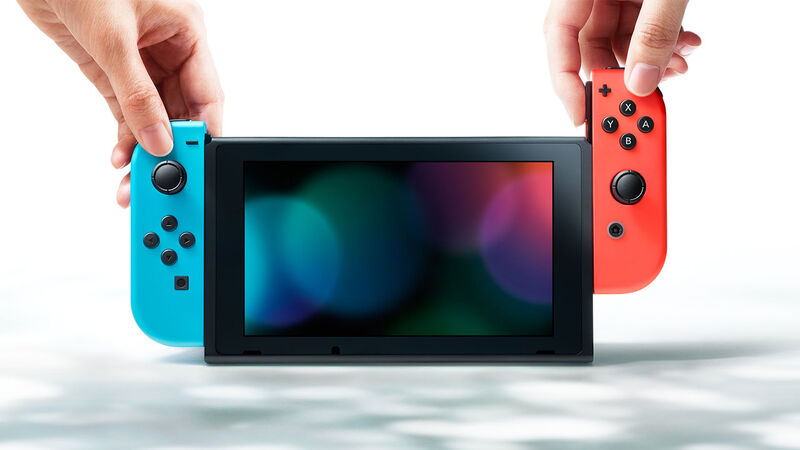 The Handheld Mode is the Switch's most portable form, with the controllers sitting astride the screen. Despite its width, it's incredibly comfortable to use and hold – mostly because it's actually impressively light.
But if that's not your bag and you're sitting on a train or plane, you can undock the Joy-Cons and set the screen up in Tabletop mode. On the back of the Switch is a flip-out kickstand that will allow you to prop up the Switch on a flat surface. It's a little limited as you can only set it at one angle, which can be quite irritating if there's any kind of screen glare going on.
Using the included Joy-Con grip, you can turn your set of controllers into a more traditional gamepad setup. That means Tabletop Mode becomes a great way to get a TV and console setup away from home with very little fuss.
We will add that you can't actually use Tablet Mode on a plane if you've got Flight Mode enabled because wireless connections are disabled. We all saw that chap playing Skyrim on a plane in that first Nintendo Switch trailer, but it seems he was on a flight with Wi-Fi…
Of course, when you're at home you can utilise the Switch Dock, which you also get in the box. You connect the little black plastic box to your TV via HDMI and just attach the power in order to get it ready to go. It's then just a case of sliding in the Switch, which is incredibly easy and intuitive to do.
The dock also enhances the Switch's resolution from 720p HD to a maximum 1080p HD, although Nintendo states that Breath of the Wild actually runs at 900p in TV mode. The jagged edges are a lot more visible on the big screen, but this isn't a console that's trying to compete with a gaming PC or PS4 Pro. It's all about versatility here.
The entire solution for the hybrid console is very well executed and the build quality is impressive, despite there being multiple parts involved. Although the Switch might seem like a strange proposition, when you realise you can pick up where you left off with The Legend of Zelda: Breath of the Wild on the bus from where you were at home, the whole concept just clicks.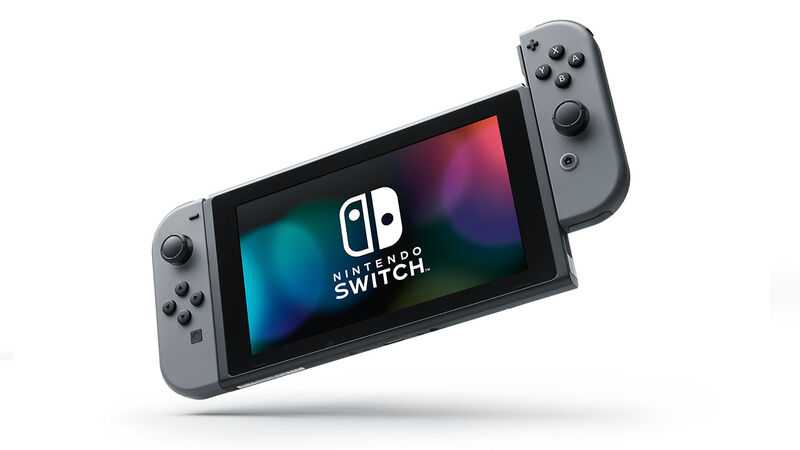 That's partly down to the brilliance of the Joy-Con controllers. They're dinky, yet robust, light yet impeccably built. Add in the impressive technology inside and the fact they work incredibly well individually for instant multiplayer and they're almost genius. Nintendo is certainly switching up the definition of a gaming console with the Switch's design and capabilities.
Battery life woes
The only concern for Nintendo's new console is the battery life and it's something that comes up again and again with the Switch in various forms. We got between three and four hours of charge from the Switch in tablet mode, which is what Nintendo estimated. However, that's just playing at home in one long session. When you start adding in extended sleep mode bursts and play sessions together, that battery life suddenly dips to around two hours or so.
Thankfully, you can use a portable battery pack to charge your Nintendo Switch if you buy one. But, you'll also have to buy another USB-C cable as the one that comes in the box is an AC adaptor only. You can't detach the cable itself as you can with pretty much any modern tablet or smartphone charger.
It's also frustrating that the only way to charge the Joy-Con controllers is on the tablet itself unless you buy the separate Switch Charging Grip. That means if they run out of juice mid-TV mode session, your only choice is to switch back to Tablet Mode.
This is a clear problem with the Switch's hybrid status. You're not getting the battery life of a portable console or quite the power of a home console, you're sitting somewhere between the two.
A good year of gaming
Then there's the fact the Switch's launch line-up isn't exactly stellar. There's Zelda: Breath of the Wild of course, which will be the mainstay for many in the early months of the Switch. But aside from Zelda and Link, our Switch adventures on day one are somewhat limited. 1-2 Switch is a great way to show off the instant multiplayer capable with the Joy-Con controllers in a party environment, and puzzler Snipperclips will do the same on a more intimate level. And for that extra kick of nostalgia, we have Super Bomberman R too.
Aside from those new titles, the Switch is reliant on re-releases of third-party titles, including Skylanders Imaginators and Just Dance 2017.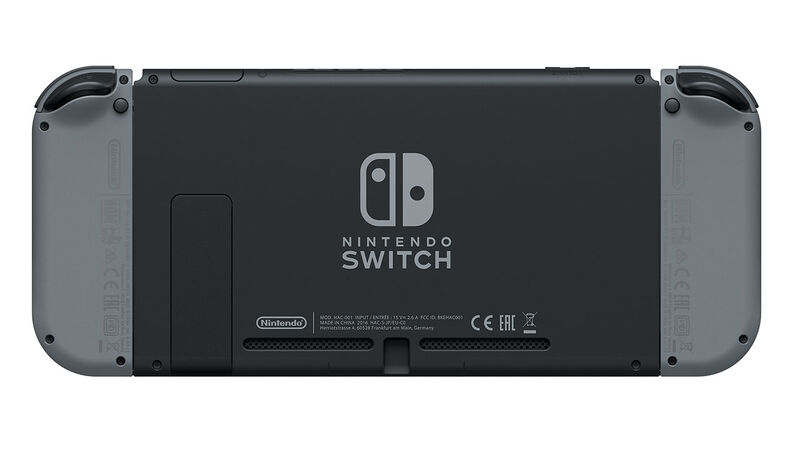 However, the year ahead for the Nintendo Switch games line-up is already looking much stronger, even if we do have to wait nearly a year to play Super Mario Odyssey. It's just a bit of a shame that the console is really leaning on Zelda at this stage to sell units.
Of course, in this pre-release stage, we haven't had a chance to look at the Switch's eShop as it hasn't yet gone live. That may well change the games line-up considerably.
There's also the issue surrounding the console's lack of backwards compatibility. Unlike its predecessors, you won't be able to play Wii U or even 3DS games on the Switch, despite its use of game cartridges rather than discs. We have to admit we were a little disappointed that you couldn't just slot in your 3DS cards into the Switch, although there are of course technological hurdles to jump in this department that hasn't made 3DS backwards compatibility possible.
But we still have questions
There are also questions surrounding the online functionality of the Switch. There's going to be an app that you use for voice chat and online lobby features, but details and access to this have been scarce before launch.
The Switch will also have some kind of online service, which at the moment sounds like a basic version of PlayStation Plus or Xbox Live. You'll get access to a free NES or SNES game, but you'll only be able to play it for that month. There are still no achievements to be seen, something which you get on all other gaming platforms.
And there's no access to any entertainment apps – at least for now. So if you're looking for the Switch to be your go-to entertainment system, from games to services like Netflix, you're going to be disappointed. This is a dedicated games console through and through.
We will update this review when the eShop and Switch online services go live, especially to report if those Joy-Con L issues have been resolved.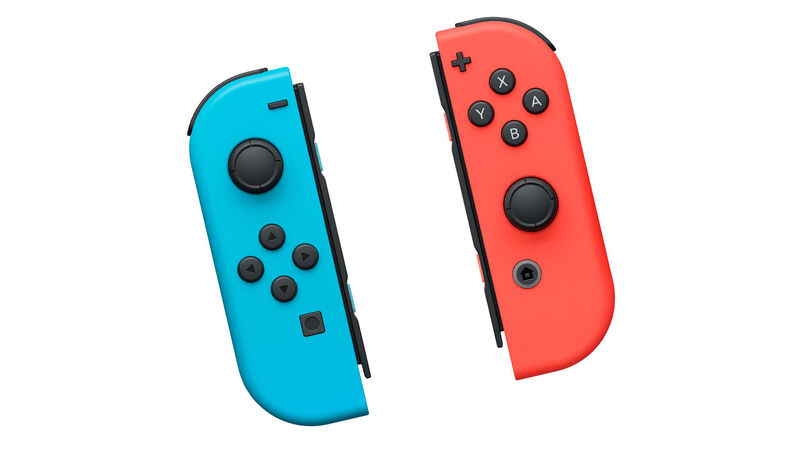 Is the Nintendo Switch good?
Nintendo is doing what it does best with the Switch: defying the traditional TV console trend for something that's totally innovative. Sure, it won't be a console that ticks all the boxes for everyone, especially if you're aiming for photorealistic graphics. But it's a console that focuses on spur of the moment multiplayer, playing any game wherever and whenever you want and, most of all, having fun while you do it.