Overwatch has been one of the most beloved games of 2016. Millions are playing it worldwide, and almost as many have made fan art of their favorite characters. Blizzard has a bonafide phenomenon on their hands, and are closing out the year with a heartwarming Overwatch holiday digital comic. It's a cute story focused on Tracer, which also comes with a lovely, surprising look into her personal life.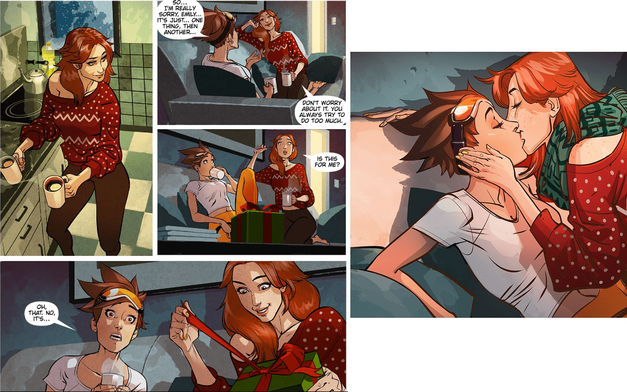 Happy Holidays, From Tracer and Emily
I'd recommend reading the entire Reflections comic — it's free! — but the moment that has Overwatch fans talking is seeing into Tracer's home life. The active, time jumping shooter spends the entire comic searching for the perfect gift for someone. Then we get to see into her home and meet Emily. In a holiday miracle, Tracer ends up getting Emily just what she wanted in a warm and fuzzy ending straight out of a seasonal sitcom episode or Xmas advert.
Overwatch gameplay doesn't give a ton of insight into the personal lives of the cast, so this is the first ever confirmation by Blizzard that Tracer has a girlfriend. The unambiguous-yet-no-big-deal presentation of this by Blizzard is impressive for such a big name game. When some game publishers won't even feature a woman on the box art, here's Overwatch's cover star kissing her girlfriend in an official digital comic book.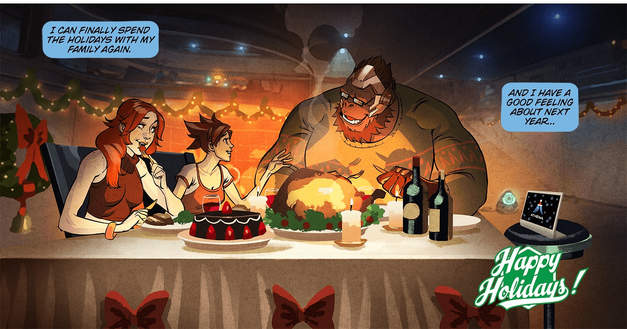 Reflections offers an interesting look into how most of the cast spends the holidays, but focusing the story on Tracer and her partner is an important distinction. Overwatch has been embraced by LGBT gamers, many of whom celebrate their favorite queer pairings of characters from the roster. Having Blizzard official add a same-sex relationship to the world of Overwatch seems to indicate that the company respects all parts of its fan base. Sadly, reportedly Overwatch fans in Russia are legally blocked from viewing the comic, showing why representation like this really matters from a company as big as Blizzard.
If that kind of inclusive, loving message doesn't put you in the holiday spirit, I don't know what will? Maybe a few rounds of Mei's snowball fights?
Update for 12/22:
Just in case you needed more confirmation on Tracer's love life, Blizzard has an official statement. Here's how the publisher explained Tracer's history to Game Informer:
"Tracer is a lesbian character. As in real life, we feel having variety in our characters and their identities and backgrounds helps create a richer and deeper overall fictional universe. Many different factors go into any story or character decision, including our own creative goals and what we want to get across about the characters and the game world. It was decided from the very beginning of our work on Tracer's story that this would be an aspect of her character, as it just felt right to us."
It doesn't get any clearer than "Tracer is a lesbian character."

Henry Gilbert is Senior Games Editor at Fandom. He's worked in the gaming press since 2008, writing for sites as diverse as GamesRadar, IGN, and Paste Magazine. He's also been known to record a podcast or two with Laser Time. Follow him on Twitter @henereyg.