Tom Cruise is like a clenched fist: compact, dangerous and full of intensity. This is a guy who doesn't give anything but 110% in all his roles. There are times when you can practically feel Cruise carrying an entire movie on his shoulders. But that's okay with him because Tom Cruise has enough stamina and power to carry it all.
There are some Cruise performances that are more intense than others. They're the ones that make you wonder how a man in his fifties maintains the sort of energy and commitment that comes so naturally to him. In celebration of Jack Reacher: Never Go Back, let's take a look at some of Tom Cruise's most fervent and vigorous performances. Whenever you're having a low energy day, put one of these movies on and you'll strive to give it your all.
The Mission: Impossible Films
The Mission: Impossible movies are a series full of Tom Cruise doing more and more outlandish things for our entertainment. Like some sort of action movie martyr, this guy pours himself empty to provide popcorn moments. While the first movie's most exciting moment featured Cruise hanging from a ceiling, things have gotten progressively more insane in subsequent sequels.
If you're looking for intensity, look no further than Cruise running through the streets of Shanghai in M:I III. That's right before he kills himself…which is right before he's brought back to life by a defibrillator to the head. Then there was when he climbed up a skyscraper in Ghost Protocol.  And don't forget that Mission: Impossible – Rogue Nation starts with Cruise hanging onto the side of an ascending airplane. Seriously. That's the opening scene.
The Mission: Impossible movies have become Cruise's muse. They allow him to reach higher, try harder and push the envelope. It's like he's one of the stars of Jackass and he's hungry for more ways to raise the bar. You've succeeded there, Tom.
Jerry Maguire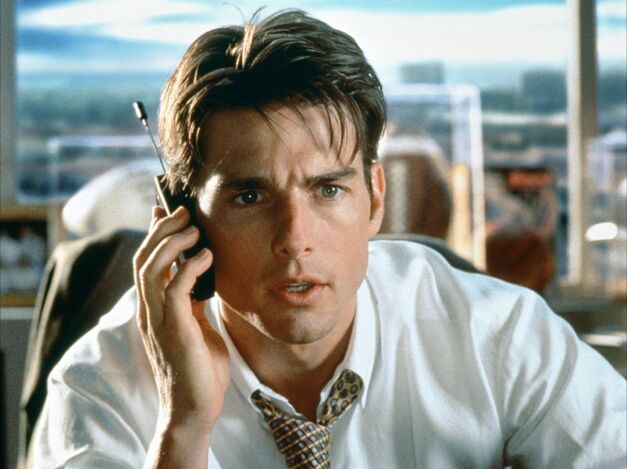 It's not always physical intensity that attracts us to Tom Cruise. Sometimes we want the emotional potency that only a well-crafted drama can provide. Enter Cameron Crowe and his brilliant Jerry Maguire. 
Cruise takes it up a notch in Maguire. For a man known more for his devilish good looks rather than his acting chops, Cruise puts the naysayers to shame with a performance that is lived-in, deep and, of course, impassioned. But he's not fierce in the ways we are used to. No, here is a movie that is about Cruise showcasing pathos rather than power. He is a conflicted character, a driven man who is trying to balance his home life and his business in the crazy modern world of sports. He's juggling a lot of balls and you can feel it. Why? Because Tom Cruise is Tom Cruise and he makes emotions tangible. He doesn't have to be beating up bad guys to show you how strong he is.
War of The Worlds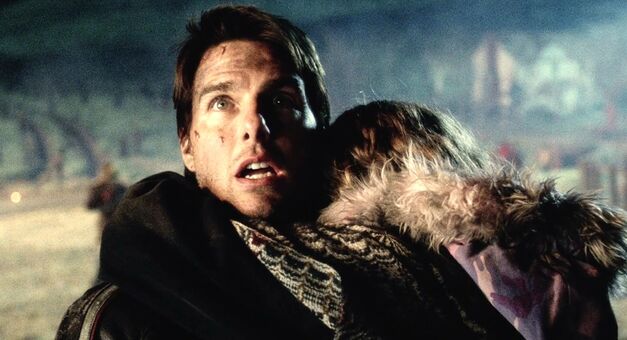 Steven Spielberg's War of the Worlds is the perfect mix of Cruise being a real human with tough moral choices and obligations and Tom Cruise being a superhuman who somehow never runs out of vitality and strength. Once again we have Cruise as a man trying to keep his family together. However, this time, it's not his work ethic that's threatening home life, it's aliens hellbent on destroying humanity.
Don't worry about an alien invasion, though. This is Tom Cruise we're talking about. The man lays waste to multiple human villains with ease, of course, he can fight off martians as well. He's as fiery and high-octane as ever in War, constantly pushed to the brink but continually fighting like his family – and the future of Earth – depends on it. High states, high energy. That's Tom Cruise for you.
Collateral
If only all hitmen were as charming and good looking as Tom Cruise.
Michael Mann's Collateral is a quiet little gem of a thriller. Jamie Foxx and Cruise play off each other marvelously and it's all set against the industrial beauty of Los Angeles. Both Foxx and Cruise turn in terrific performances but let's focus on Cruise, who adds his trademark intensity to a role that truly deserves it. His character feels like a ticking time bomb, a constant threat ready to blow. He's a loaded gun, one that doesn't lose his cool and doesn't compromise. In a lot of ways, Cruise plays the part like Schwarzenegger played The Terminator, unrelenting and focused.
This was a role perfectly suited for Cruise. It also allowed him to play a bad guy, something he doesn't do often. Bad guy, good guy – one thing remains the same: Tom Cruise never, ever eases it up. He is the epitome of pedal to the metal. Times change, people come and go but you can always rely on one thing: Tom Cruise's intensity.