British TV from the early aughts onward has captured the attention of Americans like never before. The internet provides new ways for audiences to discover and watch shows from anywhere in the world. Britain just happens to share a language with Americans, so their shows are more easily accessible. There are still some cultural differences, but that's part of the flavor. Many British TV shows have even inspired American remakes (The Office, anyone?).
From absurd comedies to gut-wrenching dramas, here are some of Fandom's favorite shows from across the pond.
Garth Marenghi's Darkplace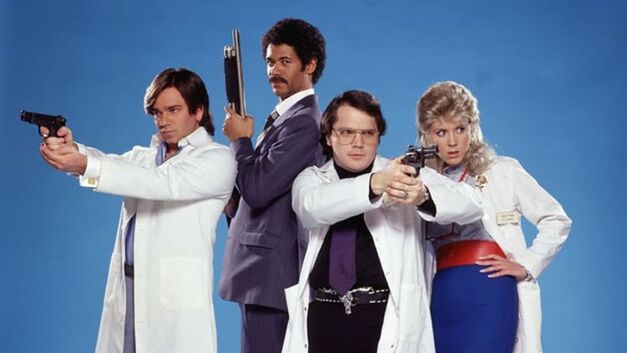 Sometimes, comedy is made for a very specific audience. In the case of Garth Marenghi's Darkplace, it's for fans of cheesy paperback horror novels who also love shoddily made genre shows from the 1980s. It sounds like that would limit the show's potential audience, but Garth Marenghi's Darkplace is so knowingly awful and kooky that it works for anyone with a sense of humor.
The show is supposed to be an abandoned television series from fictional horror author Garth Marenghi, played with egotistical bravado by Matthew Holness. This comes complete with interviews from Marenghi – who wrote, produced, directed, and starred as the lead in Darkplace – and his fellow creators played by Richard Ayoade and Matt Berry. Seeing these characters take such obvious schlock super seriously is a joke that never gets old.
And the episodes themselves are gonzo greatness. Set in a hospital that has a gateway to Hell in it, Darkplace is a mocking love letter to the cheesy horror movies that helped make many people fans of the genre. Between the dry humor of the interviews and the ramshackle production that is the show-within-the-show, Garth Marenghi's Darkplace will change your life. At least, that's what Garth Marenghi says.
All six episodes of Garth Marenghi's Darkplace are available to stream on Channel 4's official website.
[Drew Diestch]
Happy Valley
Don't be fooled by the name, Happy Valley is anything but. Think a grittier Luther and you're getting warm. Catherine Cawood (played by Sarah Lancashire) is a police sergeant in a rough part of northern England. She lives with her well-meaning sister, Clare (Siobhan Finneran) who is a recovering addict. While Catherine is trying to come to terms with her daughter's suicide, she's doing her best raising her daughter's son who was the product of a violent sexual assault. And that's just walking in the door.
Catherine is a badass. She's logical and level-headed in her job, a stable friend, and all-round rock to her occasionally fragile sister. When needed, Catherine commands both empathy and stoicism. If you've had a close friend or relative who works in emergency services, what's particularly real about Lancashire's portrayal of the police sergeant is the way she just switches into work-mode in a crisis, even when she's technically off-duty.
But Catherine's character is more than just generic police woman with a decent head on her shoulders. Her home life is falling apart, her daughter's son is a handful at the best of times, and her ex-husband who disagreed with the plan to continue looking after their grandson after their daughter's suicide continues to be a confused cluster-mess.
Happy Valley is as gray and depressing as a long English winter, and by the end of binge-watching the two six-episode seasons, your guts feel like they've been wrenched directly from your body. But in ways that most American series' haven't yet found the courage to do, this show highlights how strong female characters can be nuanced and interesting, and be played by a woman who's in her 50s and actually looks like it.
Both seasons of Happy Valley are available to watch on Netflix.
[Colette Smith]
Victoria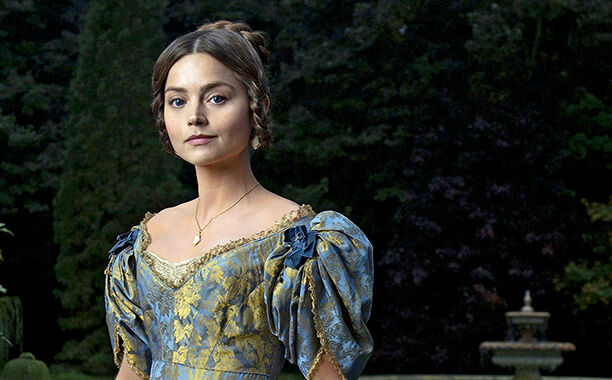 Victoria is an ongoing show on ITV and it is the greatest history show of the last year. It is the story of Queen Victoria growing up and the struggles she had as a young woman, along with her happiness, such as meeting Albert. Victoria is played by Jenna Coleman, who perfectly embodies the strong-minded queen. Albert is played by the gorgeous Tom Hughes who has a very good German accent. Rufus Sewell is Lord Melbourne or Lord M as Victoria calls him. The screenplay is based on Victoria's actual diaries and some things that are said were once said by Victoria which adds excellent authenticity.
So far, only five out of eight episodes have been released which adds tension and suspense to the story as each week something new happens. Victoria has matured into an elegant young woman and has shown her true value as a Queen. Victoria is an excellent example of a classic British TV show, and I would highly recommend it to anyone who enjoys good acting and excellent writing. It is moving, gripping, exciting and most of all, quintessentially British.
Episodes of Victoria are available on ITV's official site.
[Kitty Bates]
Luther
Luther is one of the most intense shows to ever air on the small screen. The show follows detective John Luther as he tries to stop some of Britain's nastiest criminals. Luther is brilliant, but he's also prone to bouts of extreme anger. The series starts with him allowing a serial killer to fall to his death. He's definitely not a traditional "good guy" protagonist. Idris Elba plays him with incredible nuance and a kind of fierceness that makes it hard to look away. He's so fascinating that he even befriends a sociopathic murderer, who helps him in his quest to catch others.
The show allows the viewers to know who the killers are before Luther does. It's an interesting format and changes the stakes from a "whodunnit" to a game of cat and mouse. The thing is, on Luther, there's often no telling who's the cat and who's the mouse. Luther goes up against some rather nefarious villains, and they will take everything he's ever loved away in the process.
Luther isn't an easy show to watch. It's gritty, it's often depressing, and it's sometimes uncomfortably intense. Regardless, it's an incredible British TV show that raises questions about the nature of police work and true justice. Elba is at the top of his game here, and it's no wonder he's exploded as a star since.
All four seasons of Luther are available on Netflix.
[Danielle Ryan]
Spaced
Before he was creating some of the best comedies of the modern age, Edgar Wright honed his obsessively nerdy and frenetic style with Spaced. The setup is incredibly basic – two strangers share a flat and become friends – but it's all the particulars that make Spaced a delight.
There's an embracing of the oddball that few shows can capture without feeling forced. The references in Spaced – and they are legion – clearly come from true fans of the things they're riffing on. When there's an episode referencing zombies – a precursor to Wright's Shaun of the Dead – it's not littered with cheap jabs.
Most importantly, the show is rapid-fire funny. Simon Pegg, Jessica Hynes, Nick Frost, Mark Heap, and many others are at the top of their game when it comes to pure silliness. It doesn't hurt that the show has a real heart beating underneath its jovial exterior. For fans of Edgar Wright's movies, this is his Rosetta Stone.
All 14 episodes of Spaced are available to watch on Hulu.
[Drew Dietsch]
The IT Crowd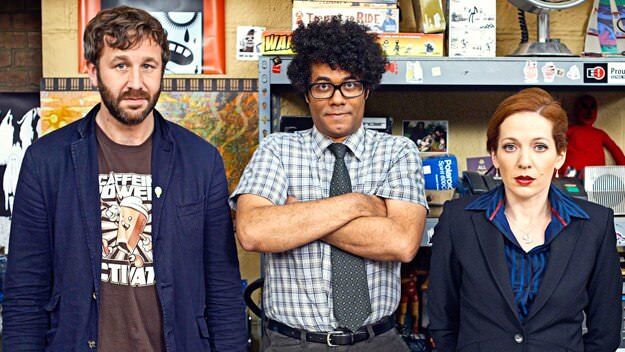 The IT Crowd is like the British Big Bang Theory, except it's actually funny. The series follows the IT department of Reynholm Industries as they navigate work, social outings, and the occasional date with a German cannibal. Roy (Chris O'Dowd) and Moss (Richard Ayoade) are techy geeks who operate out of the basement of the building. "Normal girl" Jen (Katherine Parkinson) is the relationship manager of the department, a posting she feels is unfair.
The IT Crowd is absurd and terrifically dry. O'Dowd plays Roy as a kind of everyman, a bloke who just can't seem to succeed. Moss is his opposite. He's completely at ease in his own skin despite being a social outcast, and he doesn't really care that the world thinks he's a weirdo. (One of his best quotes: "I like being weird. Weird's all I got. That, and my sweet, sweet style.")
The show doesn't mind being a little bit weird, either. Over the course of the show's four seasons, there have been some characters that make Moss look like the average Joe. There's goth Richmond, who lives in a storage closet. There's Douglas Reynholm, who is forced to wear pants that shock him every time he gets aroused due to a molestation charge. There's the aforementioned cannibal German who invites Moss over for dinner under some very scary pretenses. The IT Crowd had a failed American remake, and it's no wonder: the show's absurdity and humor is too distinctly British to translate.
All episodes of The IT Crowd are available on Hulu.
[Danielle Ryan]
Look Around You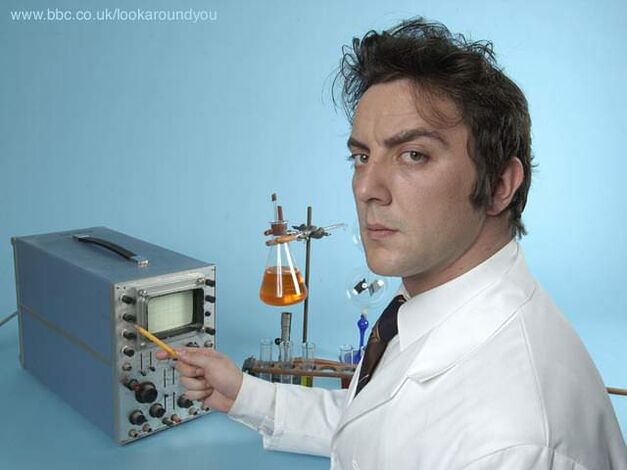 Remember those bizarre, outdated learning videos you used to watch in school? The ones that felt like they were made in another universe? Well, the creators of Look Around You – Peter Serafinowicz and Robert Popper – remember them fondly. So much so that they devised an entire series around perfectly parodying these oddities.
Steeped in '70s aesthetics, the first series of Look Around You is such a convincing joke that you could probably fool some of your more gullible friends for a little while. Each episode focuses on a particular subject and takes it to the most ridiculous levels imaginable.
The second series moved to an even more specific parody of pop-science shows. Though they certainly have their fair share of laughs, they just don't have the same detailed authenticity of the first series. For fans of the absurd and niche, Look Around You cannot be missed. Thanks, fans. Thanks. [Drew Dietsch]